5 Win Awards for Excellence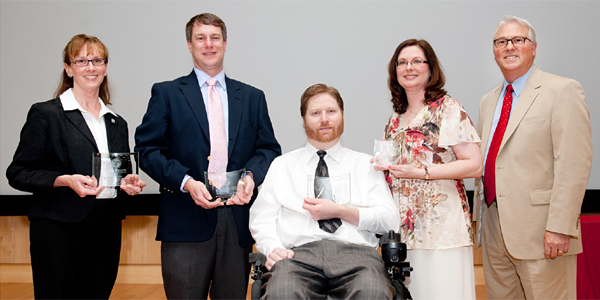 Five NC State staff members have received University Awards for Excellence for their exemplary efforts to serve the university and the community. They are now eligible for consideration in the Governor's Awards for Excellence program this fall. Winners are:
Lisa Johnson (Office of the University Architect)
As the university architect, Johnson recently identified space to accommodate 38 new faculty members on campus. Due to her leadership and tenacity, she completed the work quickly, meeting a nearly impossible deadline. During the project, Johnson also led efforts to update the university's master plan and replace the space management software. She was recently nationally recognized as best-in-class in the management of university space and has received numerous requests to share her expertise.
Anthony Sanders (University Bookstores)
As a business officer supporting the university bookstores, Sanders transformed the bookstore's old business model, implementing a state-of-the-art in-store rental program using complex pricing algorithms. In addition to having gained national recognition for his work, he also received an overwhelmingly positive response from students for helping them save approximately $1.2 million this year.
Brian Judson (Enterprise Application Services)
As an application developer, Judson has played an integral role in creating the student self-service enrollment system which has revolutionized the way students enroll for classes. For nine months, from the prototype phase through development, he worked nights and weekends to meet demanding project deadlines. The new "enrollment wizard" makes enrollment easier for students than ever before. They can now see their remaining degree requirements and then search for courses to meet those requirements.
Glenda May (Department of Athletics)
May has selflessly served the sports medicine unit in the athletics department for over 15 years. She has worked tirelessly to establish outstanding relationships with a large network of local and national medical providers, and her persistence in managing insurance policies and claims has saved NC State over $200,000 annually on insurance premiums. She has also volunteered in the community, serving as a court-appointed advocate for a developmentally disabled adult, acting as a facilitator for an Alzheimer's support group and volunteering with Hospice of Wake County.
Eva Telles (Environmental Health and Public Safety)
As a public safety officer, Telles is constantly putting other people's safety above her own. Recently, she helped rescue a driver from a burning vehicle while off duty. Even though the truck's doors were jammed, she pulled the driver out through a window shortly before the entire truck went up in flames. The driver was saved due to her remarkable courage and valor.
Campus-wide Effort
Every year, the university's 17 units and colleges collectively nominate about 90 employees for the awards in recognition of their hard work and service above and beyond the call of duty. See a list of nominees (PDF file). Each unit and college then submits its award recipients, totaling about 50 staff members, to the University Awards for Excellence selection committee to determine the five university-level winners. See a list of unit/college winners (PDF file).
Winners at the unit and college level receive $250 and eight hours of paid leave. The university-level winners receive an additional $250 and eight more hours off.