Carbonell Elected to NAE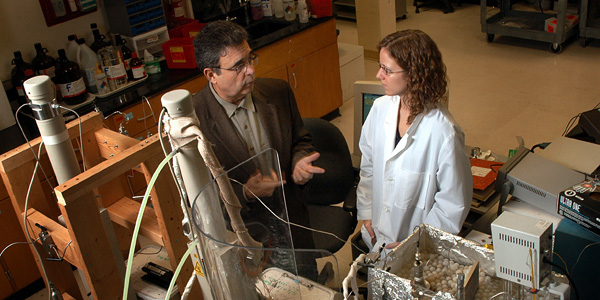 Chemical engineering professor Ruben Carbonell has been elected to the National Academy of Engineering, one of the highest honors in the field. He is one of 67 new members and 11 foreign associates announced by the academy Thursday.
Carbonell was cited for "research and innovation in multiphase reactor design, high-pressure thin-film coating, and novel bioseparation processes."
In the early 1980s, he developed a new mathematical model to describe the hydrodynamic performance of trickle bed reactors that are useful in petroleum processing. In the mid-1990s, his research group developed a novel way of identifying small, inexpensive and robust peptide ligands for the purification of proteins from biological sources by affinity chromatography.
Carbonell's work was instrumental in identifying specific ligands for the removal of the prion protein that is responsible for variant Creutzfeldt-Jakob disease, better known as Mad Cow Disease, in humans.  He led the development of a process for making a novel filter to be used for the removal of prion protein from human blood during transfusions. One of these ligands is also being used to reduce the risk of prion transmission during intravenous injections of therapeutics such as antibodies derived from pooled human plasma.
Carbonell is a fellow of both the American Institute of Chemical Engineers and the Industrial and Engineering Chemistry Division of the American Chemical Society. His numerous awards at NC State include the Alexander Quarles Holladay Medal for Excellence, the highest award given to university faculty. He has published over 230 papers, is an inventor with more than 30 patents and is co-founder of two start-up companies.
Carbonell earned a bachelor's degree in chemical engineering from Manhattan College in 1969 and a Ph.D. from Princeton in 1973. He spent 10 years in the Department of Chemical Engineering at the University of California, Davis before joining NC State in 1984.
He served as head of the Department of Chemical Engineering at NC State from 1994 to 1999 and was also co-director of the National Science Foundation Science and Technology Center for Environmentally Responsible Solvents and Processes from 1999 to 2008.
Carbonell is the director of the William R. Kenan Jr. Institute for Engineering, Technology and Science and has led the Golden LEAF Biomanufacturing Training and Education Center on Centennial Campus since 2008.
He is the 12th current NC State faculty member to be elected to the NAE, a private, independent nonprofit organization that provides engineering leadership in service to the nation. Two emeritus faculty members are also members.