Five Receive Awards for Excellence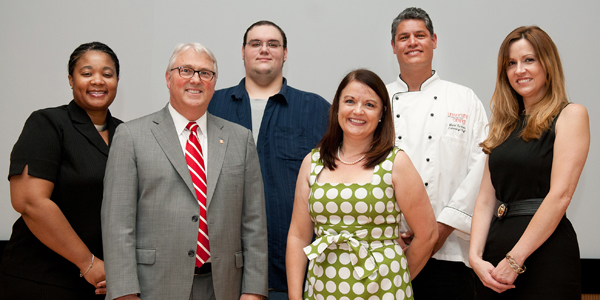 Five NC State staff members have received University Awards for Excellence for their exemplary efforts to serve the university and the community. They are now eligible for consideration in the Governor's Awards for Excellence program this fall.
Claudia Smith Kearney
College of Humanities and Social Sciences
Training delivery professional for the Center for Family and Community Engagement
Kearney has worked as a trainer with the team since 2009, providing outreach and training to all of North Carolina's 100 counties. She develops curricula, delivers training and collaborates with community partners. Kearney is able to take personal stories from her own life and transform those into experiences that provide context in creating a practical learning experience for participants in the classroom, online, in the training room and in personal conversations.
Richard Hodson
College of Engineering
Web programmer for the Department of Electrical and Computer Engineering
Hodson's primary responsibility is the support of GradWatch, the college's graduate student life cycle software which assesses graduate student applications and records. Since he was hired in 2007, he has been involved with dozens of programming efforts, including the campus digital signage system and many research websites and applications. Hodson also recently assisted with a revision to the GradWatch software, which resulted in numerous user interface improvements.
Lindsay Recchie
Office of University Advancement
University program specialist for University Communications
In the past four years, Recchie (in photo, left) successfully aided the installation of a chancellor, twice hosted the president of the United States, accommodated countless legislators, governors, donors, university administrators, business leaders, parents, students and future students. Her dedication and commitment to teamwork have helped the Office of University Special Events to perform at a high level, all while being responsible stewards of resources. In addition, Recchie has helped facilitate the Chancellor's Aides Program, making a significant difference in the lives of many students.
Mark Turner
Office of Finance and Business
Executive catering chef for Rave! Catering
As the lead chef for the Rave Catering production team, Turner frequently works long hours and is accustomed to extinguishing the occasional fire. Last spring, still tired from working 19 hours the previous day, Turner arrived home and witnessed 20-foot high flames coming from a neighbor's chimney. Turner quickly went to the house and alerted the neighbor. Before fire trucks arrived Turner and another neighbor climbed up and down a ladder with buckets of water to douse the flames that had spread to the roof and gutters.
Michelle Anderson
Office of Finance and Business
Foreign national program manager for Human Resources
Over the past eight years, Anderson has revolutionized the foreign national taxation program for more than 3,000 international employees at NC State. She has created new procedures, programs and strategic partnerships on campus and across the state to improve services and better protect the university in foreign national taxation compliance efforts. Anderson has become the "go to" person within the state for her unparalleled expertise in a position requiring knowledge that cuts across the fields of taxation, immigration, human resources, employment, accounting and payroll.