Faculty and Staff
Narayan Earns N.C.'s Top Science Award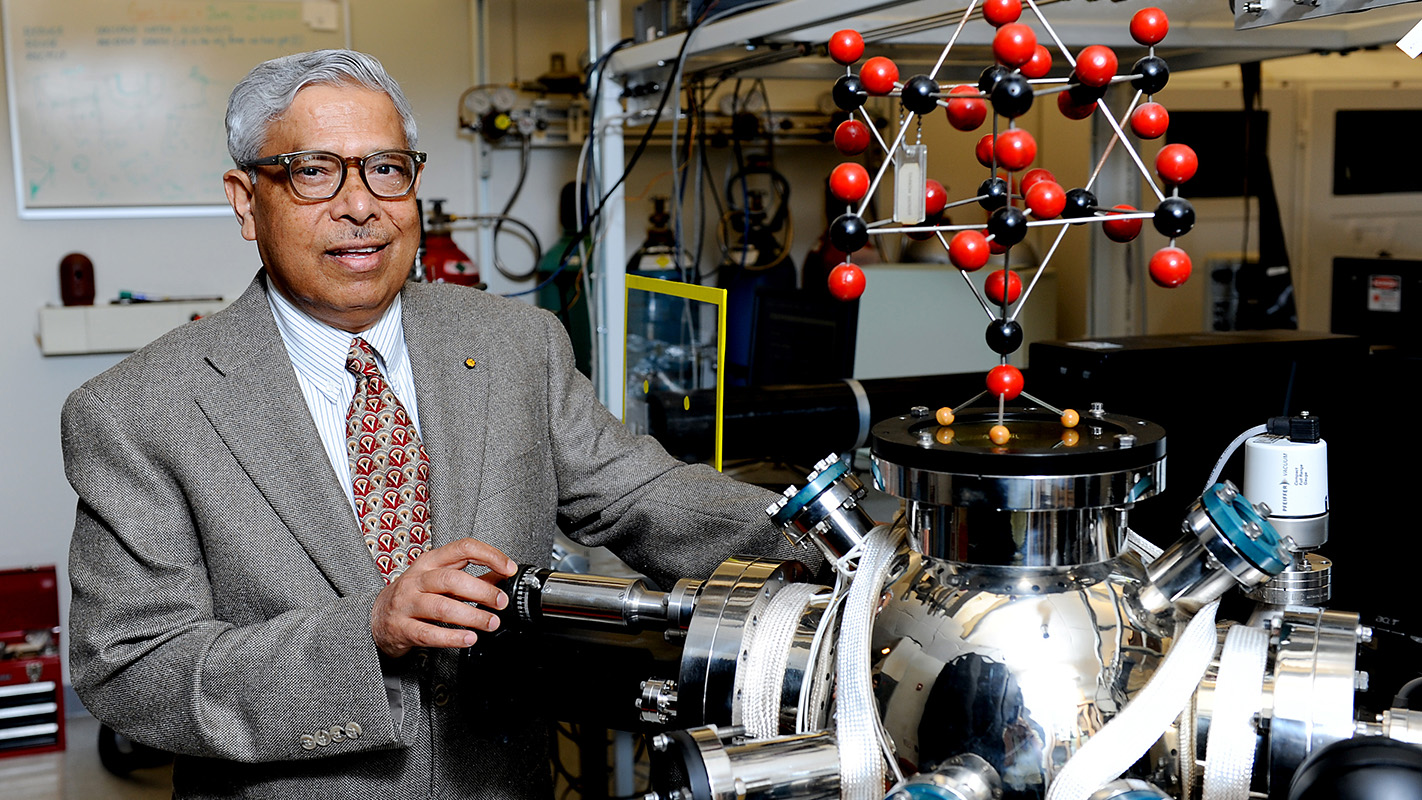 Dr. Jay Narayan, John C. C. Fan Family Distinguished Chair Professor of Materials Science and Engineering at North Carolina State University, has been awarded the 2014 North Carolina Award in Science. The award will be presented by Gov. Pat McCrory at a special award ceremony on Nov. 13.
The North Carolina Award is the highest civilian honor bestowed by the state of North Carolina. The award has been given to up to nine individuals each year since 1964. Celebrating the Golden Jubilee in 2014, the North Carolina Award will be given to six inductees, one each in science and the fine arts, and two each in literature and public service. The recipients are chosen by the North Carolina Awards Committee appointed by the governor and supervised by the North Carolina Department of Cultural Resources. Past winners included Maya Angelou, Charlie Rose, John Hope Franklin, Charles Kuralt, and four Nobel Laureates. Dr. Walt Wolfram, the William C. Friday Distinguished Professor of English at NC State, received the North Carolina Award in Public Service last year.
Reducing Defects
Narayan has made groundbreaking contributions to the field of materials science, most notably in domain matching epitaxy, a method of combining nanomaterials that reduces defects in the semiconductor materials that affect LED efficiency. This work led in turn to the development of high-efficiency LEDs that will save energy, reduce greenhouse emissions and contribute to the nation's energy independence.
Additionally, Narayan's work has led to the creation of microelectronics with increased functionality and the development of smart structures and sensors that can be used to detect bioterrorist threats, create smart grid technology and impact national security.
Narayan holds 40 U.S. patents and has published nine books and more than 500 papers in scholarly journals, which have over 20,000 citations (Google Scholar). He has been invited to present papers at numerous conferences, symposia and seminars.
Recognized for Research
Earlier this year, Narayan received the O. Max Gardner Award, the most prestigious universitywide honor given to faculty by the University of North Carolina Board of Governors. In 2011, Narayan received both the Reynolds Prize, NC State's highest honor for excellence in research, teaching and extension, and the Acta Materialia Gold Medal and Prize for pioneering contributions and leadership in materials science worldwide. He received the Alexander Holladay Medal, NC State's highest faculty honor, in 2012, and is the 2014 recipient of the Robert Franklin Mehl Gold Medal, the pinnacle honor from The Materials Society for pioneering contributions in nanomaterials and nanotechnology leading to useful commercial products.
Narayan has mentored more than 65 Ph.D. students and trained numerous postdocs who are employed by leading companies and universities. Since joining NC State's faculty in 1983, Narayan has developed eight graduate courses that are connected with his research, three of which are offered via the Engineering Online Network to engineers within the microelectronics and photonics industry. Narayan's research was also recognized by the American Institute of Physics (AIP) in light of this year's Nobel Prize in Physics being awarded to researchers who work on the development of blue LEDs made from gallium nitride (GaN) based materials. The AIP has highlighted Narayan's highly cited paper (J. Appl. Phys. 87, 965 [2000] with over a thousand citations) on the development of GaN-based materials used in the Nobel Laureates' work. In fact, all high efficiency GaN-based LEDs are manufactured today using a process made possible by Narayan's invention of quantum nanostructuring or Nano-Pocket LEDs.
Elected in 2008 as an Inaugural Fellow of the Materials Research Society, Narayan is also a Life Member and Fellow of The Materials Society, a Fellow of the American Association for the Advancement of Science, and Life Member and Fellow of the American Physical Society.
Born in India, Narayan received his bachelor's degree from the Indian Institute of Technology in Kanpur, and his master's and Ph.D. from the University of California, Berkeley. He was named Distinguished University Professor in 1990, and John C. C. Fan Family Distinguished Chair Professor in 2002.