Faculty and Staff
Book Inspires Appalachian Trek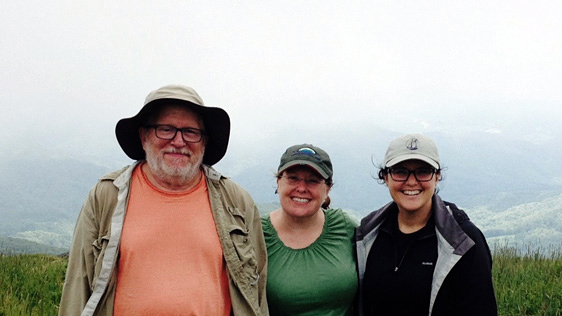 Three NC State faculty members climbed a mountain last weekend so they can help students better understand this year's common reading selection, Stand Up That Mountain. The book's author, Jay Erskine Leutze, will deliver the keynote address at the Wolfpack Welcome Convocation, Monday, Aug. 17.
Environmental sciences lecturer Katie Winsett, mathematics professor Michael Singer and biological sciences professor Jennifer Landin trekked up Hump Mountain on the Appalachian Trail, the main viewpoint for the legal battle described in the book.
Winsett took photos along the trip to enhance discussions of the book in her Introduction to Environmental Sciences course next year. The book provides an engaging opportunity to illustrate and discuss course topics such as environmental justice, the use of natural resources, and the role of community engagement, she says.
Landin plans to use the experience in her introductory biology courses, but focused on travel sketching along the hike. She plans to use her paintings to promote environmental awareness on her Science-Art blog.
To learn more about the common reading program and Stand Up That Mountain, visit http://newstudents.ncsu.edu/commonreading/about2015.