The Abstract
This Is What Science Looks Like at NC State: Danielle Lindquist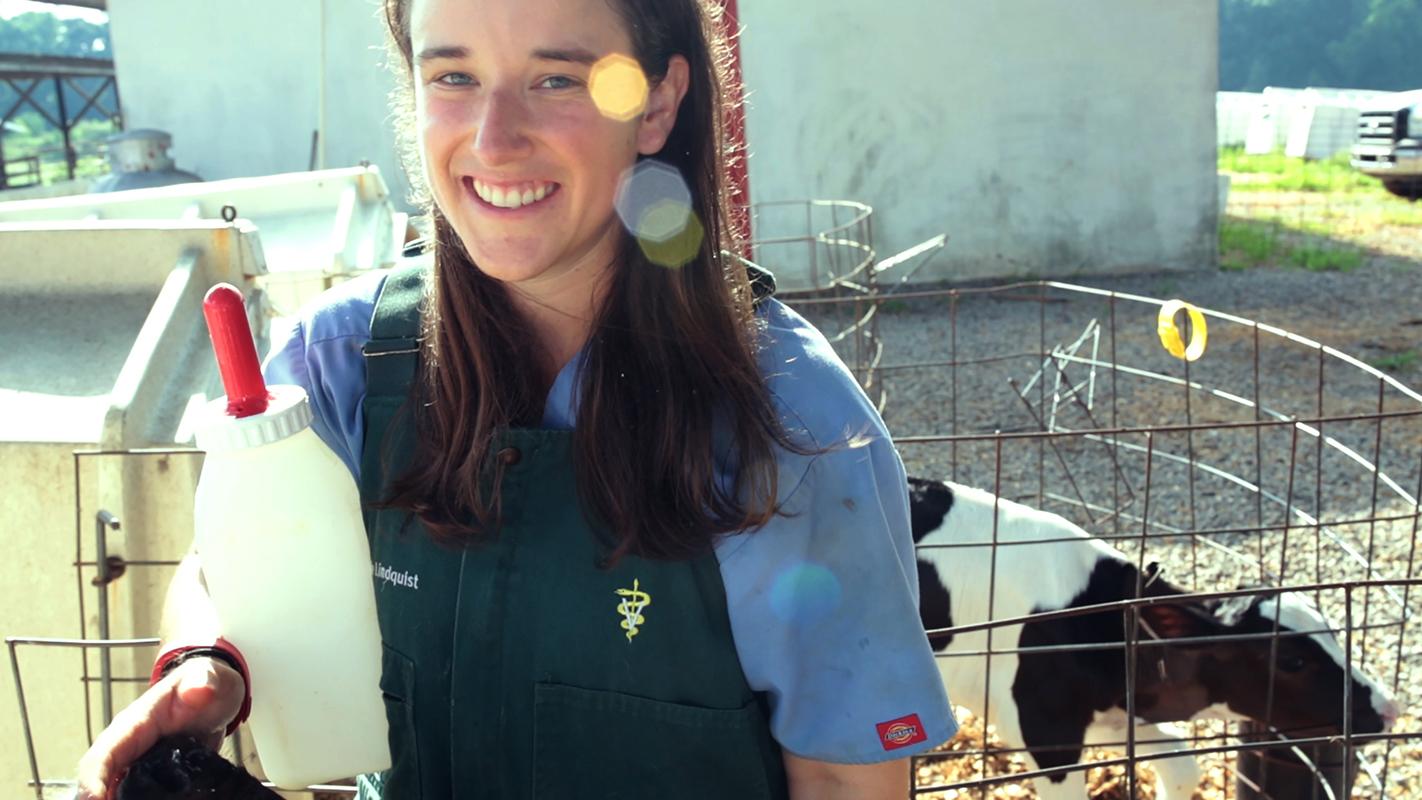 Editor's Note: This post was written by Danielle Lindquist, a joint Ph.D./DVM student at NC State. The post is an entry in an ongoing series that we hope will highlight the diversity of researchers in science, technology, engineering and mathematics. The series was inspired by the This Is What A Scientist Looks Like site.
My name is Danielle Lindquist, and I am pursuing my graduate Ph.D. research in veterinary pharmacology and am also working on my doctorate in veterinary medicine at NC State. You can usually find me in one of two places: In my lab working at the Food Animal Residue Avoidance Databank (FARAD), or down the road at NC State's Lake Wheeler Dairy.
I learned pretty quickly that lab coats do not hold up very well on a dairy farm. My go-to lab outfit now usually includes muck boots, manure and coveralls. The DVM/Ph.D. program at NC State's College of Veterinary Medicine is a unique program that provides clinical and research training for future veterinary clinician scientists. Not only do I get a chance to work side by side with some of the best researchers in the nation, but I get to work on cases in the large animal hospital with outstanding clinicians who help me integrate my clinical reasoning with my scientific knowledge.
What drew me to the field of veterinary pharmacology was the ability to not only make an impact on the lives of individual animals, but also that by conducting this type of research, I could potentially make an impact on the lives of millions of animals and people. I want a career that is different every day; where I could be in lab one minute, treating a sick cow the next, or answering calls from veterinarians anywhere in the United States. It's a constantly progressing field and one that makes an impact on both veterinary and human health.
My research focuses on the pharmacokinetics (how a drug distributes throughout the body) of therapeutic drugs in neonatal calves. The neonatal period in humans and animals represents a time of rapid growth and development. As a consequence, significant changes occur in metabolism and growth. The goal of my dissertation research is to characterize and describe these pharmacokinetic differences in neonatal veterinary species, particularly in pre-ruminant (still drinking milk) versus ruminating (eating grass and hay) calves and to help fill in the lack of information regarding drug metabolism in these pediatric patients.
The other part of my dual degree program includes working for FARAD, which is a congressionally-mandated risk-management program that is supported by the U.S. Department of Agriculture. The program is maintained by a consortium of universities, including University of California-Davis, University of Florida, Kansas State University and NC State. FARAD's primary mission is to prevent or mitigate illegal or harmful residues of drugs, pesticides, biotoxins and other chemical agents that may contaminate foods of animal origin, such as milk and meat from cattle, swine or chickens.
As a student and researcher interested in food animal medicine, my role in FARAD gives me an experience unmatched by any other research program. Not only do I learn and conduct research about residue avoidance and common drug protocols to protect the health of food producing species, I get the opportunity to share my research with the public, educating them about the importance of FARAD's role in protecting our nation's animals. The scientists at FARAD offer a proactive response to food safety, and we work every day to ensure the quality and safety of our nation's food supply.
In my spare (ha.) time, I enjoy anything outdoors, NC State basketball games and taking my dog Finley hiking. I have run 20 half marathons around the United States! I will be marrying another amazing Wolfpack scientist in the Ph.D. program here at the College of Veterinary Medicine later this year at a dairy barn. I hope this article gives anyone reading it the idea that science is anything you want to study…you just have to get your boots dirty.
Go Pack!