Campus Life
Engineering Student Is NC State's First Newman Fellow
In the Institute for Emerging Issues commons area of the Hunt Library, children can often be found running back and forth in front of a wall of interactive digital screens. Those screens are a hit with young campus visitors because sensors installed on each pull up a panel of information and make a clicking noise when someone is standing nearby. To a child, running the length of the wall is like sliding a finger along a giant keyboard.
It turns out that those panels represent much more than a game. Users can access data on education, health care, environmental issues, employment and more for every corner of the state.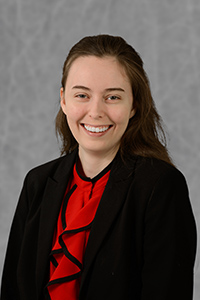 "You can get a visualization of information about your own community," says Ashle Page, a senior in chemical and biomolecular engineering and polymer and color chemistry who has served as a lead ambassador for the institute during her time on campus.
IEI, a non-partisan public policy organization started in 2002, hopes that presenting information to young people in an interactive way will plant a seed to encourage them to tackle the problems in their communities that those statistics point out.
As a lead ambassador, Page has given tours of the commons area and designed an educational program for K-12 instructors and students that combines technology with civics.
"Being an engineering student, I'm very interested in how science and technology are involved with civic engagement," Page says.
Now, Page hopes to continue her work bridging technology and policy as the first NC State student to receive a Campus Compact Newman Civic Fellowship. The national fellowship is a one-year experience that gives students access to in-person and virtual learning opportunities, networking events and mentoring. There is also a stipend to pursue a civic engagement project of the student's choosing.
The fellowship is named in honor of Frank Newman, one of Campus Compact's founders, and is supported by the KPMG Foundation and by the Newman's Own Foundation.
True Leadership
Page, who will graduate this week, has made the most of her time at NC State, getting involved in several campus organizations, participating in the university's Entrepreneurship Initiative and Service Raleigh, and tackling undergraduate research work. She is a member of the Goodnight Scholars and Centennial Scholars programs, as well as the University Honors Program and Tau Beta Pi Engineering Honor Society.
Page spent each summer during her NC State career as an intern and fellow at NASA's Langley Research Center, where she enjoyed the agency's focus on mentorship and the fact that interns are allowed to work on their own and to make mistakes. "Making mistakes is the foundation of engineering and, really, any aspect of life. Learning from failures is part of the learning process and is essential to problem-solving."
Her work as a Newman Fellow will focus on the idea that combining data on the world as it is today with children's ideas for tomorrow will lead to a better world in the future. The key, she says, is "giving students and teachers agency over their own education. You're making your own path. You're deciding for yourself that this is something you want to do."
Coming from an active student life at a small high school in Cary, Page was surprised at how easy it is to be involved at NC State. The university gives students the tools they need to be leaders, she notes, though she might not use that term to describe herself.
"I didn't come to college and say 'I'm going to lead this or that,'" Page says. "You see the needs and then you act upon them. You gain those leadership skills even though you don't explicitly say 'I'm a leader.' I think that's key to true leadership."