Campus Life
Carter-Finley Expands Compost Effort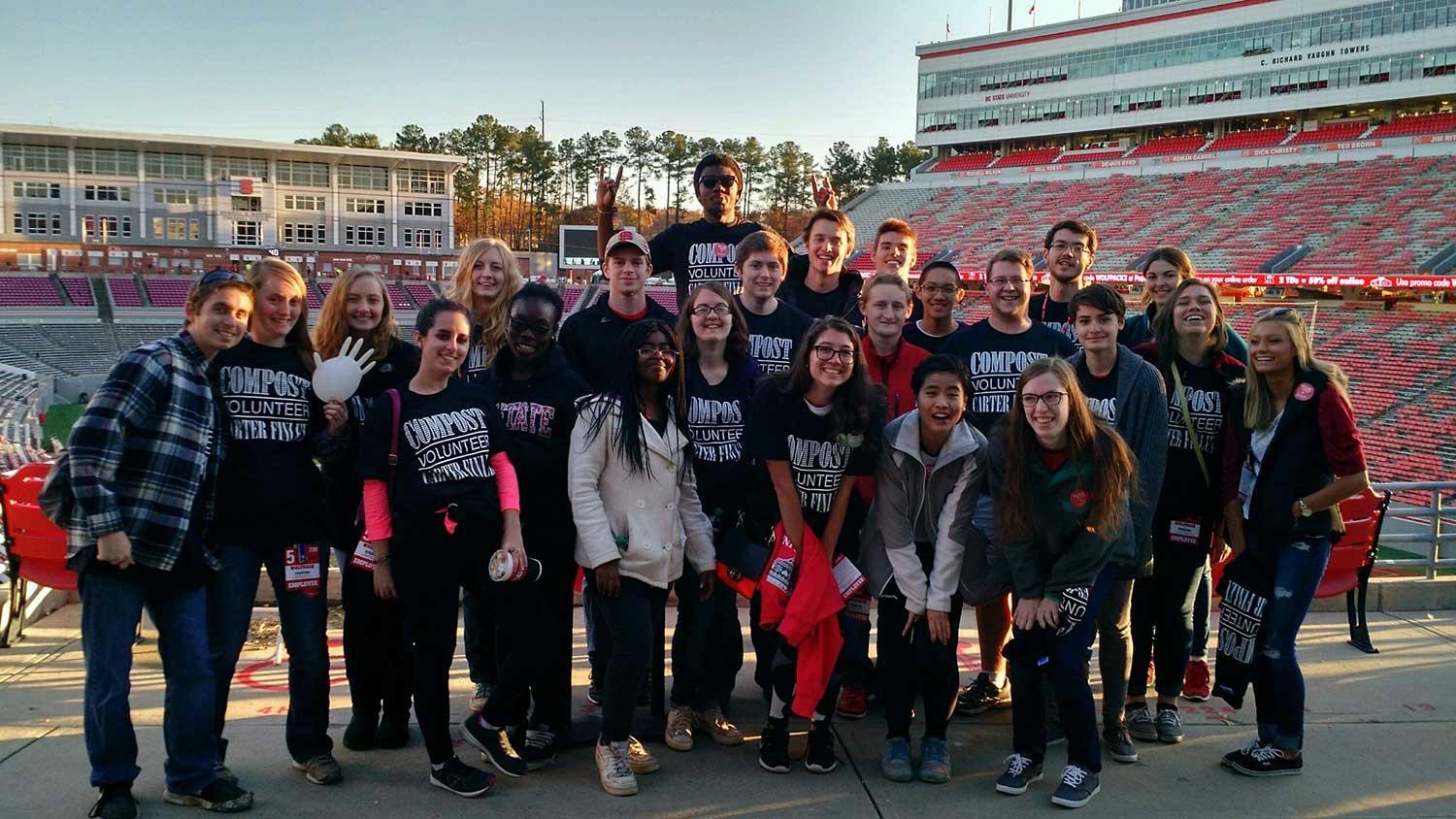 When the Wolfpack returns to Carter-Finley Stadium for its first home football game, so will the major composting and recycling effort aimed at reducing gameday waste.
NC State Athletics and NC State's Waste Reduction and Recycling Office will again offer composting and recycling in the stadium, as well as recycling in the tailgating lots. These efforts last season resulted in 39 percent of gameday waste being diverted from local landfills.
"Last season we set records in both recycling and composting. Overall, we decreased landfill waste by 29,000 pounds ‒ despite increased game attendance and an additional game in the 2016 season," said Lani St. Hill, who coordinates NC State's Zero Waste Wolfpack initiative.
The boost is a result of compost collection, which began during the 2015 season and expanded last year. Compostable material ‒ such as leftover food, pizza boxes, paper plates and other paper-based food packaging ‒ is collected on the stadium concourse, inside the stadium and in the food preparation areas of Vaughn Towers.
"Through composting, this material transforms within a few months to nutrient-rich soil amendment," St. Hill said. "We're essentially turning waste into a valuable product."
New this year, fans can also compost paper towels in select stadium bathrooms.
In the tailgating lots, the WE Recycle program enters its 14th season of encouraging recycling among Wolfpack fans. Bags to collect recyclables can be obtained from WE Recycle volunteers or from bag dispensing stations in the tailgating lots.
Neither the Carter-Finley Composts or WE Recycle program are possible without volunteers. Last season 261 volunteers contributed a total of 887 hours. Learn more about volunteer opportunities and incentives at go.ncsu.edu/zerowastewolfpack.
Your Game Guide
WHAT YOU CAN COMPOST
Look for the gray bin with green lid on the stadium concourse
All leftover food such as pizza, hot dogs, funnel cakes, lemons, peanut shells, nachos
Food-related paper such as pizza boxes, popcorn boxes, paper plates, napkins, paper condiment cups, wax paper
WHAT YOU CAN RECYCLE
Look for the red bin with white lid on the stadium concourse
Plastic bottles
Cans
Plastic stadium cups
Flyers and posters
Cardboard (clean and free of all food waste)
WHAT YOU SHOULD LANDFILL
Look for the gray bin on the stadium concourse or in tailgating lots.
Styrofoam
Plastic lemonade cups
Peanut bags, wrappers, and condiment packets
Chick-fil-A sandwich bags
Plastic trays
Plastic bags
Plastic utensils
Zero Waste Wolfpack is a partnership of NC State's Athletics, Waste Reduction and Recycling, Sustainability Office, Campus Enterprises and Wolfpack Sports Properties. Additionally, Waste Industries sponsors the WE Recycle program.
This post was originally published in Sustainability News.