Campus Life
Wrestler Macchiavello Savors National Title
Returning for his fifth year of competition for the NC State wrestling team allowed Mike Macchiavello to accomplish several life goals. First, the native of Monroe, North Carolina, earned his undergraduate degree in finance from the Poole College of Management.
Second, he enrolled in the university's Master of Arts in Liberal Studies program.
And third, despite having never won an Atlantic Coast Conference championship in his five-year collegiate career, he was the surprise winner in the 197-pound title at the NCAA Wrestling Championships in Cleveland.
Macchiavello isn't sure he would have become the program's seventh individual national champion had he not taken a redshirt year off between his sophomore and junior seasons to improve on the finer points of wrestling.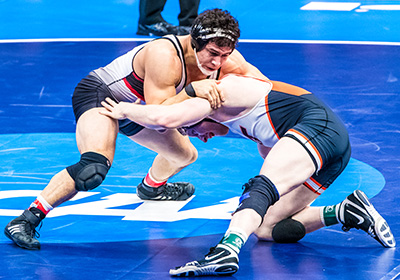 He was just 11-14 as a freshman and 9-8 as a sophomore. After the redshirt year, he entered the 2017 NCAA championships seeded 10th and finished one win short of earning All-America honors. This year, as a redshirt senior, Macchiavello moved up from the 184-pound class to the 197-pound class and compiled an impressive 22-3 overall record.
Last weekend, he was one of the biggest surprises of the national meet, entering the event seeded fourth in his weight class. He rose through the ranks with four dominating wins to earn his first shot at a national championship, facing third-seeded nemesis Jared Haught of Virginia Tech. The two had faced each other twice already this season, with Haught handing Macchiavello two of his three losses of the season.
Going into the final seconds of the title match, they were tied 1-1 and it appeared they would go into overtime, as they did in the ACC title match when Haught won in three extra periods. With 14 seconds to go, however, Macchiavello hit a two-point takedown to win the championship with a dramatic 3-1 victory.
"I know he had beaten me the previous two times, and that's something I thought about," Macchiavello says. "I knew the match was going to be tough, but I felt as long as I wrestled hard and gave everything I had there was a pretty good chance I could pull it out."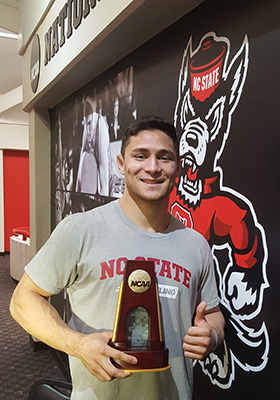 The unexpected victory comes with a spot on the picture wall of national champions inside the Weisiger-Brown Athletics Facility, right outside the wrestling team's practice room.
"I've always joked around about reserving a spot right next to (two-time champion) Nick (Gwiazdowski)," Macchiavello says. "I don't know if that's where my picture will go, but I've always been looking at that spot.
"For me to actually put myself in position to even get there, to be part of this elite group of people, I'm still coming to terms with it. I just can't believe it."
Macchiavello, who won a North Carolina High School Athletic Association title as a senior at Sun Valley High School in 2012, is just the second North Carolina native to ever win an NCAA wrestling individual title. The first was 450-pound Winston-Salem native Tab Thacker, who completed his 31-0 senior season by winning the 1984 NCAA heavyweight title.
All of that makes his title last weekend even more remarkable.
"If you ask anyone in the wrestling world or people outside NC State, it's not somewhere I was supposed to be, especially coming in as a freshman," Macchiavello says. "I was a one-time North Carolina state champ, I was not nationally ranked as a recruit, I had a losing record my freshman year in college and I was [nearly] .500 my freshman year."
In other words, he was an underdog from the get-go.
"Everybody thinks you have to be a three- or four-time state champion to be successful in college, and he proves that if you do things right you can win a national title," says Wolfpack wrestling coach Pat Popolizio, who has now mentored two wrestlers to a total of three individual championships.
As a team, the Wolfpack finished tied for fourth in the team competition, the highest finish in school history and tied for the highest finish ever for an ACC team.