Service and Community
NC State Helps Homegrown Holiday Hobby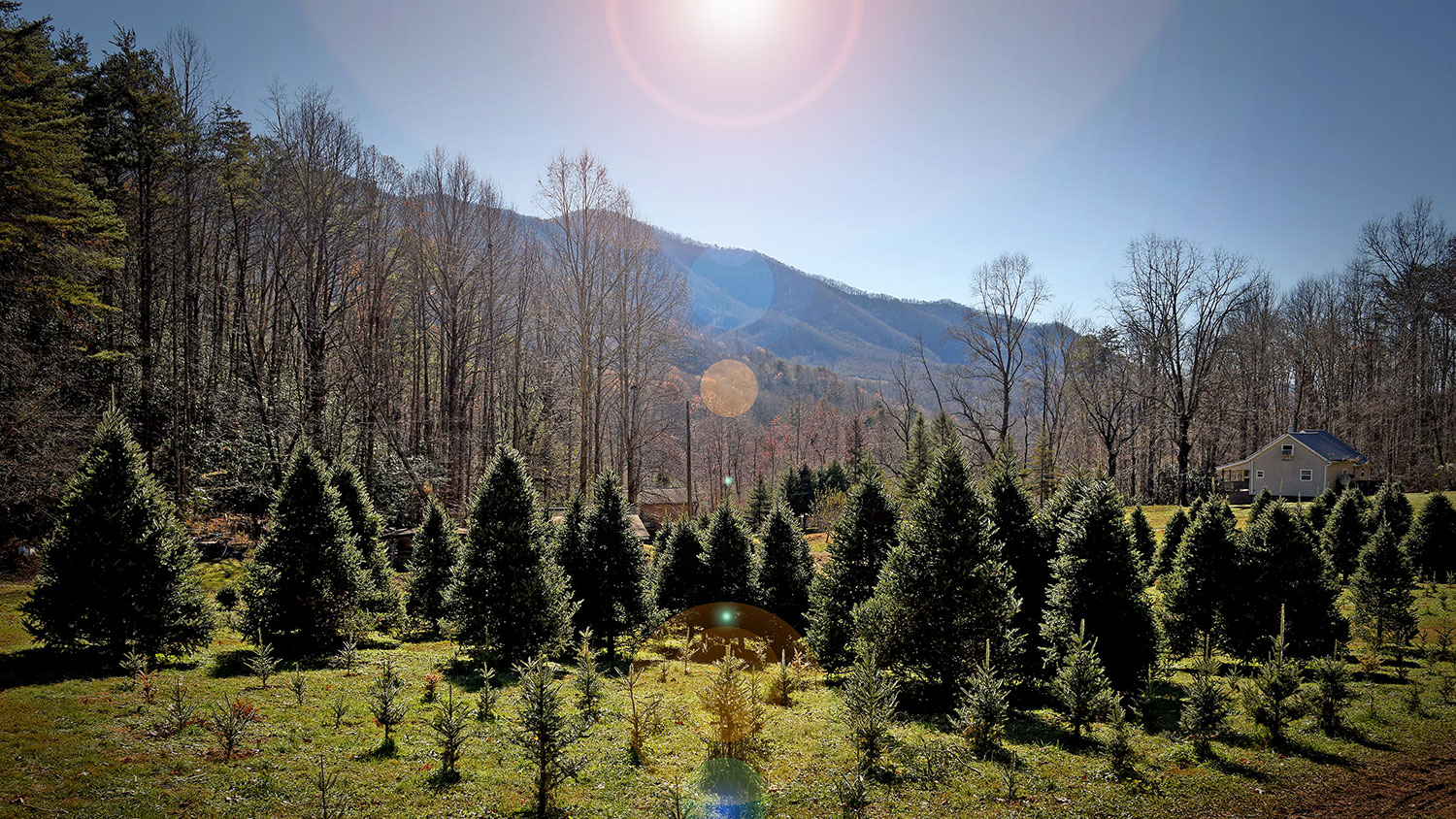 Tucked on a cleared hillside deep in Cherokee County, a row of five trees stands perfectly aligned next to a modest family home. They are located on a one-lane dirt road that, in reality, is just five ascending driveways connected by mailboxes.
Dug up from a nearby forest, the trees mean everything to Ricky and Judi Postell, owners of Fir Heaven's Sake Christmas tree farm, a family choose-and-cut business in Topton, less than a mile off North Carolina Highway 74.
"Those trees?" Ricky Postell says, pointing towards a small gift shop. "They are our Christmas trees through the years. We planted them after the holidays and they were the earliest ones we ever planted.
"Growing Christmas trees is something I've always wanted to do."
Postell's hillside farm, with about 1,200 total trees, is a world away from NC State's campus in the heart of Raleigh. Cherokee is North Carolina's westernmost county and Topton is some 330 miles away, about the same distance as Philadelphia, Jacksonville, Florida, or Columbus, Ohio.
And it's modest in size, at least compared to some of the larger farms on the 250-mile Blue Ridge Parkway corridor that supplies — with the help of NC State College of Natural Resources researchers, geneticists and College of Agriculture and Life Sciences extension agents — some 15 percent of the nation's Christmas trees. Way up in Ashe County, a curvy five-hour drive away from Postell's small farm, there are in excess of 3 million Fraser firs, more Christmas trees than in any other county in the country.
More than 99 percent of all Christmas trees in North Carolina are Frasers, a native species that grows at an elevation of 1,500 feet or higher in Great Smoky and Appalachian mountains. Coveted for their fragrance and the hardiness of their needles, most Fraser firs now farmed in North Carolina have been genetically enhanced by research done at NC State that extends and heightens those properties, according to professor John Frampton.
Tucked behind NC State's Raulston Arboretum, within sight of Raleigh's busiest highway, Frampton has some 7,000 Fraser saplings, subjects for his research.
Earlier this year, a 19 1/2-foot North Carolina Fraser fir, grown by Larry Smith of Newland, was chosen to be the White House Christmas tree. It's the 13th time since 1971 that a North Carolina tree has been displayed in the Blue Room of the presidential residence, far more than any other state. In 2012, the 18 1/2-foot tree presented to First Lady Michelle Obama was grown by NC State graduate Beau Estes and his father, Rusty, at Peak Farms in Ashe County.
Postell's farm, like a lot of small family growers, is not a big operation, and for now it's only a hobby, a way to use hillside land that isn't suited for other forestry or agriculture purposes. He started his stand of trees in 2006, thanks to a $3,000 AgOptions grant from North Carolina Cooperative Extension. With the help of local extension agents, soil scientists from NC State and CNR researchers, he's been adding up to 700 trees a year.
Postell works more than 100 miles away as an HVAC specialist at Ridgecrest Conference Center, on the other side of Asheville from his home. He makes the hour-and-45-minute drive there every Monday, lives in his 38-foot camper through the week and returns home for weekends and Christmas tree emergencies.
But one day …
"I'm hoping to retire," he says, "and spend all my time growing trees."
Over the years, Postell sold trees to vacationing flatlanders from Florida, Georgia, even Louisiana, as well as his mountainside neighbors. This year's season got off to a busy start, as Fir Heaven's Sake sold 200 trees the weekend after Thanksgiving — nearly half of what Postell expected to sell total in the seven-week season.
He hopes he will have enough trees to show the groups of schoolchildren who are scheduled to visit the farm in mid-December to give them the full experience, which includes a tractor-pulled sleigh ride with Santa Claus, a holiday-themed display of angels and elves hand-painted by his wife and a s'mores-ready firepit next to his gift shop.
"It's more than coming to cut a Christmas tree and take it home," Postell says. "It's something to get people ready to enjoy the Christmas season."