Proving Ground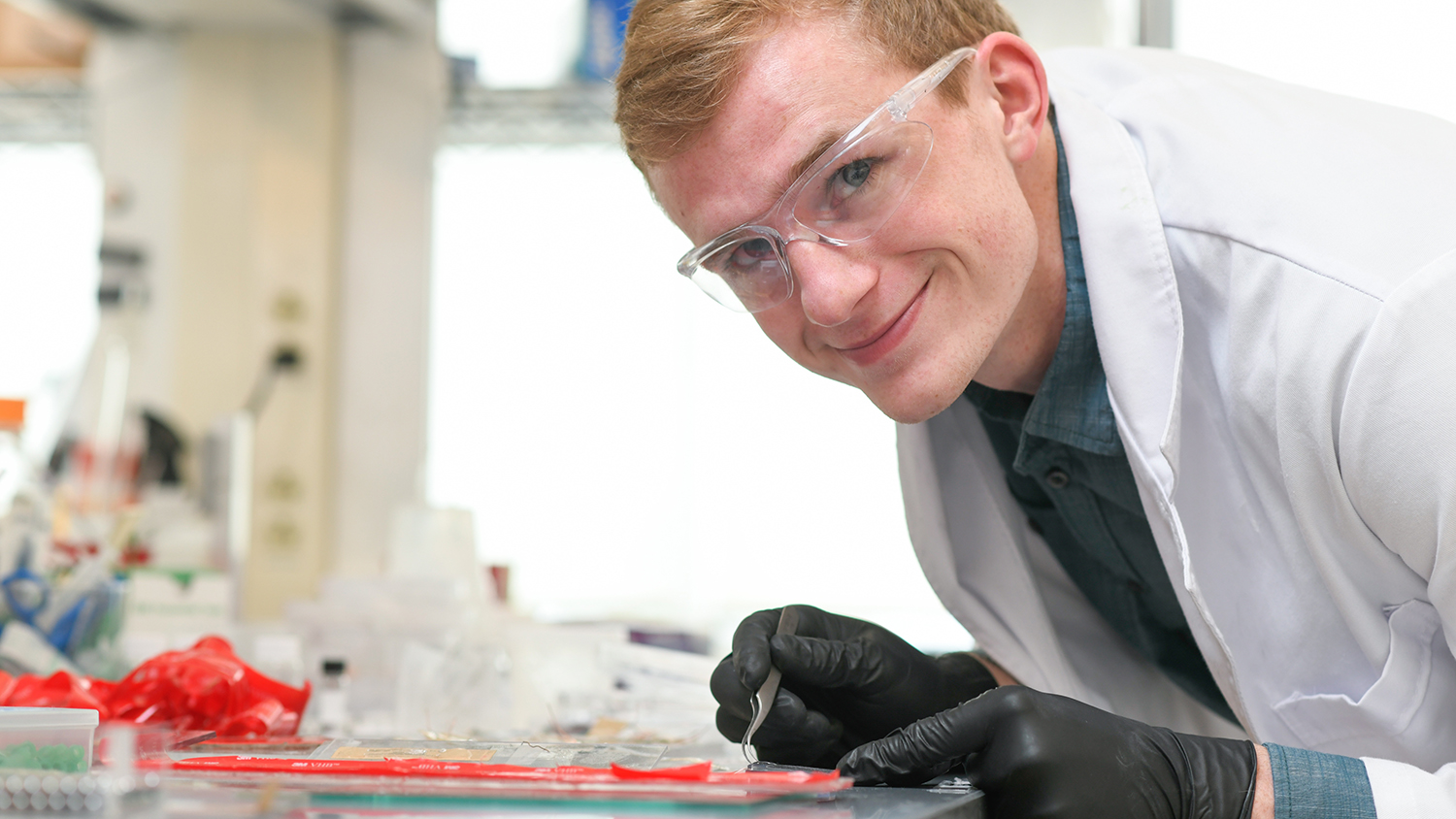 In a world crowded with problems, Neil Baugh sees a lot of potential in solutions.
"I'd like to get into high-tech entrepreneurship, to take uncapitalized academic research and push it into the real world," he explains. "There's a lot of really interesting stuff that just sits on the shelf."
As an undergraduate in materials science and engineering at NC State, Baugh has helped advance some of the university's most innovative research, working on projects in soft robotics and stretchable electronics. And he's in the process of forming a startup company with fellow students to create and commercialize a nanomaterial additive to strengthen common materials.
Baugh's ambitious plans for the future got a boost in April when he earned a Goldwater Scholarship, one of the top awards for promising young STEM researchers. The scholarship will pay for his senior year at NC State, allowing him to spend more time in the lab.
He plans to cap off his academic credentials with a Ph.D., honing both his research and business skills to help close what he sees as "the big gap between academics and industry." It could be a fertile field. NC State alone has more than 200 innovations available for commercialization, from a remote-control robotic catheter that could improve the safety of minimally invasive surgery to a molecule that could combat chronic pain without the addictive properties of opioids.
Exploring Possibilities
Baugh's academic path has taken a few twists and turns since he enrolled at NC State in 2016. The Charlotte native initially planned to major in biomedical engineering, driven to the field after watching members of his extended family confront various health issues, including hearing loss, Alzheimer's and scoliosis.
During his sophomore year, Baugh began looking at other disciplines with health care applications. When it came time to declare a major, he chose materials science and engineering, drawn to its nearly limitless range of possibilities. "It's super broad so you can do everything from semiconductors to biomaterials," he says. "You can work on implants in a lab or metal processes in a steel mill."
Even then, he wasn't afraid to cross academic boundaries. A web search led Baugh to apply to professor Michael Dickey's lab in the Department of Chemical and Biomolecular Engineering. There, he had the opportunity to work on leading-edge projects in soft robotics, a field that encompasses several disciplines with the goal of developing machines made of compliant materials with human properties.
"When you think about humans, we're kind of like big soft robots," he says. "And soft robots, like humans, can grip things and conform their hands to the surface of the things without breaking them."
Industrial plants have used robots with handlike grippers for years to perform simple tasks such as tightening screws or holding components on an assembly line. Soft robotics promises to bring more humanlike dexterity to these devices, allowing them work alongside people in fields as diverse as agriculture and medicine.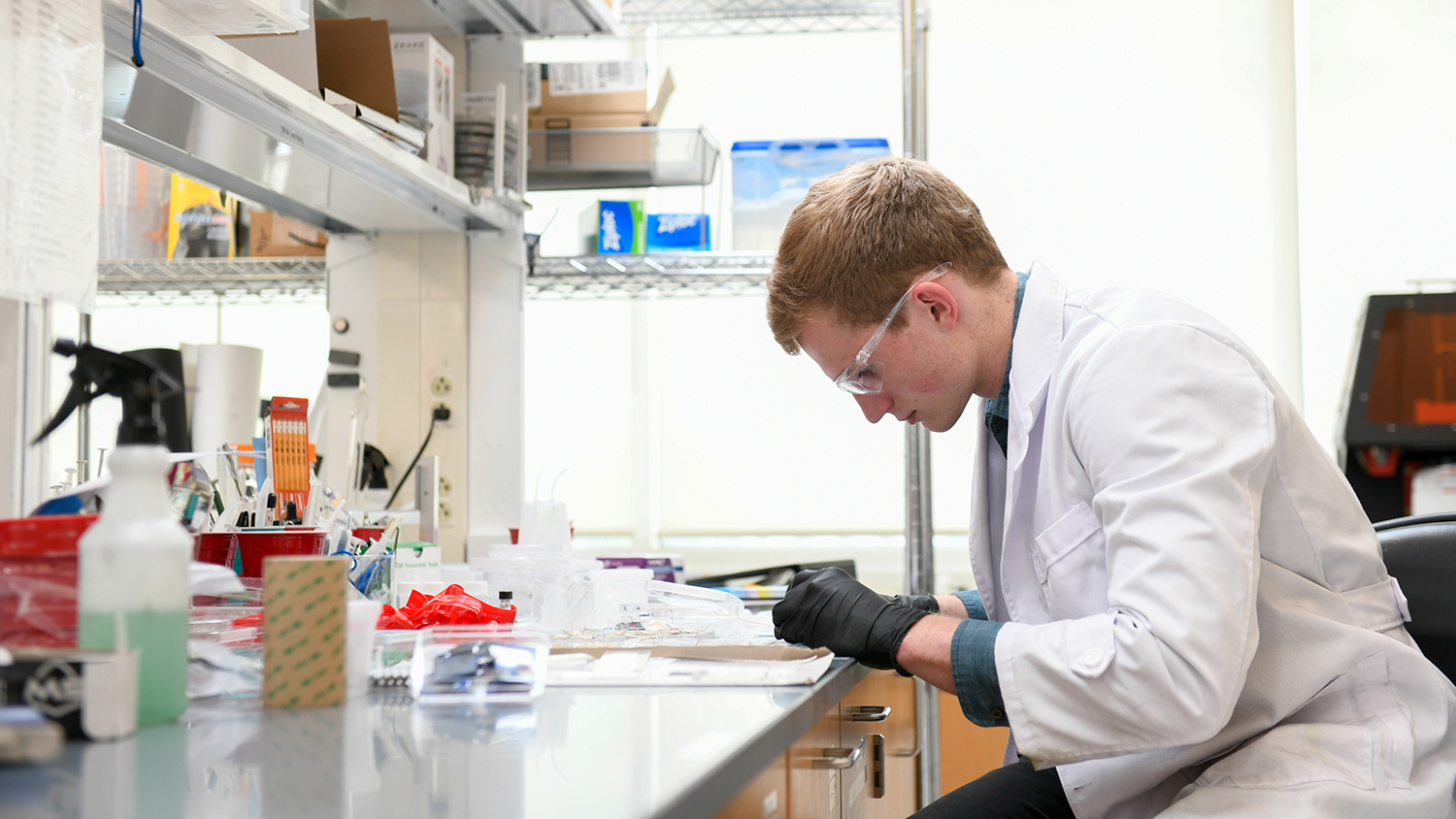 In Dickey's lab, Baugh worked with graduate students and postdocs on a project to design and test an innovative soft gripper that can alternately flex and straighten its digits thanks to movable components filled with liquid metal. When the metal is cool, the robotic hand has the strength to grip a fairly heavy load. But when a low voltage is applied to the metal, it stretches, causing the digits to straighten and release their grip.
Covering New Ground
In the summer of 2018, Baugh scored an internship through a program funded by the National Science Foundation and found himself at the University of Colorado Boulder researching a photocurable thermoplastic polymer system — an innovative material for 3-D printing.
It was a chance to add to his research skills, and he relished the opportunity. "I explored everything from the mechanical properties to the polymerization kinetics and 3-D printing potential," he says. "If I'd had more time, I would have explored the material's potential as a structural material and as a coating in optical fibers."
But Baugh's journey as a young researcher hasn't been without a few stumbles. In a candid essay accompanying his Goldwater application, he admitted his first independent research project was difficult.
"I went through many different ideas and approaches without success," he wrote. "I have had to learn patience and creativity to address technical challenges. This project has made it apparent to me that ideas do not always lead to successful research, and if they do, they take time to fully realize."
Still, Baugh says he's gained skills — and wisdom — that only come through trial and error.
"These research experiences have taught me to think creatively, to operate many instruments and analyze their results, to work as part of a team and to actively build my scientific knowledge to be the best scientist possible," he says. "I have been able to glimpse the life of a STEM researcher and have confirmed that it is the path I want to take in my career."
He'll take another detour and take advantage of another opportunity this summer when he heads to Boston to intern in the Mitragotri Laboratory for Drug Delivery at Harvard.