Resilient Pack
Keeping Students Fed
NC State Dining employees are hard at work converting a campus restaurant into a self-service dining hall to help feed students who remain on campus.
One month after opening dining operations under new protocols to protect campus diners from COVID-19, the NC State Dining team is rallying to make another big shift. The Aug. 25 announcement that the university would limit the number of students who could remain on campus meant that dining needed to rightsize — and do it quickly.
The core of any dining program is the all-you-care-to-eat dining hall, so establishing Talley Student Union as the home base for main campus dining and identifying space inside Talley for a new dining hall became immediate priorities.
"To ensure we can continue to provide this valuable component of our dining operation while consolidating our space, we are converting One Earth in Talley Student Union to fulfill this need for the remainder of the semester," says Rich Berlin, associate vice chancellor for Campus Enterprises.
The biggest challenge to making this shift at lightning speed — the new dining hall opens Sunday, Sept. 6 — is blending staff from across campus into one area, although the team says it likes to consider this more of an opportunity than a challenge.
"We are staffing One Earth with employees who typically work at Park Alumni Center, our three traditional dining halls, the Atrium and Talley," says Keith Smith, director of residential dining. "They all bring their own talents, expertise and experience to the table to create amazing food and guest experiences."
How is the team pulling it off? Here's a peek behind the scenes.
Executive Chef Brian Corcoran, who is stationed at Talley, says that Smith, along with Talley Foodservice Director Anthony Brown and Chef Gary Tessinari, designed the menus with assistance from the Case Dining Hall team that includes Bob Sorochak and Matt Hodges.
Pastry Chef Yoli Santiago is creating pastries and desserts while Sous Chef Thomas Grabau is serving in a new leadership role, as he is familiar with the daily execution and high standards of the Talley main kitchen as it acts as a commissary for One Earth. Dining Hall managers Scott Curtner and Crayton Garrell will oversee the operation.
Outside the kitchen, Purchasing Specialist Tiffany Bowman quickly analyzed the new menu to forecast ingredient needs and put the ordering in motion. Systems Administrator Chris Dunham reprogrammed the registers so students' meal plans would work appropriately. And Purchasing Manager Hannah Shea and the marketing team — Stacey Strickland, Reggie Howell and Jane Neeley — got to work on digital and print signage, website updates and email communications to ensure students are well informed of the change.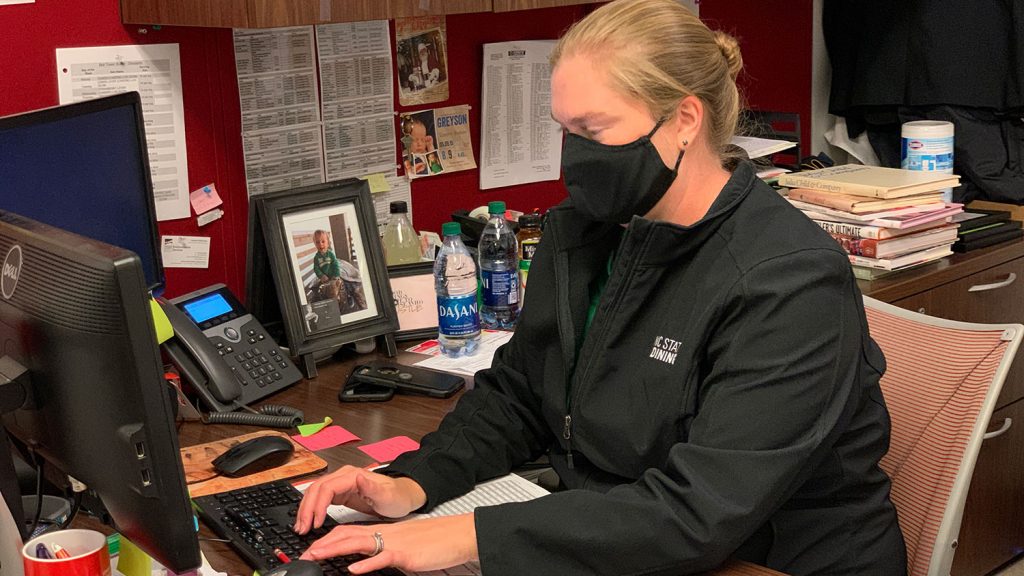 "In the end, NC State Dining has a wide variety of very talented, extraordinary people who are amazing at pivoting when a challenge occurs," Smith says.
Hoch agrees.
"The culinary team is doing a great job, and I am excited to see the new experience that our guests can enjoy at One Earth."
The Dining Deets
Beginning Sunday, Sept. 6, One Earth will open Monday through Friday for breakfast (8-10 a.m.), lunch (11 a.m.-3 p.m.) and dinner (4:30-7 p.m.), and Saturday and Sunday for lunch (11 a.m.-3 p.m.) and dinner (4:30-7 p.m.).
A typical breakfast menu will include eggs, biscuits, breakfast meats, sausage gravy, oatmeal, pastries, fruit and yogurt cups. Lunch will feature stir-fry, pre-made wraps, a rotating made-to-order Mediterranian menu, homestyle entrees and sides, pasta, marinara sauce, side salads and fruit options. Dinner will feature stir-fry, homestyle entrees and sides, pasta, marinara sauce, side salads and fruit options.
Other locations within Talley that will continue to operate, albeit on a modified schedule, include Tuffy's Diner, Los Lobos, Jason's Deli, Talley Market, Port City Java, Starbucks and 1887 Bistro.
Menus from all of the Oval Food Hall concepts on Centennial Campus will be picked up at Gravity Cafe. Customers will order through Grubhub.
For the most current hours of operation, visit dining.ncsu.edu/locations.