Technology with Heart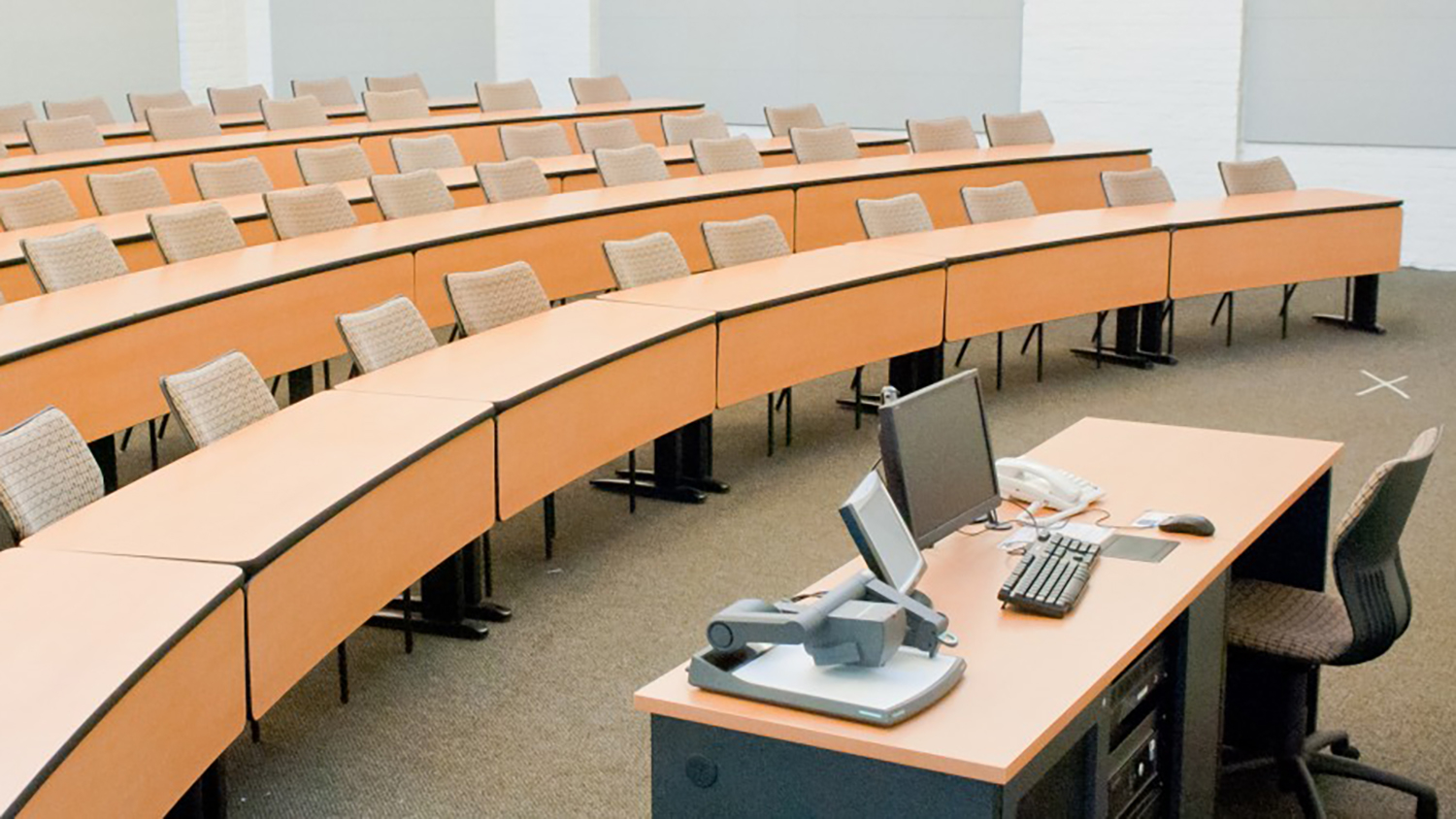 This summer, as the Wolfpack looked forward to first-of-its-kind face-to-face learning and comprehensive changes to campus operations, Distance Education and Learning Technology Applications (DELTA) and the Office of Information Technology (OIT) collaborated to fit classrooms with recording technology. 
Due to COVID-19, classrooms for the fall semester needed to be formatted to support students in-person, online and in a hybrid format. The cross-divisional Classroom Capture team was tasked with outfitting the university's 110 spaces, which are general purpose classrooms controlled by the Department of Registration and Records, with a range of audio and visual recording technologies in order to support students who are not physically present in the classroom. The Department of Registration and Records supports more than 225 classrooms across campus that host students and faculty from almost every college and department. 
More technology-enabled classrooms allowed for fewer students in these spaces and increased adherence to physical distancing requirements. By outfitting classrooms with the proper technology, DELTA and OIT were able to create an equal learning experience for students whether they elected to participate in classes online or in-person. 
A Collaborative Effort
With a limited eight-week timeline, the team had to race against the clock to have classrooms ready for the beginning of the fall semester. They began by working with the individual college and department IT directors to identify the best classrooms to receive hardware recorders. By providing recording technology such as cameras, microphones and Mediasite hardware to the most-used classrooms, the team could maximize the impact of the technology they had on hand. 
Initially, their plan was to leverage a Catch software solution for those rooms that could not get hardware. However, the team members working in integration and testing discovered that it was not possible. The team quickly shifted focus and devised a plan to provide mini recorders in those classrooms without hardware. Working alongside vendors and campus stakeholders, DELTA was able to secure equipment that doubled the recording capacity by utilizing new and deployed recorders. In smaller classrooms, 85 lectern-mounted microphones were installed. Not only did these microphones assure that audio was being captured, but they
also provided a more touchless environment versus faculty having to handle a lavalier microphone. Additionally, 116 ClassTech classrooms were updated with Mediasite hardware that allowed for content and audio capture. Previously the university had 170 recorders deployed, with 54 of those being integrated into the centrally managed (ClassTech) 110 classroom environment. 
As the summer progressed, the task force also gave insight to the McKimmon Center for Extension and Continuing Education and Rave! Events, which provides event planning, setup and audio/visual support for several spaces throughout campus. Both organizations needed assistance as their spaces were partially transformed into classrooms to support social distancing requirements. 
In an effort to bring flexibility to content capture in classrooms, an additional 144 ClassTech classrooms were equipped with cameras and AV bridges, a significant increase to the original number of only 20 classrooms. This allowed for the integration of classroom capture technology with video, including bringing Zoom and Google Meet into the classroom environment. 
"Normally a project like this would take months, but we adapted to a condensed timeline. I think it goes without saying that it was impressive to accomplish such a herculean task in such a short period of time," said DELTA Director of Media Production Services Leisa Bolles, who was also a member of the strategic planning committee for the Classroom Capture project.
The Work Doesn't Stop
As NC State welcomed new and returning students back to campus for the start of the fall semester, the Classroom Capture team's work was far from over. After successfully outfitting classrooms across campus, the team began devising a system to teach faculty to implement the new technology. 
First, virtual open houses were created via Zoom with more than 100 faculty members in attendance. DELTA Video Communication Services (VCS) also released a video format of the orientations, which are accessible all the time. The seven-part video series provided an overview of the classrooms' layout and equipped faculty with the knowledge and tools needed to make the most of the available recording technology such as cameras, microphones and Mediasite hardware.
"The goal is to provide faculty with a resource, particularly those that are new to our classrooms and for those needing a refresher, to give them confidence in teaching in our media-rich classroom environment," says Shawn Colvin, DELTA classroom services manager and a member of the Classroom Capture team. "It keeps everyone safe and limits potential exposure."
Christine Belledin, a DELTA project manager, used faculty questions from those orientations to create a frequently asked questions document. This living and breathing document is continuously updated to help address faculty needs as quickly as possible.
Supporting Our Students
A project of this magnitude is no small feat. However, despite the short time frame and the struggles of remote working, the team had one goal in mind — implement technology that made teaching and learning successful during uncertain times.
"The team was patient when at times we wanted to be impatient because of lack of a clear picture," says Office of Information Technology Assistant Director David Ladrie. "But we knew people were working really hard under hard circumstances, and most of all we knew that we had to work together for the betterment of our students."
Bolles and Ladrie agree that long-term adaptability is the biggest overall benefit of this project to the Wolfpack. For example, despite the switch to remote learning at the end of August, the technology implemented through the Classroom Capture project will provide NC State faculty and students with increased flexibility in the future. 
"We need to be able to meet students where they are now and in the future. This technology will enable faculty to push their teaching and reach students in-person and online for years to come," says Bolles.
A special thanks to the following team members who made the Classroom Capture project possible: Christine Belledin, Leisa Bolles, Damian Boyce, Ron Bradley, Antoine Carlet, Shawn Colvin, Dan Copher, Julian Denton, Kevin Ficker, Tim Hinds, David Ladrie, Krishna Patharkar, Tony Pearson, Donna Petherbridge, Brandon Pope, Brennan Watson and Peter Watson.
This post was originally published in DELTA News.