Doneka Scott Named Vice Chancellor and Dean of the Division of Academic and Student Affairs
Doneka Scott, vice provost for undergraduate education and student success and a clinical faculty member at the University of Oregon, will be appointed vice chancellor and dean of the Division of Academic and Student Affairs, effective February 15, and pending Board of Trustees approval. Scott will also hold a secondary appointment as a professor of the practice in the Department of Educational Leadership, Policy and Human Development in the College of Education.
NC State Executive Vice Chancellor and Provost Warwick Arden officially announced the appointment today. Scott will replace Lisa Zapata and Bret Smith, who have served as interim vice chancellor and interim dean, respectively, since August 2019. Zapata will return to her role as senior associate vice chancellor for DASA, and Smith will return to his role as senior associate dean for University College.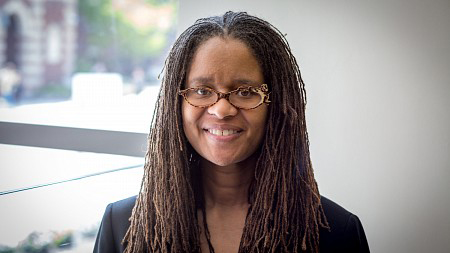 "Dr. Scott brings a breadth of experience and a passionate commitment to an inclusive, diverse and equitable vision of student success to NC State," said Arden. "She is a visionary leader with a proven ability to develop teams and bring cohesion to large diverse groups of individuals that will serve the Division of Academic and Student Affairs and our university well."
As the associate vice provost for student success, then as the vice provost for undergraduate education and student success at the University of Oregon, Scott was responsible for the overall strategy and execution of undergraduate education and student success efforts on campus. She worked to eliminate institutional barriers that prohibit students from being successful and inhibit them from completing a degree program in a timely manner.
She was responsible for oversight of undergraduate curriculum, academic support and tutoring, undergraduate research, academic advising, first-year experience (living-learning communities, first-year interest groups, common reading), transfer student experience, accessible education (disability services and support), TRIO Student Support Services, the McNair Scholars Program, multicultural academic excellence, distinguished scholarships, pre-college programs, and institutional student success initiatives. Scott also led the university's institutional student success development and fundraising efforts, with a goal of raising $50 million.
"I am honored and excited to join NC State, a leading public research, land-grant institution so dedicated to the success of faculty, staff, students and the greater community," said Scott. "During these uncertain times, the role of higher education has never been so vital to addressing society's grand challenges. It will be a privilege to work with the forward-thinking and innovative Division of Academic and Student Affairs as we continue to educate the next generation of leaders."
With the Division of Academic and Student Affairs, Scott will manage the seamless integration of all aspects of undergraduate education, serve as a key strategic advisor to the provost and work to support the success of the whole student. Working closely with the Chancellor's Cabinet, college deans, university faculty, and administrative colleagues, she will lead all aspects of an innovative and coordinated delivery of student services.
"I am pleased that Doneka will be joining us at NC State," said Chancellor Randy Woodson. "I look forward to having her insight as a member of my Cabinet and working with her to maintain a safe and inclusive living and learning environment for NC State's students."
Scott will have the opportunity to direct staff and resources to maximize impact on the curricular and co-curricular programs of the university, including the programs and services of University College; academic advising; academic enrichment programs; Exploratory Studies; cross-college interdisciplinary and multidisciplinary programs; advising technology; Health and Exercise Studies; Music; undergraduate courses, curricula and academic standards; Arts NC State (NC State LIVE, Crafts Center, Dance Program, Gregg Museum, University Theater, and Ticket Central); academic success programs; business administration, residential programs, and engagement; student development, health, and wellness. In addition to these areas, Scott will also oversee the Office of Academic Support Programs for Student Athletes; assessment; development; student ombuds; and marketing and communications for the division.
"To ensure the success of our students, a holistic approach is critical, incorporating support for academic and social integration, a sense of belonging and well-being, and degree attainment; as well equipping students with the knowledge and skills that will benefit them throughout their lives," said Scott. "NC State has done amazing work in the approach to student success, and I look forward to building on that great foundation."
A toxicologist and emergency medicine practitioner by training, Scott received her Doctor of Pharmacy from the University of Michigan, Ann Arbor. She received a Master of Arts in higher and postsecondary education, also from the University of Michigan.
The Division of Academic and Student Affairs formed in 2012 from the merger of the Division of Undergraduate Academic Programs and the Division of Student Affairs. In the eight years since its inception, the division has quickly become an integral part of the university community. With nearly 50 individual programs, Academic and Student Affairs integrates curricular and co-curricular programming to improve the academic performance of our students and the quality of the student experience at NC State. The division also supports student success, advising, and undergraduate curriculum and assessment processes.