NASA Intern Works on AI's Next Generation
During an internship with the NASA Glenn Research Center, Shilpa Kancharla researched ways to replicate natural neural networks and show how they can be applied to cognitive communications. Think of it as "Think and Do" with artificial intelligence.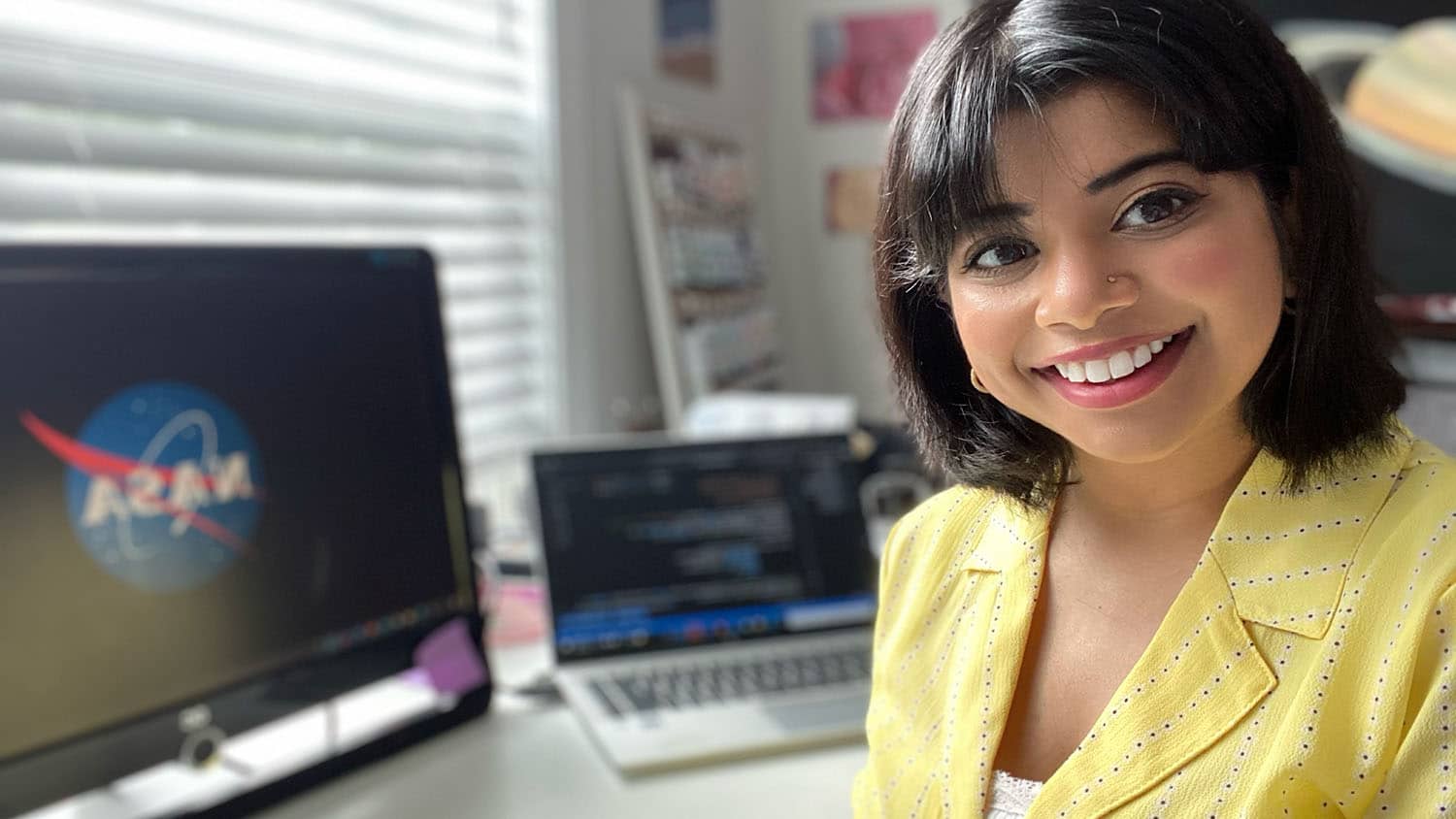 The enduring doubts Shilpa Kancharla had about her qualifications for applying for a NASA internship almost kept her from getting a dream opportunity.
The NC State graduate student had always been interested in space exploration, beginning with the first time she read a children's space encyclopedia.
Even when she was an undergraduate at the University of North Carolina at Chapel Hill, she traveled to Raleigh to the North Carolina Museum of Natural Sciences to hear a presentation by three-time NC State graduate Christina Koch, who had just been selected into NASA's astronaut program and was preparing for what turned out to be a record-setting trip to the International Space Station, just to learn more about opportunities in modern space exploration.
"Maybe I'm not qualified," she thought to herself. "Maybe they'll turn me down."
The deadline for internships was fast approaching in the spring of this year and she needed to find something to advance her graduate research in computer science.
"I finally just decided, I'm definitely not going to get it if I don't apply," Kancharla said. "It was such a big step for me."
The 2014 graduate of Raleigh's Leesville Road High School made an effort to learn as much about the Space Communications and Navigation (SCaN) project and SCaN Intern Program (SIP) she was applying to, a research project to improve artificial intelligence tools at NASA. She dug up information, found out everything she could about NASA's AI priorities, even emailed the project leader before she ever filled out the application with a page full of questions for advice and guidance.
As it turns out, the project leader appreciated her assertiveness and perseverance. He selected her for the internship based primarily on their pre-application communication.
"I had never really been vocal about my background in STEM classes," she says. "There was some insecurity about how I was going to be perceived. But this is the future I want for myself, and for other women in sciences too. That's the reason I applied.
"Who else was going to get the internship for me?"
The child of Indian immigrants, Kancharla was born in Minnesota and moved to North Carolina with her family in 2007. She went to UNC with the thought of going to medical school but eventually decided to pursue degrees in science.
"I originally thought I wanted to go into neurology, but once I got into it I realized I missed the problem-solving aspect of math and physics," she says.
She earned B.S. degrees in biology and applied mathematics, with a minor in neuroscience. After graduation in 2018, began working on a research project as a part-time post-baccalaureate student at NC State with physics professor James Kneller, while also working a full-time job for a Triangle-based clinical trials company as a software validation specialist.
That spurred further interest in physics, math, data analytics and coding, and an interest in returning to school full time. She enrolled in the computer science graduate program, with a track in data science and artificial intelligence.
"It's a multidisciplinary field, which is perfect for someone like me who wants to literally know everything there is to know," she says. "It's kept me challenged and on my toes, because the fundamental roots of AI are knowing how the human mind works."
Her internship project — "Analysis of Artificial Intelligence Applications in Cognitive Communication Systems"— was based at the NASA Glenn Research Center in Cleveland, but was fully virtual, allowing her to stay in Raleigh throughout the project. Her particular area of research was with spiking neural networks, an attempt to replicate natural neural networks and show how they can be applied to cognitive communications.
The project required her to improve her skills using the Python Programing Language and learn more about the hardware needed to use it. She also developed a user guide for Python's Nengo, a tool that allows for neural network simulation on larger scales that will be of assistance to future interns.
"I really had the opportunity to look at this new emerging generation of AI, because I feel like the previous generations, it was like a lot of rule-based stuff," Kancharla says. "The newer generation is more task-related to perception or recognition and a higher level of tasks that are supposed to be more closely related to how a living organism's nervous system works."
Kancharla, more confident than ever about her career path, now sees a future that includes developing more artificial intelligence tools, more data science applications and more opportunities to excel in the field of her dreams.
In fact, she enjoyed the summer experience so much, she decided to reapply to the same virtual internship this fall to continue her previous work.
This time, she had no doubts about sending in her application.