Academics
Where Textiles Meets STEM
In the Department of Textile Engineering, Chemistry and Science, STEM majors discover surprising opportunities and exceptional career preparation.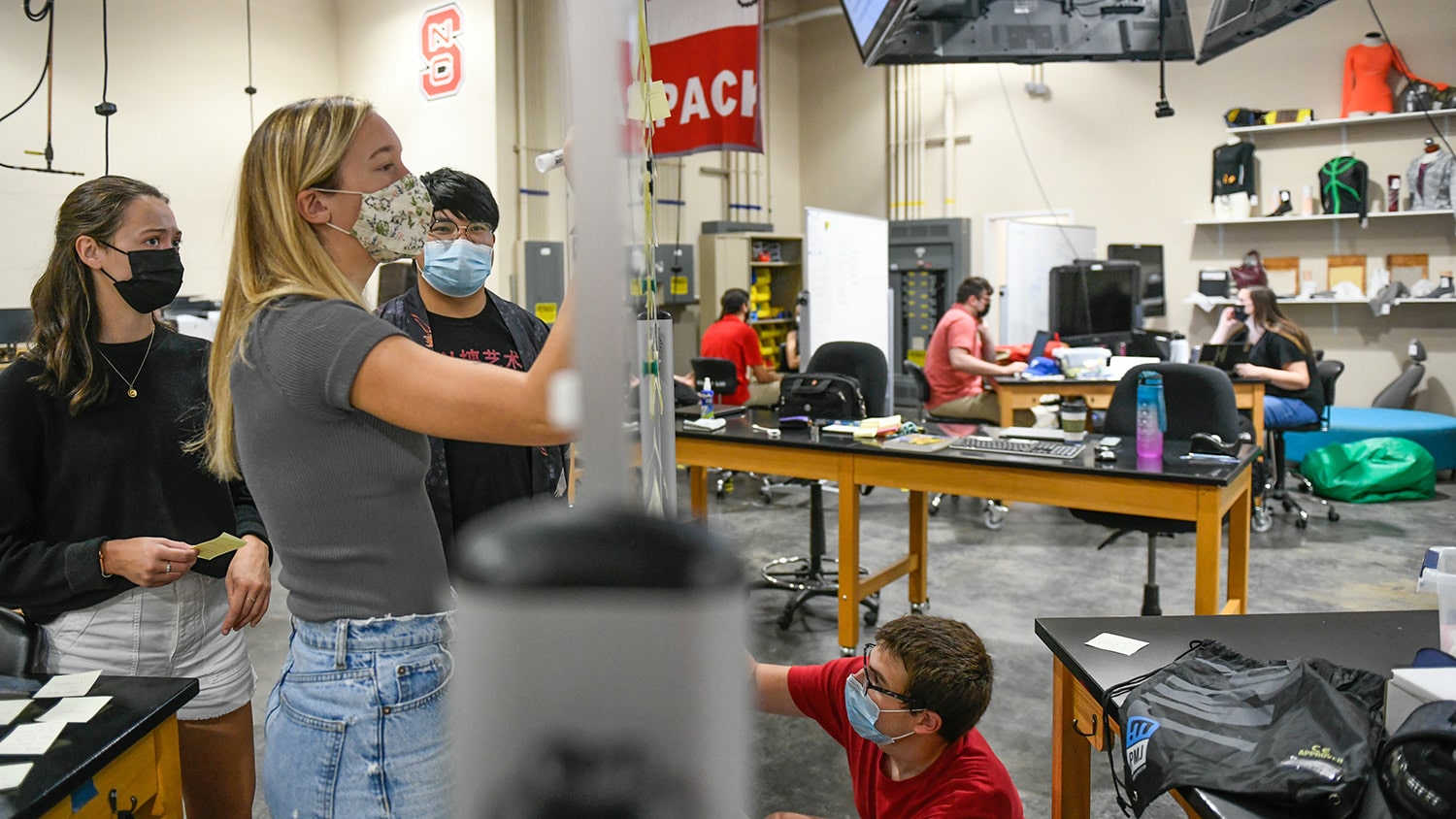 Hunter Hendrick, a senior materials developer for outdoor apparel company The North Face, loves his job developing fabrics and trims for the brand's technical equipment. But when he first came to NC State's Wilson College of Textiles, he had never considered this work as a potential career field.
"I would not have even known that my career existed without my degree in textile engineering," said Hendrick, a 2016 graduate. "When I entered the program, the idea of working for an outdoor brand was never even a thought, but now I can't imagine doing anything else."
Hendrick isn't the only student in the Department of Textile Engineering, Chemistry and Science (TECS) to discover unexpected opportunities in the textiles field — and, through the department's programs, to get a leg up in pursuing them.
"We're very student-centric," said Jeff Joines, Alumni Distinguished Undergraduate Professor and head of the department. "We're focused on giving students a good education and access to experiences that will set them up for excellent professional opportunities."
The Science of Textiles
When people think of textiles, they might envision fabrics, fashion or other aspects of design. As the only college in the United States devoted to textiles, the Wilson College of Textiles certainly does world-leading work in those areas — as well as in the study of the science behind them.
"Our department is a great place for students interested in science or engineering to find a home," Joines said. "They may not normally think of textiles as a fit for them, but we're doing some extremely innovative and exciting work that's rooted in those fields."
Our graduates are highly sought after and highly valued in the textile industry.
The TECS department's degree programs and research focus on advancing chemistry; color science; and engineering of polymers, fibers and textiles. Undergraduate students in the department can choose from bachelor's degrees in polymer and color chemistry, textile engineering, and textile technology. Graduate students can continue their education with one of several master's, doctoral or certificate options, or students can combine undergraduate and graduate study with an accelerated bachelor's/master's degree.
Research is a key part of these programs, and the intersection of textiles and science presents unique opportunities. "We have faculty developing new lithium ion batteries, creating dyes to identify cancer cells, engineering smart textiles, improving sustainability, advancing forensic chemistry and improving protective gear for firefighters, among many other projects," Joines said.
Leading the way in the latter effort is the Textile Protection and Comfort Center (TPACC), which has facilities devoted to analysis of heat and flame protection, chemical resistance and comfort performance.
Fiber and polymer science Ph.D. student Andrew Hall is currently researching how firefighters' gear can protect them from exposure to toxic substances, and he plans to continue this work after he finishes his degree. "This program has allowed me to learn about chemistry with direct applications," he said.
Students are also involved in the work of the university's Nonwovens Institute, the world's first accredited academic program in the interdisciplinary field of engineered fabrics.
"Facilities and programs like these, and the innovative work they produce, really set us apart in terms of what students can experience and learn here," Joines said. "We're doing things most people wouldn't even associate with textiles and constantly pushing the field forward."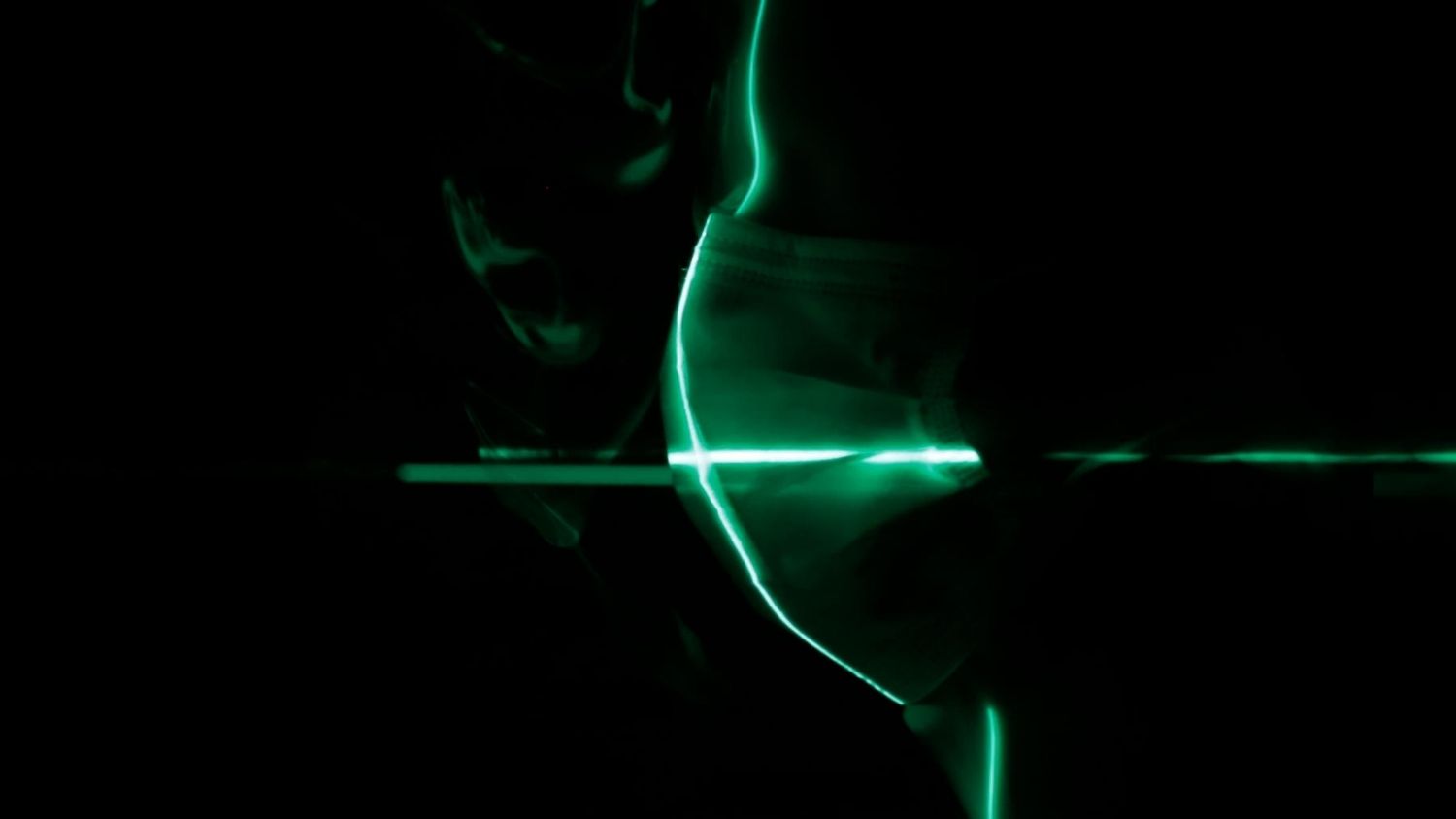 A Head Start on the Future
Joines says the department aims for every TECS student to have industry exposure before graduation. Many undertake internships or research, and every undergraduate completes a one- or two-semester Senior Design project, working in teams with an industry client to solve a real problem. These intensive projects give students experience not only in that particular field but also in working collaboratively and presenting to clients.
"Senior Design really perfectly embodies the university's 'Think and Do' motto," said Russell Gorga, Alumni Distinguished Undergraduate Professor and one of the Senior Design faculty. "And many of these projects end up becoming real products for the clients, which is a great thing for students to see and for them to put on their resumes."
A prime example: after a recent student team worked with Under Armour to reuse down waste in insulation, the company's CTO said it's one of his top priorities to commercialize two of the team's prototypes.
Because of all the hands-on experience they get during their time at NC State, TECS alumni enter their fields a few steps ahead of many of their peers — and those fields range widely, including everything from textile manufacturing and color science to analytics and medicine.
"Our TECS graduates go on to work for some of the most respected and well-known companies in the world," said Jeff Sackaroff, director of career services for the Wilson College of Textiles.
Sackaroff's office helps students identify their strengths and connects them with alumni and other professionals through networking events like career fairs. And a course on career readiness helps students develop the top skills employers look for in new hires.
"Whether it's in athletic apparel, medical textiles, textile manufacturing, management or research, our graduates are highly sought after and highly valued in the textile industry," Sackaroff said.
Jumping In and Standing Out
One of these sought-after graduates is Courtney Oswald, who earned bachelor's and master's degrees in textile engineering. When she started her career at Under Armour, one of the biggest sports apparel brands in the world, she did so with confidence.
"Coming into industry, I felt that my career was almost an extension of college," said Oswald, a senior apparel materials developer. "My textile engineering degrees taught me the key foundational building blocks for my job and equipped me with knowledge that helped me tackle the industry learning curve quickly."
Hannah Rich agrees. She is another textile engineering graduate who is now a product development engineer at Contempora Fabrics, working with clients like Adidas, the NBA and MLB, and J.Crew.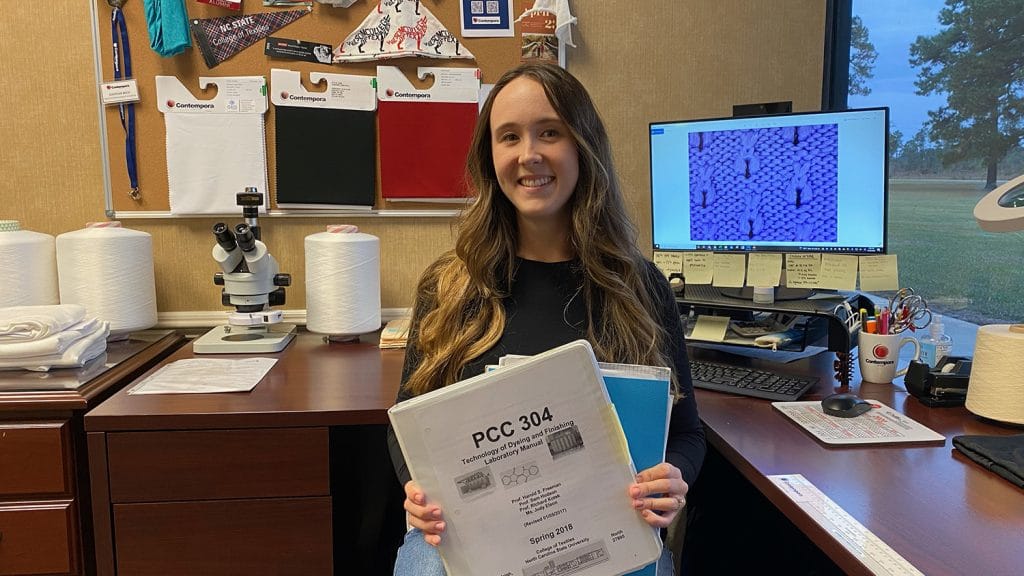 "My education gave me a really solid understanding of every step in the textile manufacturing process — from fiber to yarn to fabric to finishing," Rich said. "It's helped me be much more involved in the development process and, in the end, create better products."
Devon Person is the director of supply chain for Hanesbrands' activewear business. The 2010 graduate in textile engineering and industrial engineering leads a team that manages supply planning for the $1.8 billion business.
"I've leveraged information I learned in my degree in every single position I have been in since I graduated," Person said. "It's often been the foundation of how I distinguished myself from my peers to get promoted to new roles."
'We're a Family'
The TECS degree programs are small, usually with less than 40 students in a cohort. This means students can develop strong relationships with one another and with faculty and staff. "We're a family, essentially," Joines said.
Alumni and students in the programs agree that the mentoring they received from their faculty made a huge difference during their time at NC State — and beyond.
"Dr. Joines connected me with the executive leadership team for Hanesbrands, and that developed into them recruiting me into the role I have now," Person said. "He and Dr. Jon Rust [Distinguished Professor of Textile Engineering] have been lifelong mentors of mine professionally and personally as I transitioned through different phases."
These professors believe in us, and in turn, we believe in ourselves and accomplish great things.
"I know I can rely on my professors and TECS faculty as mentors for many years to come," said Julia Koehler, who is graduating in December from the textile chemistry master's program. "They've made a genuine investment in my well-being and personal success as a student that I am confident will continue when I'm an alumna."
Fourth-year textile engineering student Claire Henson had no idea what she wanted to study when she got to NC State. Now, her future is clearer. After earning her accelerated master's degree, she wants to work for a sustainable materials brand.
"I already can see myself in five years making a great impact on the world," Henson said.
Henson credits supportive professors with inspiring her passion. "They expect a lot of us, but I think that is what makes TECS so great," she said. "These professors believe in us, and in turn, we believe in ourselves and accomplish great things."