25 Years of Textile Innovation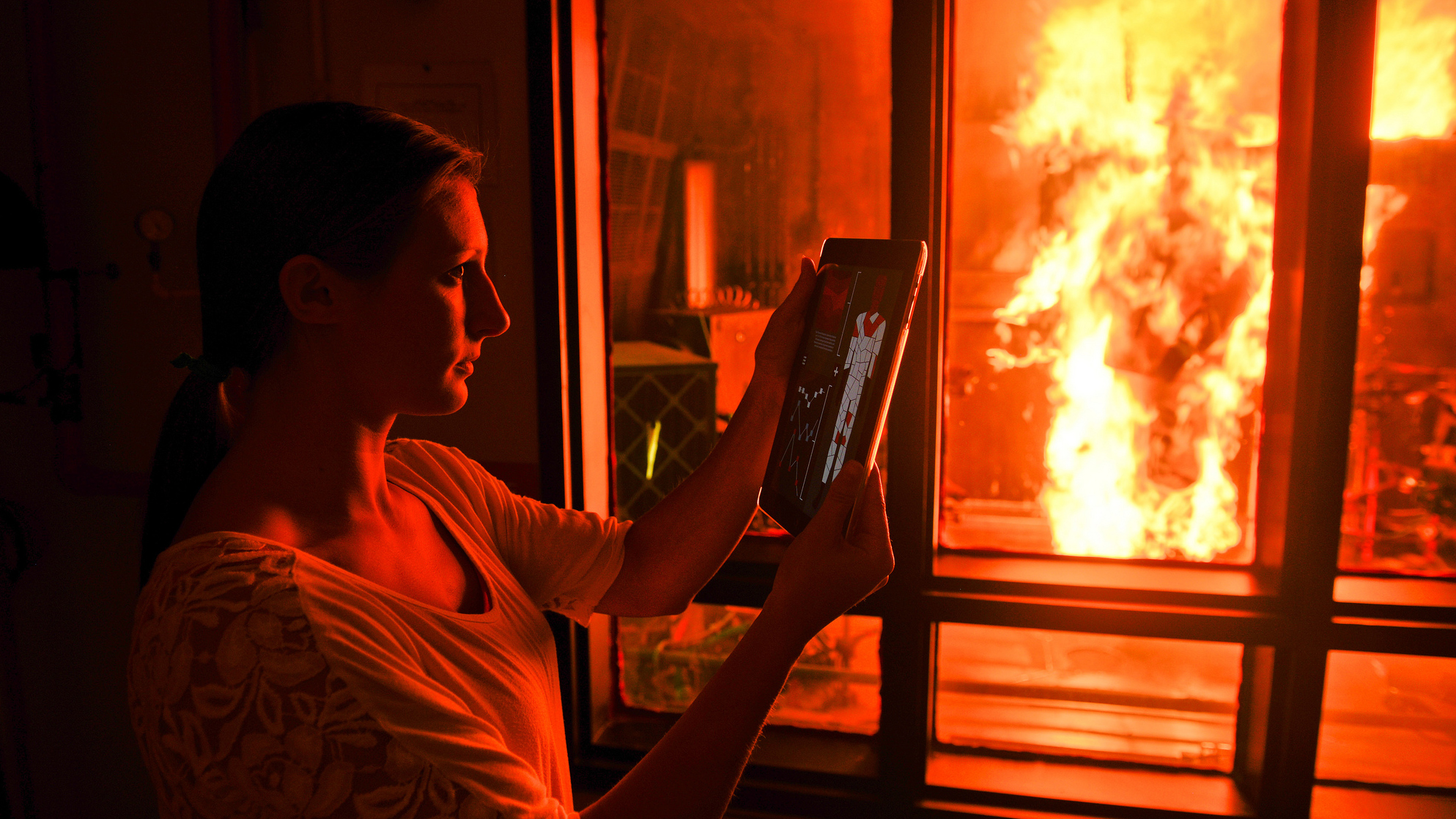 In most laboratories, a fire is a sign that something has gone very wrong. But in NC State's Textile Protection and Comfort Center, test materials are regularly set on fire — and stretched, sniffed, spilled on and sweated through — all in the name of science and innovation.

For 25 years, the center has been blazing new trails in the textile industry as a one-of-a-kind testing and evaluation center.

"You won't find the capabilities we have here anywhere else in the world," said TPACC Director Roger Barker, Burlington Distinguished Professor in the Wilson College of Textiles.

In 1994, TPACC grew out of Barker's work in the areas of protection and comfort. He realized the textile industry could benefit from having a host of different technologies, equipment and knowledge concentrated in one place.

We have a unique ability to validate our research and translate it into tangible ways to help industries make better products.
"Balancing protection and wearability requires a lot of different laboratory capabilities, and we needed to be able to incorporate those in a way that would be more accessible to both students and industry," Barker said.

"We had defined an area that had a need, and people were coming to us. As our reputation grew nationally and internationally, demand skyrocketed."

Protection, Performance and Comfort
TPACC's work focuses on three areas: protection, performance and comfort. Its holistic approach to research and testing — from fabric to completed garments — helps set it apart from other research centers.

"We have a unique ability to validate our research and translate it into tangible ways to help industries make better products," Barker said.

This ability is bolstered by TPACC's advanced testing equipment and facilities. In a large, glass-enclosed test chamber stands the center's hottest attraction: PyroMan. Researchers in the center use this fully instrumented, life-sized manikin to evaluate the performance of thermally protective clothing, like firefighters' turnout gear, during controlled exposure to intense heat and flames.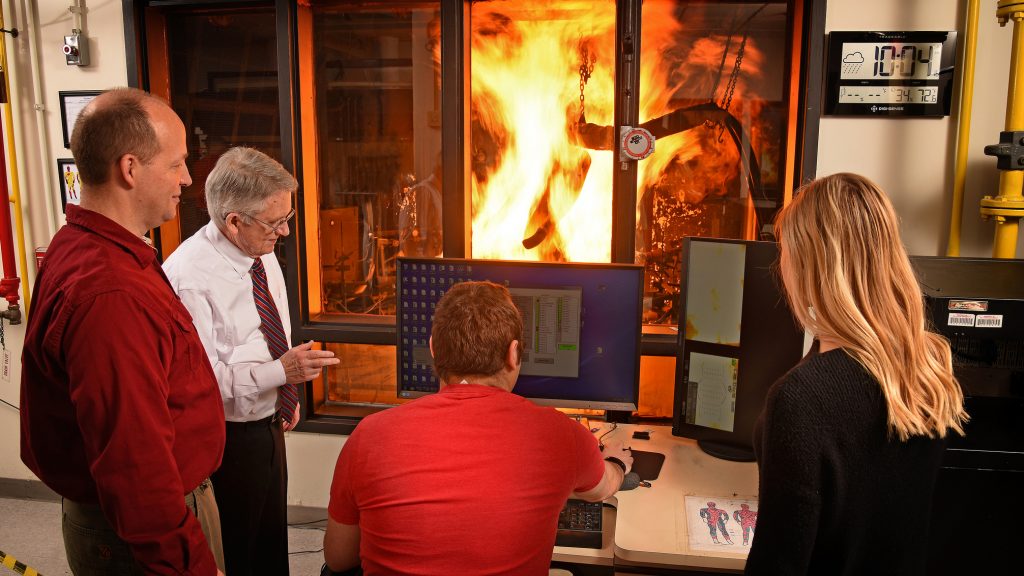 In another room, the Man-in-Stimulant Test (MIST) facility tests permeability of clothing using methyl salicylate, a chemical vapor that mimics chemical threats — and smells like wintergreen chewing gum.

Around the corner, a sweating manikin helps researchers test insulation and breathability of garments. An internal sweat control system distributes moisture to "sweat glands" all over the manikin in targeted zones. It can also simulate walking to test how the garments perform in motion.

These are only a few examples of TPACC's advanced equipment. But while it's tempting to think technology is the star of the show, the center's work starts with real people.

"When we do research to develop a new material or garment, we always start by understanding what the needs are in the field," Barker said. This involves talking to partners, serving in organizations that regulate national standards for protective clothing, and going out into the field to talk to firefighters and others about what's working and what could be better.

Keeping an ear to the ground helps TPACC researchers collaborate more effectively with partners who come to them looking for help with problems and proactively identify those problems and formulate solutions to address them.

A big focus of the center's work is improving the safety and comfort of protective gear for firefighters. When researchers found out that steam burns were becoming a significant issue in the field, they sprung into action. They researched how moisture exacerbates heat transfer and developed a testing method that was quickly incorporated into national standards for turnout gear.

TPACC has also developed smoke- and soot-resistant turnout gear, better protective hoods and safer fire shelters. Researchers have worked closely with firefighters from the Raleigh Fire Department on these and other projects, making sure the end results fit with their everyday needs and experiences.
In addition, the center works closely with industry partners across a range of fields — from athletic performance to tactical gear.

Protect the Force, a manufacturer of tactical gear and body armor, has collaborated on several projects with TPACC, including testing and evaluation of new materials and designs for soldiers' and first responders' uniforms, burn-injury prediction systems and methods to test flame threats from improvised explosive devices.

"The knowledge of textiles, from a fiber to a finished ensemble, that they have assembled under one facility is incomparable," said Francisco Martinez, the company's chief technical officer. "Soldiers and first responders are now better equipped because of the work we performed with TPACC."

In addition to protective gear, the center tests a wide variety of consumer products, including athletic wear, bedsheets, sleeping bags and mattresses, for comfort or enhanced benefits like cooling or moisture-wicking.

"Probably almost every brand you can find in a store or online has evaluated their products with us," Barker said.

Preparing the Next Generation
Around the Adidas North America headquarters in Portland, Oregon, NC State alum Tyler Pickett is the unofficial "odor guy." The nickname may sound insulting, but it makes sense — while he was a master's student in textile chemistry and a graduate research assistant in TPACC, Pickett did his thesis research on new methods for odor testing in athletic footwear.

Pickett's work with TPACC helped open the door to his current role as a senior lab specialist in Adidas' Advanced Creation and Inline departments, where he performs physical and functional tests on materials, trim and finished garments. And, for better or worse, he helps his colleagues with their odor-related inquiries.

"Had I never worked in TPACC while attending graduate school, I wouldn't be where I am today," Pickett said. "The experience more than prepared me for my first role in the textile industry."

There's nowhere else in the U.S., and maybe in the world, that a student can have all these combined experiences.
Pickett is just one of many alumni and partners singing the praises of the unique experience TPACC offers. Ashley Ferguson, a senior chemist with high-performance textile company Highland Industries, left NC State in 2014 with bachelor's, master's and doctoral degrees from the Wilson College of Textiles. She spent five years working in TPACC, gaining real-world experience with projects like testing boots and other personal protective gear for exposure to chemical contaminants.

"TPACC gave me a unique opportunity to interact with the end users associated with the research I was doing," Ferguson said. "Working with the first responders and military personnel who would eventually wear the materials we were evaluating made the work I was doing much more personal."

"TPACC offered a unique environment for a practical education, not just a theoretical one," agreed Brian Shiels, director of quality assurance at PBI Performance Products and a student and former staff member in the center. And Shiels has brought his experience full circle — he's now one of TPACC's clients.

Barker said that having opportunities to do hands-on research with practical applications stokes students' interest in textile research and uniquely prepares them to be leaders in industry.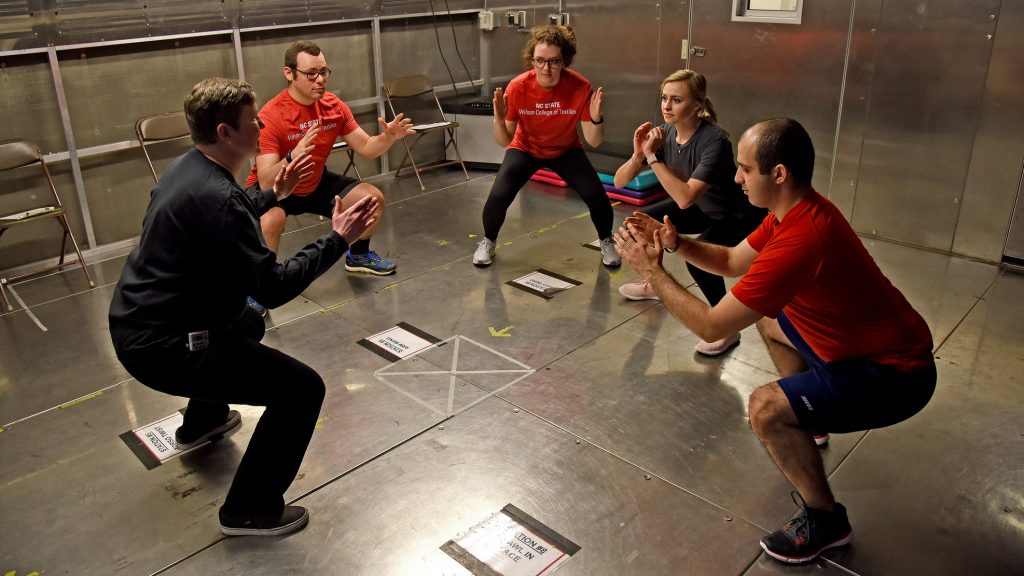 "There's nowhere else in the U.S., and maybe in the world, that a student can have all these combined experiences," Barker said. "It's a tremendous educational asset for the college and for the university."

And getting to work with fire and advanced instrumentation can be pretty cool, too. The magazine Popular Science once named TPACC one of the "10 Most Awesome College Labs in the Country."

Ongoing Innovation
A quarter-century after its founding, TPACC continues to innovate.

"When it comes to protective clothing, TPACC staff and facilities are second to none," Shiels said. "And the center and the college continue to launch new leaders in the textile industry."

What's in the future for TPACC? Barker said the center wants to be at the forefront of testing and evaluation in wearable technology. "Our niche is studying how to best integrate these technologies into clothing without affecting their performance or the comfort of the garment," he said.

Researchers in the center are also continuing to work on problems that affect firefighters, collaborating with NC State toxicologists to study cancer-causing substances in smoke and soot so that they can improve particulate protection in fire protection garments. According to the International Association of Firefighters, cancer ranks as the leading cause of death among firefighters.

"Our research usually happens at a much faster pace than normal academic research," Barker said. "There's an urgency to this — if there's a problem to be solved, we need to get the solution out there as soon as we can."

"What we do makes a real difference in the health and safety of people throughout the state, the nation and the world."