Bulletin Board
How a Wolf Became a Titan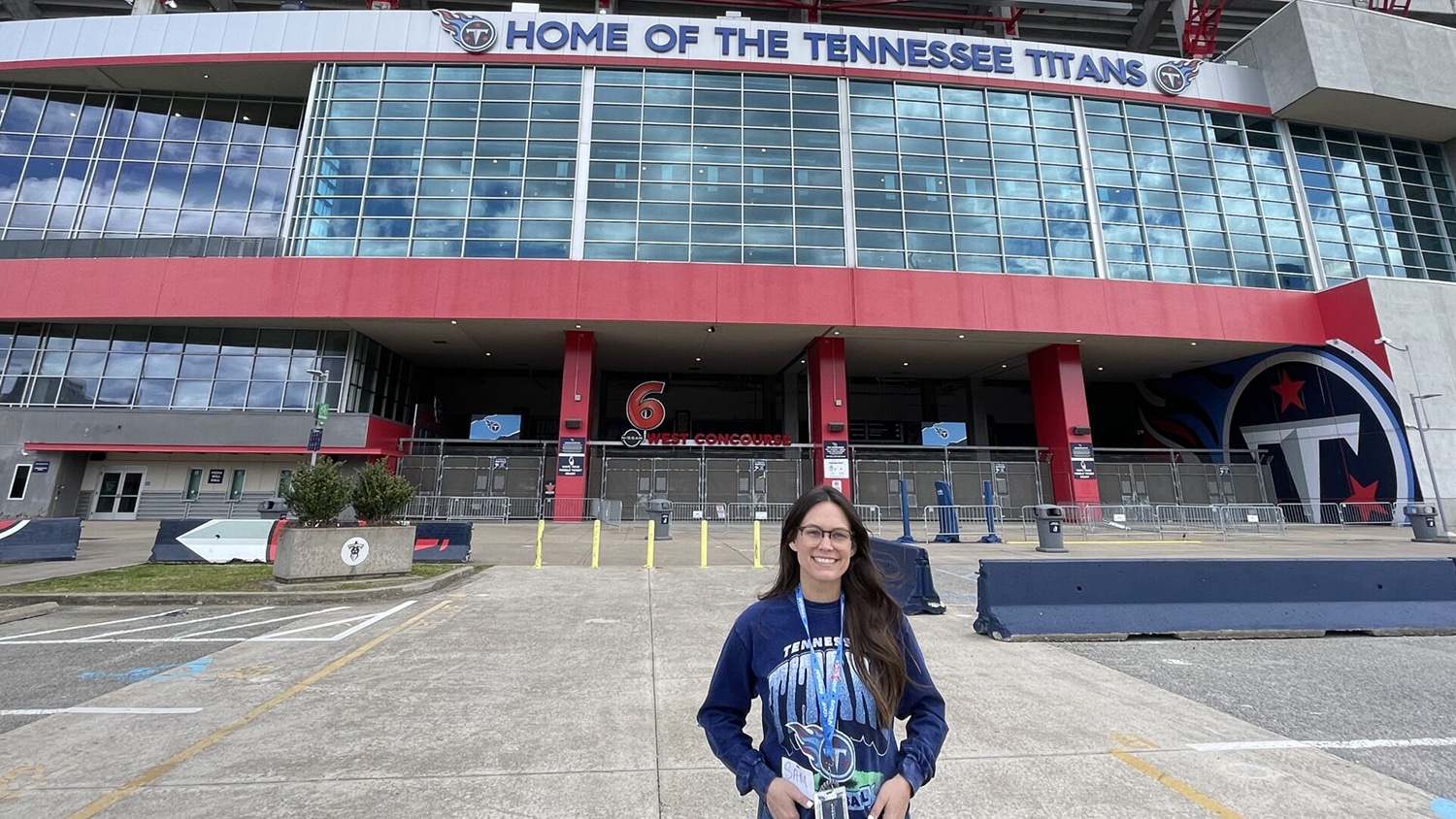 Samantha "Sam" Fischer, the stadium experience manager for the Tennessee Titans, has always had sports in her heart. An athlete growing up, Fischer's love for the "stadium experience" at Jets and Yankees games led her to NC State University and eventually to the Tennessee Titans NFL team. 
"I love sports, and I always cared about the game, but I was always so interested in what was going on around me — such as how the lights were working and how the PA announcer knew when to speak," Fisher said.
When Fischer realized the athlete piece of her story was coming to an end, she still had a desire to be a part of the team. Fischer attended Coastal Carolina University in South Carolina and earned her Bachelor of Science in recreation and sport management. As an intern for the Myrtle Beach Pelicans, Fischer fell in love with Minor League Baseball (MiLB). 
After graduating from Coastal Carolina University, Fischer worked with the Asheville Tourists, another MiLB team. Fischer wanted to continue her education, but she needed a program that would accommodate her hectic schedule.
"I was a fan of what NC State did on LinkedIn and how they promoted the Master of Parks, Recreation, Tourism and Sport Management program," Fischer said. "It was really intriguing to me that you could do the program in tandem with working full time. I appreciated that the program offered live classes, where you could raise your hand and interact with your professor and classmates in real time."
Fischer reflected on her time in the Master of Parks, Recreation, Tourism and Sport Management program, recognizing her hectic summer schedule and appreciating the flexibility that her professors provided. 
"I just had such great professors that were willing to work with my schedule," Fischer said. "At the time, I was working in minor league baseball, where, especially in the summer, we'd have seven games in a row. They'd be at night, and I couldn't always make a class. My professors were willing to work with me because they understood that I was in the industry with which I was trying to further my education. I was always really appreciative of the flexibility."
Fischer directly attributes some of her successes in the field to the program and always tells people that it has been 100% worth it to earn her master's degree.
"Right after I took a programming class, I completely revamped our guest services department at the Asheville Tourists," Fischer said. "It directly led to the highest retention rate the Tourists ever had on the guest services site. Things like that make it really easy to quantify the impact that the program has had. I don't know if I would have known to do something like that had I not gone through that programming course."
Fischer made the transition from MiLB to the NFL after being with the Tourists for seven years. After perfecting the "street to seat" experience, Fischer set her sights on a brand new position with the Tennessee Titans as the team's first-ever stadium experience manager. 
"The Titans were hiring for this brand new role that no one had ever filled. I loved being able to hone in on the 'fan experience' and being able to build something new," Fischer said. "It is certainly an adjustment, but all the same problems exist between MiLB and the NFL. They just exist on a larger scale. I'm buying the same things I bought when I worked for MiLB. There are just a lot more zeros now."
Fischer oversees a team of 100 guest services employees and is dedicated to creating a strong work culture for them because of an organizational leadership course that she took with Jason Bacarro.
"It completely reshaped how I lead people and how I train people to be leaders. It's another piece of the pie that's really impacted my career as a whole. In a world where it's hard to hire and retain employees, I want people to feel like it's a benefit to work here." 
Fischer has remained impressed with the alumni support the program has offered since her graduation in 2018.
"They do a great job of staying active in my life. Erin Adair is the greatest person — she's always so engaged with alumni students and connecting us with people who are interested in the program."
Are you interested in enrolling in the online Master of Parks, Recreation, Tourism and Sport Management program? Visit the program page, or check out online.ncsu.edu/programs for a full list of degree and certificate programs.
This post was originally published in DELTA News.