Students
Icepack on Its Biggest Stage
Following the NHL Stadium Series outdoor game at Carter-Finley Stadium, club hockey teams from NC State and UNC-Chapel Hill took to the same ice — in front of 24,000 fans.
The NHL's Carolina Hurricanes and Washington Capitals weren't the only hockey teams to make a temporary appearance at NC State's Carter-Finley Stadium for the NHL's premier outdoor weekend called the Stadium Series.
Monday night, club teams from NC State and UNC-Chapel Hill — nonvarsity players who pay to play for student-organized squads — faced off on the same ice where the professional teams played two days before for a hotly contested matchup promoted as the Frozen Finley game. Remarkably, some 24,000 spectators showed up to see the teams compete on the biggest stage they've ever competed.
Admission was free, which drew more spectators than any varsity event other than football.
"I do think there was a tsunami effect for fans wanting to come out here and see the game," says Icepack coach Tim Healy. "They saw what happened on Saturday and wanted to experience it again or see what the fuss was about."
NC State's Icepack, led by a hat trick from Raleigh freshman Zack Herman and two goals from team captain and club president Victor Hugo of Arlington, Virginia, won the game 7-3 in front of a rollicking mixed crowd.
"When I first heard that the NHL was bringing the Stadium Series to Carter-Finley, I couldn't really process it," says Hugo, a senior in aerospace engineering who is a descendant of the French novelist who wrote Les Miserables and The Hunchback of Notre Dame. "Then when I found out we were going to get to play on the same ice, it was really indescribable."
NC State Chancellor Randy Woodson was featured at the ceremonial puck drop, as State fans on either side of the stadium did the call-and-response "Wolf" and "Pack" cheers.
"It was so wild to be on the ice and hear that," says Herman, a freshman business major. "I grew up an NC State fan. Our family had season tickets when Russell Wilson was the quarterback here. I've been in the stands shouting the same thing as a fan and as a student.
"To hear it from that perspective is something I'll never forget."
Like many of his teammates, Monday night was Hugo's first outdoor game. He grew up playing for youth hockey teams sponsored by the Capitals, which meant he was one of the few fans of the Hurricanes' opponent Saturday night, when the NHL and ESPN celebrated all things NC State during its in-game entertainment and television productions.
The Hurricanes scored a relatively easy 4-1 victory Saturday, but the host school and its fans were the biggest winners. The NC State marching band was a featured performer throughout the day. In addition, an inspirational speech by late basketball coach and ESPN announcer Jim Valvano kicked off the television broadcast, and legendary player David Thompson and 1983 NCAA championship team member Dereck Whittenburg announced the Hurricanes' entrance onto the ice.
From the first faceoff to the final fireworks, it was an NC State spectacle for the 56,931 fans at the sold-out event.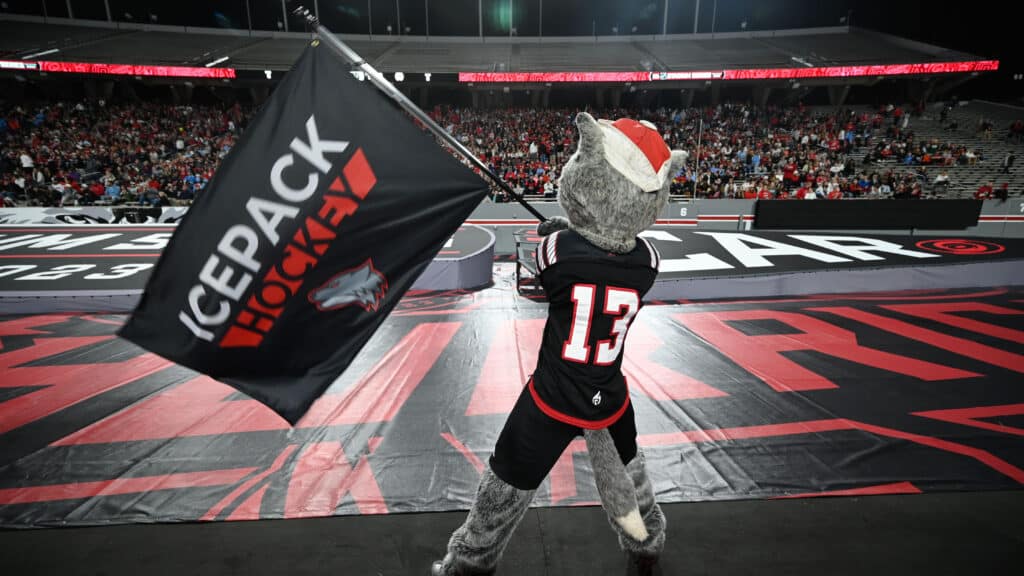 The Icepack was involved throughout, from appearing at the NHL Fanfest in downtown Raleigh on Friday, to attending the game Saturday and playing against the Tar Heels at Carter-Finley.
The student-led production was not as elaborate for Monday's game, and there was no live television broadcast, but a replay was quickly available online. With so many people in the stands, with food concessions and beer sales, with pep bands from both stands blaring their favorite songs, the atmosphere was just as lively as Saturday's game.
The Icepack is an NC State club staple, closing in on its 50th anniversary. It is one of the most active and best supported of the 49 club sports organized by students and governed by NC State Wellness and Recreation. Its rivalry with North Carolina goes back to a 1974 meeting in Greensboro, the first hockey event at the renovated Greensboro Coliseum.
In addition to a head coach and three assistants, the club has a television staff, photographers, a social media team and a media coordinator. The team plays home games at the Wake Competition Center in Morrisville, near Raleigh-Durham International Airport.
Thousands of fans turn out to see the Icepack play on a regular basis, and the club has its own television, photography and social media teams that provide coverage. With an annual budget of $150,000, it is not an insubstantial endeavor for the players, who pay $1,500 per year to participate.
Their campus stage has expanded rapidly, even in the five years most of this year's older players have competed, a tribute to the hours of work they put into practice, games and travel.
"When I first got here, we were playing [in a different venue] and we were dressing in a converted snack bar," says Youngsville native Garrett Auriene, a senior in business administration who is an alternate captain for the team. "To be able to play in our football stadium in front of so many fans in the final home game of my career is pretty amazing."
For Hugo, Monday's final home game will be a proud finish to both his college playing and his academic career. Soon after he graduates this spring, he will begin his career as a systems engineer at Northrop Grumman. The other two alternate captains, Alex Robinson and Matt Miller, grew up playing youth hockey together in Apex, but are also looking forward to graduating with degrees in sports management and applied mathematics, respectively.
Healy has been the team's head coach for three seasons. He says the opportunity to showcase the sport he grew up playing outdoors in upstate New York on the Stadium Series ice will be a boon for the club program.
"We are in a little bit different sphere as a nonvarsity club sport," Healy says. "Just because these are club players doesn't mean they don't work just as hard as other sports, varsity or not.
"There isn't a bigger stage we could play on, and it speaks a lot to the growth of the program from when I first started as an assistant six years ago."