Academics
Miles Engell Receives 2023 Provost's Award for Excellence in Teaching
Miles Engell is the recipient of the 2023 Provost's Award for Excellence in Teaching. Engell, a teaching professor in the Department of Biological Sciences in the College of Sciences, is known as an outstanding professor who engages and challenges students by applying real examples of animal behavior research to the topic addressed.
"Dr. Engell sets the bar for teaching faculty with her dedication to classroom engagement and student success," said Executive Vice Chancellor and Provost Warwick Arden. "She embodies higher education excellence in every way, and she is an asset to the entire university community."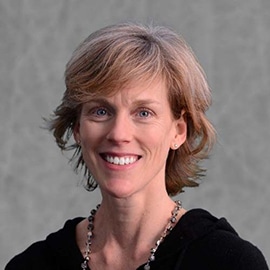 The Provost's Award for Excellence in Teaching is the most prestigious award given to professional full-time faculty from NC State's 10 colleges and the University College. The award was established in 2021 to underscore the importance of teaching and to encourage, identify, recognize, reward and support teaching within the university.
Engell and the college nominees were honored at the University Teaching Awards Luncheon and Ceremony, and Engell will be recognized at the Celebration of Faculty Excellence and in the spring 2023 commencement program.
In a letter of support for Engell's award nomination, student Talya Dressler wrote, "Dr. Engell deeply, earnestly wants us to learn so that we can appreciate the world around us. She infuses each course with intrigue and wonder, making her students really engage with the material and remember it for years to come. She teaches as if that is what brings her joy, and she cares deeply for her students."
Engell's teaching philosophy focuses on achieving student success while also challenging them and fostering a sense of community. As a mentor, she works with undergraduate students on honors projects, with graduate students on their research and writing, and she regularly serves as the academic advisor to approximately 35 undergraduate students. Engell strives to guide and encourage each individual student on their own personal journey.
Working with the College of Engineering's Wildlife Aerial Observatory Study Abroad Program in Namibia, Engell developed research and coursework opportunities that enabled wildlife-focused students to better engage with the program all while earning credits applicable to their major. She has made it her mission to inspire students and to open up their minds to the wonder of biological sciences. Engell has been invited to speak on the topic of "Teaching Evolution to Persons of Faith" to a variety of audiences throughout the state and recently had a manuscript published in the Journal of Animal Welfare.
A faculty member at NC State since 2006, Engell has received the university's Alumni Distinguished Undergraduate Professor award and the Outstanding Teacher Award. She is also a member of the Academy of Outstanding Teachers.