Campus Life
You Love NC State. We Have a Week for That.
They say home is where the Wolfpack is. (We do. We say it.) Celebrate everything that makes NC State feel like home during Red and White Week — our favorite week of the year.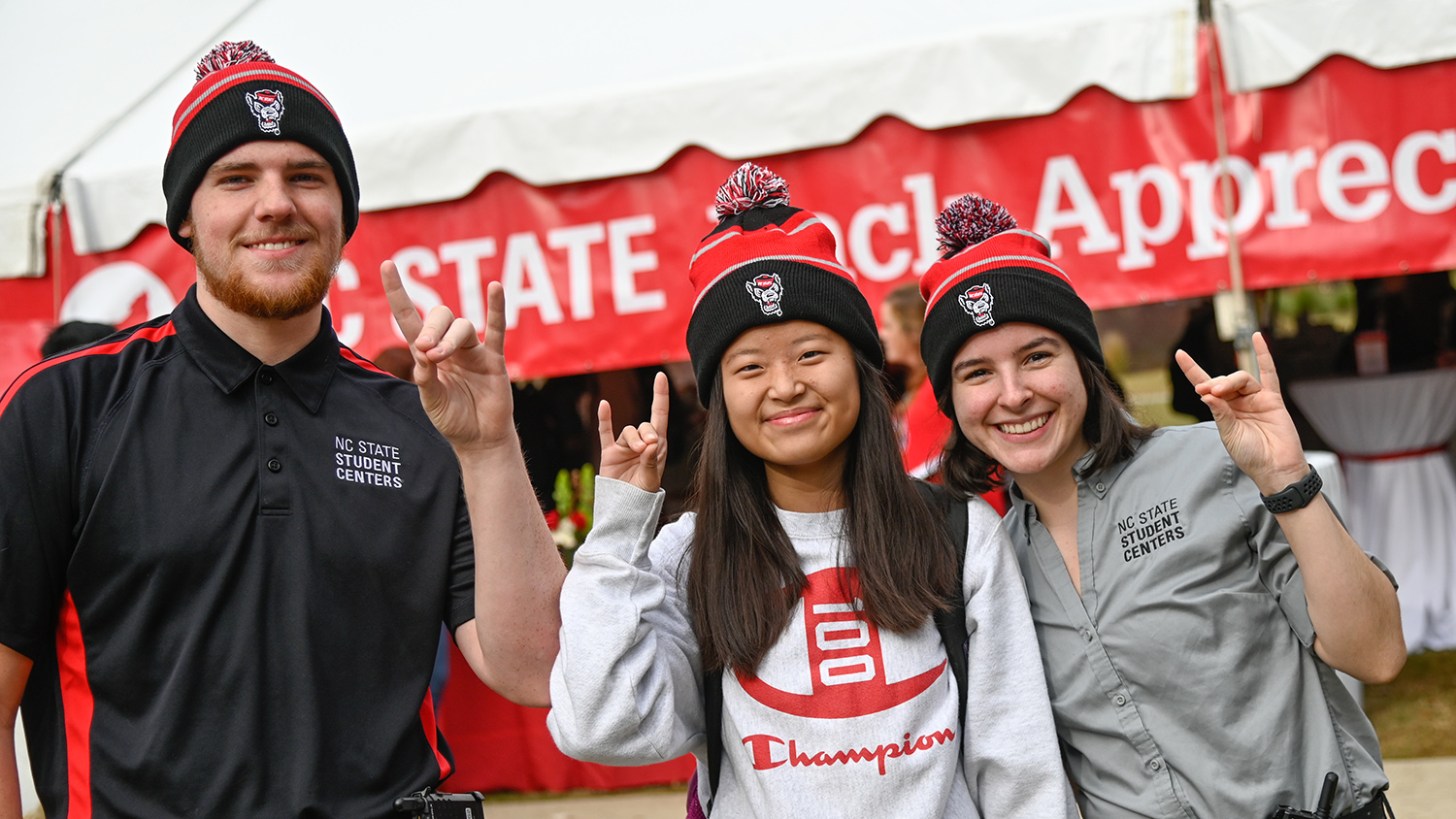 There's so much to love about NC State. The school spirit and traditions that make all of us red and white for life. The communities that help us feel like part of the Wolfpack. The classes, research programs and campus resources that shape us — and prepare us to shape the future. The ice cream.
During Red and White Week, presented by Coca-Cola, we come together to celebrate these things and more. We strengthen our connections with the people who make NC State feel like home. You are the reason why our homecoming celebration is our favorite week of the year.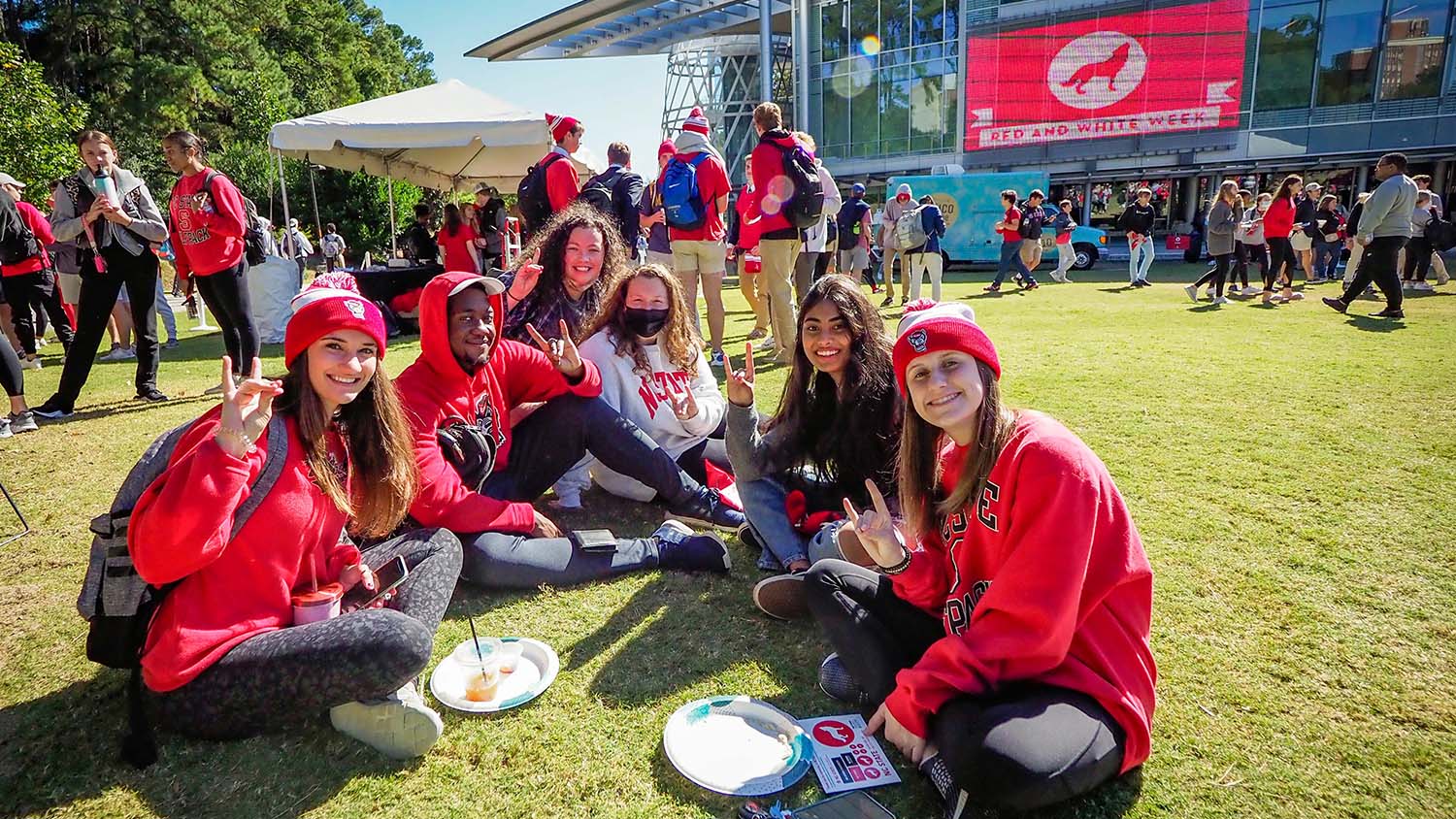 The week is packed full of contests, events, one actual astronaut and plenty of chances to show off your Wolfpack spirit, no matter who — or where — you are. So mark your calendars for Oct. 22-28 and get ready to join the fun.
Want to get involved but not sure how? Have we got an article for you (it's still this one).
---
The Student Who's Like, "Where Can I Get One of Those Shirts?"
We see you. Keep reading.
1. The party starts on Monday, Oct. 23, at 10 a.m. during our student kickoff event on Stafford Commons. This is your chance to pick up your official Red and White Week T-shirt. (See? I'm a reliable narrator.)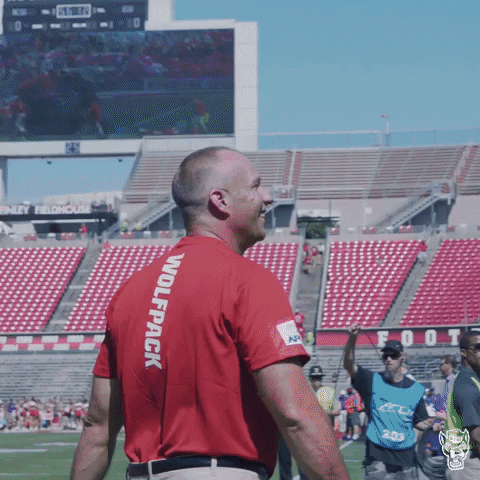 2. The event of the season is Chancellor Randy Woodson's annual fall address. It's a claim we don't make lightly because, well, a lot of cool things happen here. But on Monday at 1 p.m., the chancellor will update us on all the exciting things happening at NC State. Then he'll sit down with NASA astronaut and three-time NC State alumna Christina Koch for a live edition of his interview series Red Chair Chats. Limited overflow seating will be available in the Talley Ballroom, or you can watch the livestream. Afterward, enjoy some Howling Cow ice cream — on us!
3. Wear Red, Get Fed. Every. Single. Day.
4. There are competitions, wellness events, outdoor movies, pep rallies, lectures, crafts, a ball (like the one Cinderella went to, but with Wufs) and so much more — and you're invited to all of it. Check the calendar and plan to join us.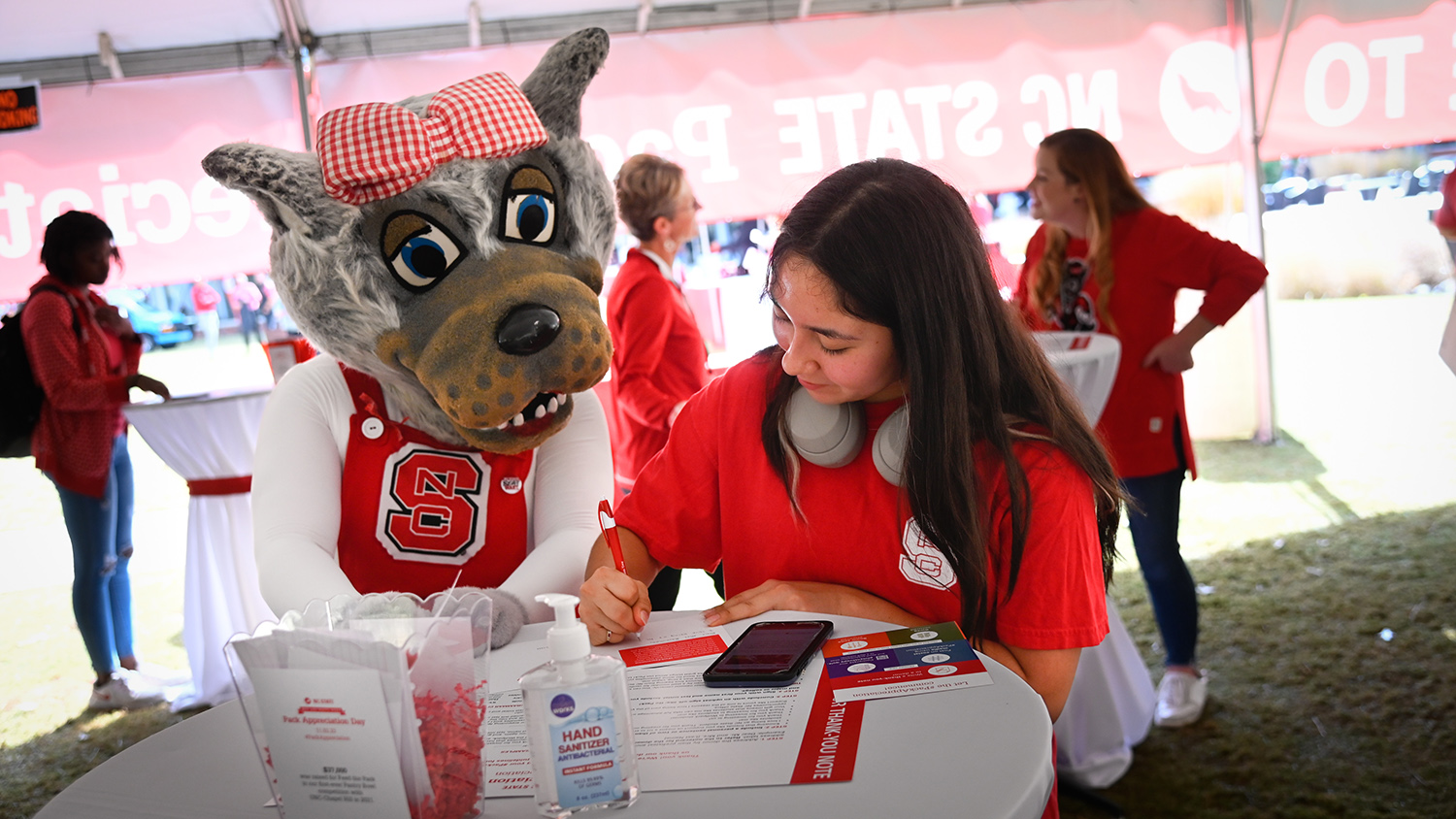 5. Don't miss Pack Appreciation Day on Wednesday, where we'll show our gratitude to the donors who support the scholarships, programs, facilities and experiences that shape your time at NC State (plus free refreshments and swag).
6. Obviously, we'll see you at the game. Go Pack!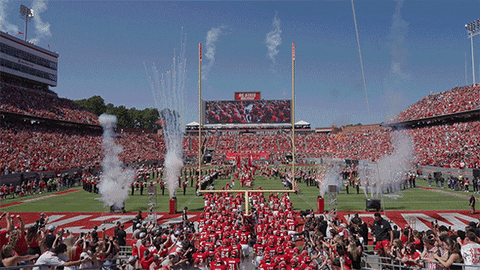 ---
The Dedicated Alum Who Wishes They Were Here
We miss you but we understand.
1. Follow along on social media so you won't miss a moment of this week that celebrates everything you love about NC State and all the people who make up your Wolfpack! Check out our Red and White Week social media toolkit for graphics you can use and share, fun Instagram story gifs and filters, and our favorite Spotify playlist (more on this below).
2. Post something you love about NC State each day, using our hashtag #NCStateRedWhite and tagging @ncstate, to be entered into our T-shirt giveaways throughout the week. There's also a special Instagram-only beanie giveaway to help you celebrate Pack Appreciation Day on Wednesday!
3. Tune in to the livestream of the chancellor's fall address on Monday, Oct. 23, at 1 p.m. to hear about all of the amazing things happening at NC State, and hear from our out-of-this-world special guest — NASA astronaut and alum Christina Koch!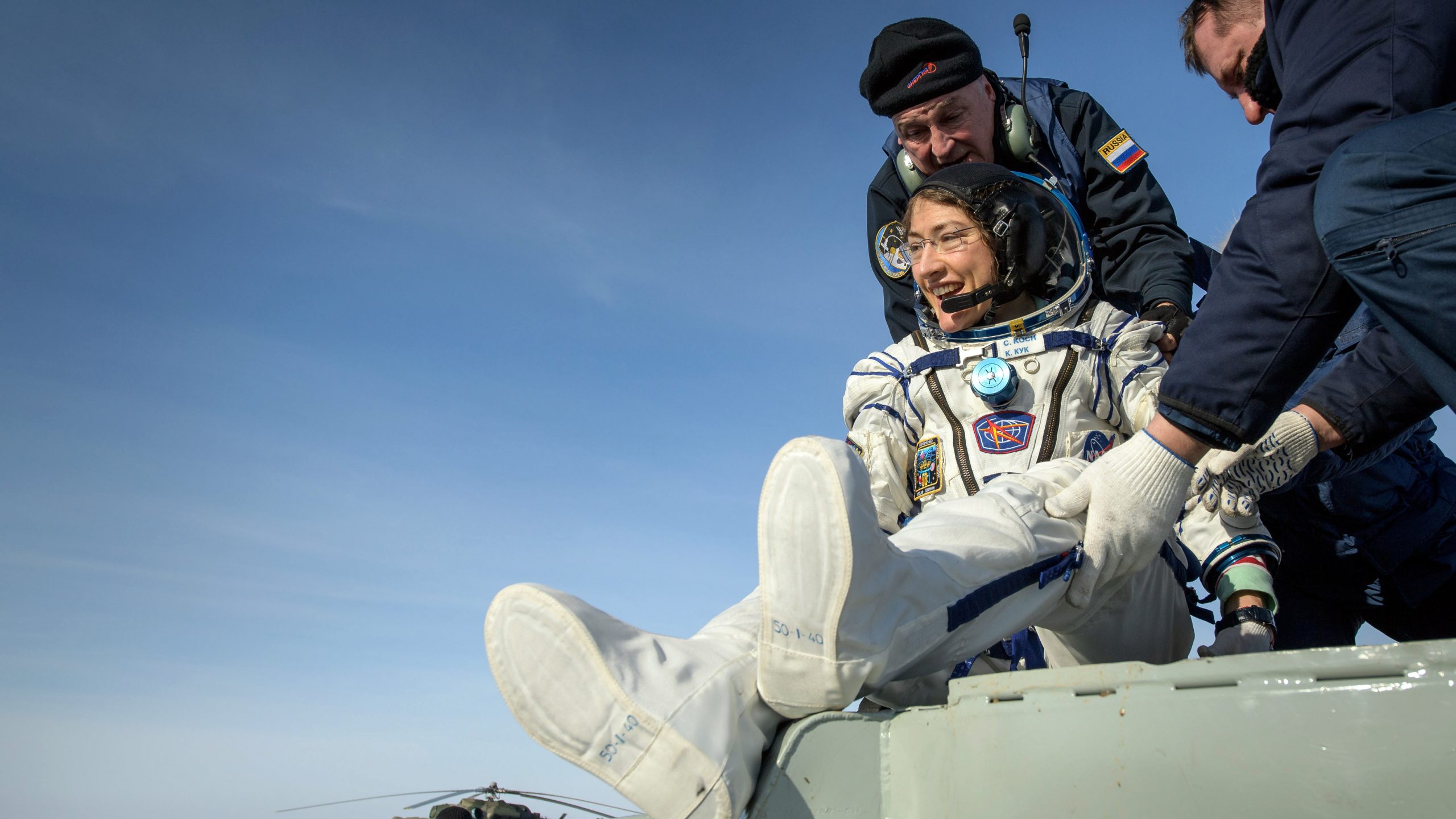 4. Show the whole world (or at least your friends, family and coworkers) your NC State pride when you wear red with the rest of your Wolfpack on Wear Red Wednesday. Share a picture on social media, and be sure to tag @ncstate and use #NCStateRedWhite for a chance to win a Red and White Week T-shirt (then you can wear it for next year's Wear Red Wednesday — we're here to help).
5. Listen to our Red and White Week Spotify playlist and belt out all the finest wolf-related tunes all week long.
6. Host a football watch party at home with members of your Wolfpack as we take on the Clemson Tigers on Saturday, Oct. 28. Or join an alumni network watch party near you.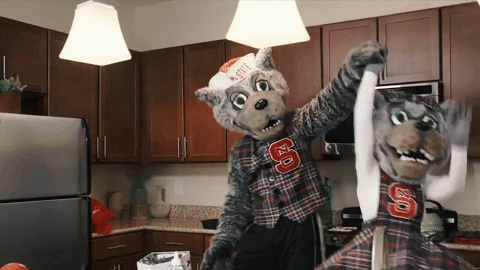 ---
The Alum, Employee or Fan Who Wants to Maximize Their Red and White Week
We are maximalists, also. (See: this very chill post.)
1. First of all, welcome home! Check out the Red and White Week calendar and join us for some of our on-campus festivities. Homecoming events are free, family-friendly and open to the public, unless otherwise noted. Pro tip: Be sure to visit the Dairy Education Center and Creamery for all the Howling Cow ice cream you can handle, plus cows.
2. Go back to college for a day by attending a Class Without a Quiz. Experience lectures by some of our amazing faculty on fascinating topics like how to build a mountain, the 2024 election or using AI in and out of the classroom.
3. Don't miss classic Red and White Week events like the pep rally and our interactive homecoming parade, Friday Night Floats, on Friday, Oct. 27!
4. Absolutely nothing on this beautiful planet would make us happier than seeing your kids or pets wearing Wolfpack red on Wear Red Wednesday (we would also like to see you, of course). Tag @ncstate and use the hashtag #NCStateRedWhite for a chance to win an official Red and White Week T-shirt.
5. Brush up your social profiles using our social media toolkit. Help us spread the word about Red and White Week while adding a little Wolfpack spirit to your daily scrolling.
6. If you're in it for athletics (us: WOLF! | you: PACK!), we know we'll see you at Carter-Finley on game day. But you can also check out Primetime With the Pack on Friday at 7:30 p.m. Join the men's and women's basketball teams for a thrilling season preview in Reynolds Coliseum.