Another Emmy for 'In the Garden'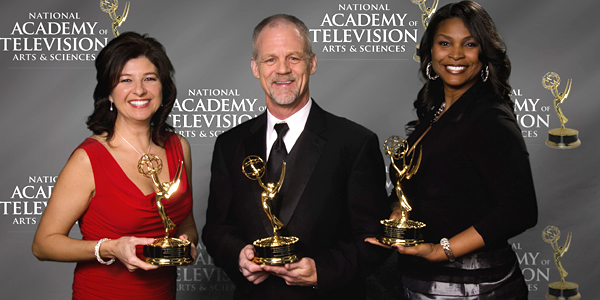 "In the Garden with Bryce Lane" was honored at the 27th annual Nashville/Midsouth Emmy Awards last week as the best instructional/informational program in the region. It was the second Emmy for the popular television program, which has been nominated five times.
"We are extremely grateful, and proud to receive this prestigious award a second time," said Lane, an instructor in the Department of Horticultural Science. "It is always an honor to be recognized by one's peers."
"In the Garden" is produced by University Communications. Sonya Williams Harris, producer and assistant editor; Simone Keith, videographer and editor; and graphic artists Bill Baverstock and John Vanaman make up the production team.
The Nashville/Midsouth Chapter of the National Academy of Television Arts and Sciences announced the nominations in November. Winners were honored during a live telecast from the Schermerhorn Symphony Center in Nashville on Jan. 26.
"There were nearly 800 entries this year, and NC State was one of only two universities to receive nominations," Harris said. "'In the Garden' is the only show of its kind currently offered in the Southeast. It is both an entertaining television series and a horticulture distance education course. Viewers can register for the course to earn college credit."
The show airs Saturdays at noon on UNC-TV and repeats Sunday and Monday. Check local listings for repeat broadcasts.
The National Academy of Television Arts and Sciences is a nonprofit professional organization dedicated to fostering excellence in television. The academy has 19 chapters with 15,000 members nationwide. The Nashville/Midsouth region includes North Carolina (except Asheville), Tennessee and northern Alabama.