Say 'Gudday' to Our Ambassador-in-Residence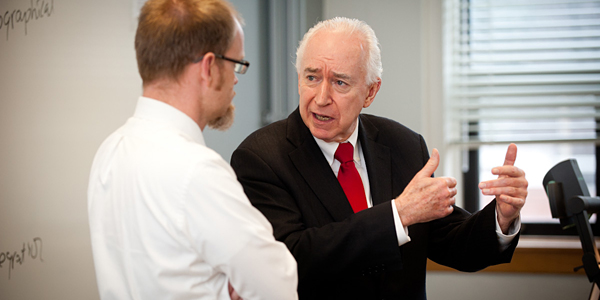 What a coup—securing Jim McLay, New Zealand's ambassador and permanent representative to the United Nations as the first official ambassador-in-residence for the School of Public and International Affairs. Richard Mahoney, SPIA director, says we can learn a lot from Jim McLay, and from New Zealand.
"Americans often discount little countries—but actually countries like New Zealand show us what we should be doing—building international partnerships. We are lucky having Jim here," Mahoney says.
Making International Affairs Real
From his hotel lobby on Hillsborough Street McLay explains his connection to NC State is through his long-term friendship with Mahoney. As ambassador-in-residence he hopes to impart knowledge about New Zealand and small states—neither of which are typically on Americans' radar.  Mahoney adds the goal of the new program is "taking the phenomenon of international and foreign affairs and making it real."
McLay therefore has a full visit. Last week he met with the provost and SPIA faculty, and lectured students on economics, political science and parliamentary practices. During his largest public address on Wednesday he enlightened the crowd about New Zealand's role in international affairs.
"Typically New Zealand and small states grapple with the same issues—but in different ways and often with different outcomes," he says. The crowd is fascinated and in the Q-and-A several ask for McLay's projections on foreign struggles and what it's like working for the U.N.
A Colorful Career
McKay's career is admirable but highly unplanned. He grew up in New Zealand's largest city of Auckland with wonderful family but no diplomatic or political mentors.
"I never could have foreseen all the wonderful things I've been able to do," he says.
McLay jokes that he's worked in three highly unpopular careers, including politics, law and investment banking. His proudest achievements include changes in the law that became effective when he was minister of justice—McLay helped establish New Zealand's family courts and its official freedom of information legislation. While serving on the International Whaling Commission, McLay also directed several companies, creating over 5,000 jobs. Now, at the U.N. he enjoys multilateral responsibilities.
He says New Zealand's international image hasn't changed as much as evolved and in the U.N. and U.N. Security Council New Zealand consistently punches above its weight class. During the Rwandan genocide only New Zealand and the Czech Republic demanded international intervention. New Zealand is not isolationist and has fought the same wars with the U.S. But New Zealand pulled its troops from Vietnam first.
"New Zealand has a much more credible, very independent and principled foreign policy voice than its size or remoteness might otherwise suggest," McLay says. "It is rare for us not to be engaged in some large issue."
The Expatriate Life
McLay lives in New York and visits New Zealand twice a year. He loves America but misses certain Kiwi comforts like his barbecue, boat, New Zealand's smooth, Italian-style coffee and cafe culture.
He feels proud of New Zealand but also sees challenges ahead. In his youth New Zealand exported its food and wool products mostly to Britain. Now its major export markets are closer—Australia and China followed by America. This change in orientation can be challenging along with Christchurch's devastating earthquake which impacted 11 percent of New Zealand's gross domestic product.
"The challenges are maintaining economic trade and momentum, while also having good domestic social policy and outcomes. New Zealand must also maintain its lifestyle while also making solid scientific and technical advances," he says.
In closing his interview with the Bulletin, McLay offers the following advice to those pursuing a foreign policy career: work hard, gain the best education possible, gain good life experience, preferably through working or volunteering overseas (because diplomatic life can be a bubble and it's so important seeing the world first.) And always take the opportunities before you.
"I strongly believe when a door opens before you, walk through it. When I have done that, I have not regretted it. "