Pantry Works to Feed the Pack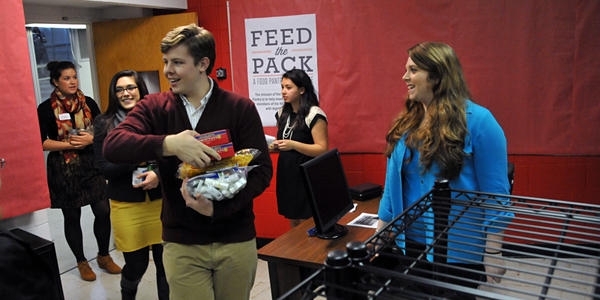 When Ellen Furby began her political science studies at NC State she couldn't ignore the startling facts: many fellow classmates were struggling to buy groceries each week while others skimped on meals.
"I could tell it was hard for classmates to focus," Furby says.
Little did she know the Center for Student Leadership, Ethics and Public Service, or CSLEPS, was already investigating hunger and homelessness on campus. The student organization found some students were homeless while others couldn't afford groceries every week. Psychologists at the NC State Counseling Center like Peter Adams echo this.
"My colleagues and I consistently found students making difficult decisions between food and books and that's just not right—something had to be done," Adams says.
All these forces came together last fall when CSLEPS and other campus organizations teamed up to create "Feed the Pack: The Food Pantry at NC State," now housed in Room 379 in Harrelson Hall. Furby signed up immediately, becoming executive director. She's backed up by student volunteers and a board composed of students, faculty and staff – including Adams.
The goal is to encourage donations of non-perishable food from the Wolfpack community and to make these items accessible to NC State employees and students experiencing food insecurity. A side goal is giving students experience in building and managing a nonprofit.
"It's wonderful this service exists," Furby says.
Growing Momentum
Now at the three month mark, Furby and her team are happy with their progress. Thanks to generous donations from the campus community the pantry is brimming with everything from granola bars, pasta and spaghetti sauce to rice, canned fruit and vegetables. Toiletries such as shower gel, hair gel and tissues are available, and student volunteers keep the pantry open two hours Tuesday through Friday.
From behind the pantry counter she explains the system: users can fill two shopping bags full of groceries each visit. No questions are asked, no proof of need is requested, she says.
"We encourage students to make the food pantry part of their weekly grocery shopping. This is an accepting and warm environment."
Via a Feed the Pack Facebook page Furby keeps the Wolfpack community updated on hours of operation and what's needed. Adams, the staff psychologist, says one reason the donation system works so well is NC State's service-driven culture.
"As soon as the food pantry opened student organizations leapt in wanting to help," he says.
Challenging the Stigma
Attracting customers remains challenging for the group. Furby and Adams suspect those needing the service are not yet aware it exists or hold back due to the stigma of using public assistance. He adds that staff and adjunct professors are also struggling in this tough economy to adequately feed themselves, but no one should feel ashamed.
He points to research conducted by the Urban Institute, a nonprofit, which found the percentage of graduate-degree holders receiving food assistance more than doubled between 2007 and 2010.
Adams also knows that for students, scrimping by is a rite of passage. Many graduates romanticize that time in their life when they lived off instant noodles, he says. He notices students visiting the pantry often hesitate, not wanting to take what others need.
"But that's the very culture we are trying to attack. There's no need to go without when free food is available," he says.
Meanwhile, the food pantry remains fully, almost over stocked.
"There's a lot of good stuff here," says Furby pointing to the shelves. "Come on in."