Miss NC Promotes Passion for Reading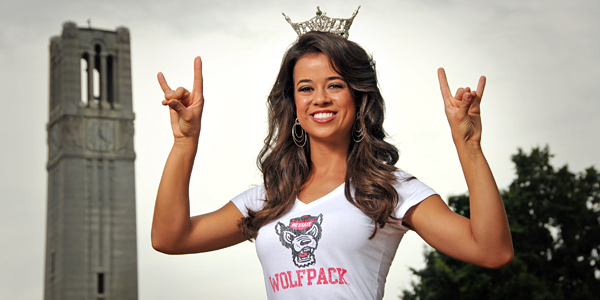 Johna Edmonds was preparing for a semester abroad in Argentina when she first began working with children's literacy programs.
The Lumberton, N.C., native and NC State graduate student helped her mother's fourth grade class at Littlefield Middle School in her hometown prepare for its Battle of the Books competition. Wouldn't it be cool, she thought, if she could help children across the state get excited about reading?
"I basically had two months with nothing to do but hang out, work out and work on my Spanish before I left," Edmonds said. "These children were enthusiastic about reading. When I saw how they pressed themselves and how excited they were to read, I wanted every child to have that same passion and desire."
A New Chapter
Now, more than three years later, Edmonds will have the opportunity to travel throughout the state – and take to a national stage in Atlantic City, N.J. – talking about her youth literacy platform after winning the 2013 Miss North Carolina Pageant on June 22. She is the third NC State student or graduate to win the crown in the last seven years, joining 2010 winner Adrienne Core and 2007 winner Jessica Jacobs.
Edmonds was competing in the event for the third time. In 2011, she was Miss Tar Heel, while in 2012 she finished in the top 10 as Miss Garner. This year, she competed as Miss Johnston County, winning the Lifestyle and Fitness award in the preliminary rounds and singing a robust version of jazz singer Nina Simone's "Feeling Good" during the talent competition.
In the end, the biggest reward of the scholarship pageant, which earned her $12,500 towards her educational expenses, will be the opportunity to promote her platform, "Readers to Leaders: Promoting Literacy to America's Youth."
Preparing for the Pageant
Edmonds, 24, earned an accounting degree, with a minor in Spanish, from NC State. She is currently two classes away from earning her master's degree in accounting. Though she's already signed an offer sheet to accept a job with KPMG's Raleigh office, she has to put both school and work on hold for the next year.
Being Miss North Carolina is literally a full-time job. For the next 12 months, she gets a stipend, an apartment and a travel itinerary that would fill both sides of her sash. For now, though, she is deep into her preparations for the Miss America pageant, the finals of which will be nationally televised on Sept. 15. She leaves on Sept. 2 for the competition.
She's already been on a three-day shopping spree in New York with a member of Miss North Carolina's board of directors to pick out evening gowns, cocktail dresses and swimwear for her two weeks in Atlantic City.
Much of her casual wear, however, came from the Student Supply Store.
"They actually asked us to wear our college T-shirts for rehearsals," Edmonds said. "So I'll be pretty much in yoga pants or shorts with NC State apparel on every day."
Role Model
That's fitting for someone who has been on campus for the last six years, pinballing between classes and the Carmichael Fitness Center, where she trains nearly every day. She's also spent time working with and serving on the board of directors of Helping Early Literacy with Practice Strategies (HELPS) programs, an early-education teaching strategy developed by John Begeny, assistant professor of psychology.
Literacy outreach has been important to Edmonds since she first began working with her mother's students. And it is a critical need in her home county of Robeson, which ranks as the state's poorest county, with more than 30 percent of its citizens living below the poverty line. It also has a nearly 40 percent illiteracy rate, one of the highest in the state.
"It's something I am passionate about," Edmonds said. "I would love to visit every elementary school in every county or town across the state during my year as Miss North Carolina. Children need role models and encouragement along the way. They need someone to tell them that no matter what their background is or what struggles they face, if they have a dream, they can reach it.
"The ability to read pushes you in the direction of any dream you may have."