Plan Ahead for Clemson Game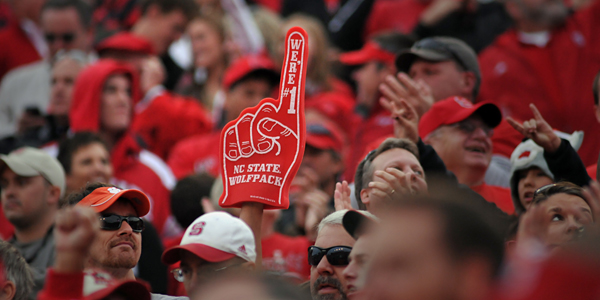 When NC State's football team (2-0) hosts No. 3 Clemson (2-0) Thursday night, sold-out Carter-Finley Stadium will likely be rocking under a full moon for the nationally televised ACC contest.
But fans going to the game should be prepared for delays in getting into the stadium complex, since some parking lots will open later and much of the traffic will arrive at Trinity and Blue Ridge roads and Wade Avenue during rush hour.
The rivalry game – known since 1981 as the Textile Bowl, because of the two schools' active involvement in the industry – will be broadcast on ESPN.
Be an Early Bird
Fans that have tickets for the game are strongly encouraged to arrive early. The Walk of Champions — which features the team, the marching band, the cheerleaders and the dance team – is slated to begin at 5 p.m. near the East Stadium Lot and the Motor Home Lot.
Most parking lots around the stadium will open at 2:30 p.m., though the College of Veterinary Medicine and the Cardinal Gibbons High School lots will open at 5 p.m.
Fan Zone, located between PNC Arena and Dail Plaza will open at 4:30 p.m., with the NC State baseball team on hand for autographs.
Fans should enter the stadium early to avoid delays in getting to their seats. All gates open 90 minutes prior to kickoff. However, Vaughn Tower ticket holders may enter the stadium two hours prior to kickoff at Gates 4, 8 and 12.
Security Checks
For the safety of all fans and participants, game management personnel will inspect all persons, bags (14″ x 14″ or smaller), and items entering the stadium. Prohibited items must be returned to your vehicle or properly disposed of prior to entry. A complete list of prohibited items can be found online.
NC State continues to offer express lanes for fans with no bags, and has expanded those lanes to include clear bags smaller than 14″ x 14″ to speed entry.
As reminder, the stadium is now designated a non-smoking venue. Smoking is prohibited in Vaughn Towers, in the seating bowl, on the concourse and in restrooms. Smoking is permitted in newly designated smoking areas at Gates 1, 5 and 11.