Oh Say, Can She Sing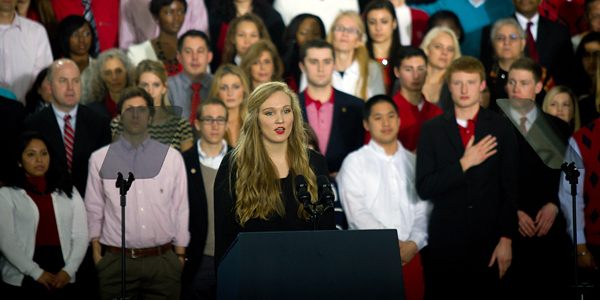 Meredith Richardson first sang the national anthem for her club volleyball team when she was in high school.
Wednesday, she got to sing it for President Barack Obama during his visit to NC State's campus.
Richardson, who just finished her four-year career as a middle blocker on the Wolfpack volleyball team, regularly sang "The Star-Spangled Banner" before home matches at Reynolds Coliseum. In fact, it was a video from her Senior Night performance a few months ago that she submitted to the White House on Friday for consideration. She was one of three NC State students to submit entries.
She was notified Tuesday morning that she had been selected, and Tuesday night she was at the revamped J.W. Isenhour Tennis Center practicing for Wednesday's big moment.
"Adina Stock, who is an assistant athletics director and has been to a lot of our matches, suggested my name and someone contacted me about submitting a video," said Richardson, a civil engineering major from Brentwood, Tenn. "I was very excited when I got the phone call Tuesday morning."
Some 2,000 invited guests and students were on hand for Wednesday's big announcement, including the president, the White House press corps, North Carolina Gov. Pat McCrory and Chancellor Randy Woodson.
The indoor tennis center was decorated with black drapes, U.S. and North Carolina flags and a light blue "Jobs and Opportunity" sign.
"I'm pretty used to singing it in front of big crowds by now, so I am not that nervous," Richardson said before the biggest performance of her career. "Yet."