Civil Rights Effort Inspires Dance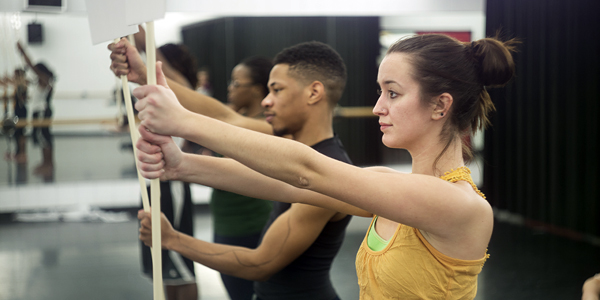 Panoramic Dance Project, one of two student dance companies administered by the NC State Dance Program, is developing "Operation Breadbasket," a mixed media modern dance honoring the civil rights organization of the same name.
Students, faculty and staff are invited to see the work in progress, ask the choreographers questions and provide feedback at an open rehearsal, 10 a.m. to noon Saturday, Feb. 22, in the Carmichael Gym Dance Studio, Room 2307.
"Operation Breadbasket" is choreographed by artistic director Tara Z. Mullins, along with renowned guest choreographers Willie Hinton and L.D. Burris, a former member of the Chuck Davis African American Dance Ensemble. Choreography is set to Martin Luther King Jr.'s 1967 speech, "Where Do We Go From Here?" It includes a selection of gospel and soul music and an original documentary-style interview with Robert J. Brown, a public relations consultant to King who helped negotiate with businesses for more equitable employment practices in African American communities.
Mullins was inspired to produce the dance after personal conversations with Brown about his experience serving on the board of the Southern Christian Leadership Conference and his relationship with King. Mullins said she wants to help audiences make sense of this period in history, educate them about the outcomes and move them to "absorb the feelings on a soulful level."
The 12 students performing the dance have engaged in study and conversation about the history of Operation Breadbasket — an organization dedicated to improving the economic conditions of black communities — to help them think critically about the way their dance will educate and impact audience members.
"Operation Breadbasket" will be performed as one act of Panoramic Dance Project's spring concert on March 27 and 28 at 8 p.m. in the Titmus Theatre in Thompson Hall. Tickets are available through Ticket Central.
Funding for guest choreographers was provided by the Lattice Endowment for the Performing Arts.