Improving How Students TH!NK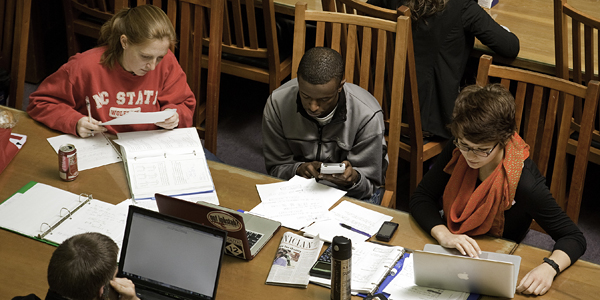 Here's what the faculty involved with developing NC State's quality enhancement plan (QEP) for its ongoing accreditation review found early in the process: Freshmen who entered the university and graduates who left had a high level of confidence about their critical and creative thinking skills.
But after time in the workforce, alumni reported through surveys that they had less confidence in those higher-order thinking skills as they started their careers and began to solve real-world problems.
So after NC State completed its 2011 strategic plan, which identified the need to strengthen students' 21st century skills, the university embarked on developing a focused QEP to improve critical and creative thinking. Called "TH!NK," the plan will help develop thinking skills by teaching certain classes in a certain way.
The basic ideas behind the five-year plan were developed by a QEP steering committee, co-chaired by Steve Reynolds and Chris Anson. Details were fleshed out by a writing team led by  Meredith Davis. In January, Susan Carson, an associate professor of plant and microbial biology, was selected to direct the program.
The plan is one of the requirements for reaccreditation mandated by the Southern Association of Colleges and Schools Commission on Colleges, known as SACSCOC. Also required are documents demonstrating NC State's compliance with 92 standards and policies, according to reaccreditation liaison Karen Helm.
Evaluation Committee Will Visit
In March, an on-site evaluation committee from SACSCOC will visit campus to follow up on the institutional compliance report that was completed and submitted last September and to evaluate the TH!NK program.
"We are actively planning the implementation of the QEP and there will be faculty development going on in May and throughout the summer as we prepare for the first classes this fall," Helm said.
With much of the institutional compliance process completed, the university will now begin to implement TH!NK, which has been endorsed by multiple groups on campus, including the Board of Trustees in its meeting on Wednesday.
Beginning this fall, two years of first-year undergraduates will participate in TH!NK sections of first-year English, first-year inquiry courses and three large-enrollment introductory classes in engineering, management and life sciences.
Four faculty fellows are developing workshops that will help train 15 faculty who volunteered to teach the inaugural TH!NK classes. In each successive year of the program, an additional 26 to 30 faculty members across disciplines will be trained to incorporate the TH!NK strategies into their existing classes.
Creative and Critical Thinking is Key
"The goal of the QEP is to enhance a student's higher-order thinking competencies, including critical and creative thinking, and reflection on their own thinking," Carson said. "There is a whole lot of faculty development going into this and a major investment by our institution, both philosophically and financially.
"Incoming students should know they are fortunate because this program is being focused on first-year undergraduates and what they gain in their TH!NK classes in their freshman year will remain with them throughout their academic career and beyond."
More advanced students, while not being directly affected in the first two years of the program, will receive the benefits of widespread faculty development in teaching critical and creative thinking, and by a shift in the culture of many courses on campus, she added.
The four inaugural TH!NK fellows are sociology professor Maxine Atkinson, biological sciences associate professor Jason Flores, English lecturer Anne Auten and graphic design associate professor Santiago Piedrafita.
The strategies to improve critical and creative thinking are still under development and will vary among TH!NK classes, but Carson said they will include more thought-provoking, open-ended active learning strategies, such as the use of case studies, rhetorical analysis and concept mapping, as well as peer-to-peer evaluations and a focus on student reflection of their own thinking.
Far-Reaching Impact
Assessment of students' critical and creative thinking is an important component embedded in the plan. A major goal of the TH!NK team is to assess what works and what does not work to increase students' higher-order thinking competencies in various types of courses, and to put together a list of best-practices that can be widely employed. Deb Moore and Carrie Zelna in the Office of Assessment lead the student assessment, and Diane Chapman in the Office of Faculty Development will lead the assessment of faculty development.
As the program progresses, additional faculty will implement the teaching strategies and improve thinking skills for nearly every student who earns a degree in coming years.
"Even though this is an extremely focused plan and the assessments are looking for specific outcomes, the second we start with our TH!NK classes, those strategies will spread," Carson said. "We expect the effects to be far-reaching."