UNC Paper Praises NC State Clusters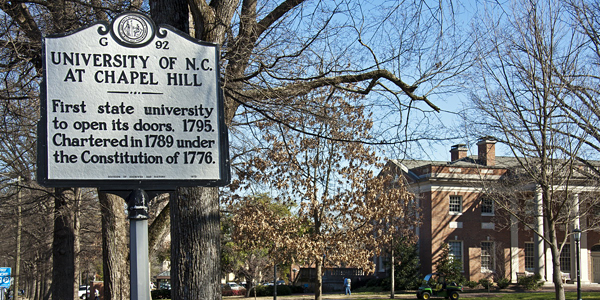 The student newspaper at UNC–Chapel Hill urged university officials to follow NC State's lead and hire interdisciplinary clusters of faculty members to boost research. In an editorial Wednesday, the Daily Tar Heel said Carolina should adopt the cluster model to "keep up with other leading research institutions."
NC State is among a growing number of research universities nationwide that have implemented faculty clusters. The university's pioneering initiative, the Chancellor's Faculty Excellence Program, is adding more than three dozen new faculty members in 12 fields such as bioinformatics, geospatial analytics and synthetic and systems biology.
The Daily Tar Heel joins a chorus of publications praising NC State's leadership in interdisciplinary innovation, including Inside Higher Ed and the Chronicle of Higher Education.
"Clusters give professors an opportunity to conduct cross-disciplinary research, meaning that professors could cross department boundaries to expand research applications," the editorial said. "NC State University has seen great success with the implementation of clusters. In fact, the program will likely bring new degree options to the university. By exploring clusters, UNC could pioneer research in increasingly important subjects and educate students in timely subjects. UNC should strongly consider giving professors the option of clusters."
An interdisciplinary cluster program at UNC could potential benefit both institutions. Despite a longstanding rivalry in athletic competition, the two universities regularly collaborate on research projects. NC State and Carolina jointly administer a graduate program in biomedical engineering.
Symposium to Celebrate Clusters
NC State hosts a seminar on faculty clusters on Centennial Campus in April. The Chancellor's Faculty Excellence Program Symposium: A Celebration of Interdisciplinarity will feature three hour-long panels on topics including big data, humans and the environment, and meeting interdisciplinary challenges at NC State. Peter Lange, provost at Duke University, will deliver the keynote address.
The event is scheduled from 1 p.m. to 5 p.m. Friday, April 25, in the Hunt Library auditorium with a reception following in the Skyline Reading Room and Terrace. Space is limited so RSVP early if you plan to attend. The complete program is available online.