Gateways Smooth Campus Edges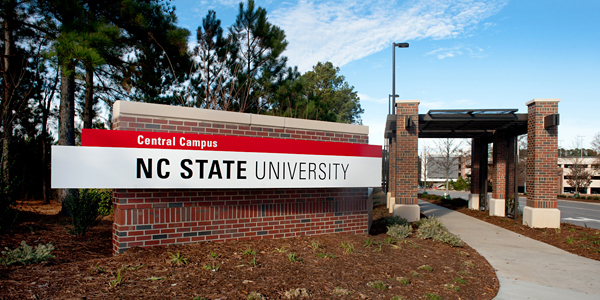 With so many different ways to access NC State from the many Raleigh streets that define the campus, there was never a coordinated effort to establish inviting entryways at the outer edges of the university's boundaries.
That has changed since 2006-07 when university architects developed a physical master plan for campus that included up to 18 proposed gateways into the university.
"Gateways are probably the most important element we have in defining our edges," says university landscape architect Tom Skolnicki. "They are placed at major entrances to campus and serve as the transition between campus and the surrounding community."
Four gateways included in the master plan are completed, beginning with the Avent Ferry Road and Varsity Drive entrance near Centennial Campus. The second to be built was at Achievement Drive at Centennial Parkway, while two more were recently completed: one at Hillsborough Street and Watauga Club Drive and another at Varsity Drive and Western Boulevard.
Work on two more commenced in recent weeks, at Main Campus Drive and Trailwood near Centennial Middle School and at Morrill Drive and Western Boulevard near the Mission Valley Shopping Center.
One more entrance, at Dan Allen Drive and Hillsborough Street, has been designed and is awaiting funding for construction. A total of 11 more are awaiting design and construction.
Public Face of NC State
"There has been an emphasis on improving our edges since we have so many of them," Skolnicki says. "We found we needed to define the entrances and let people know when they are on our campus.
"These are places that are the public face of the university and we want our edges to reflect the character and beauty of campus."
Skolnicki says the gateways – generally made with brick, cast stone and metal — are important because they are standardized and consistent so that they clearly communicate the university brand.
"We want each of them to be distinctive so that they aid in way finding," Skolnicki says. "We want them to clearly and consistently demonstrate our campus identity."