Getting the Swing of Analytics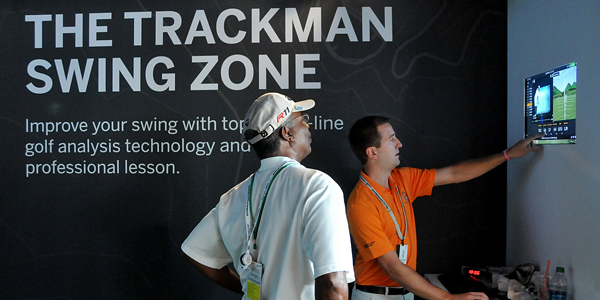 Big-data analytics isn't just for helping online retailers know what to suggest for your next purchase or crunching massive numbers for the U.S. Census Bureau.
It can also help with birdies, bogeys and pars.
That's what a team of seven NC State golf instructors and products of the PGA Golf Management program spent all last week showing spectators at the U.S. Open at Pinehurst No. 2. While Martin Kaymer was running away with the men's championship, with his 72-hole total of 9-under par, thousands of visitors to the American Express Swing Zone and Golf Fitness Studio saw how radar technology and computer analysis could improve their golf games.
They received a free five- or 10-minute swing evaluation by instructors who normally spend most of their days at the Lonnie Poole Golf Course, utilizing the TrackMan system, a Doppler radar swing analyzer that has become popular over the last decade with professional golfers and weekend hackers.
Fans could make appointments for three different swing bays, where instructors like Chase Duncan, a former Wolfpack player and the LPGC director of instruction, helped players understand what they were doing right and wrong in their swings. The radar analyzer picked up 25 points of data from every swing, including clubhead speed, attack angle, club path, face angle and dynamic loft. It also computed the carry distance, the total distance, the landing angle and the spin rate on each ball.
The data is then displayed on a computer screen and printout to show a player what adjustments are needed to correct a draw, slice, pull or hook.
"For a golf instructor, this is like having an MRI of a golf swing," says Duncan, who has used one of the $30,000 TrackMan systems at LPGC for nearly four years and now has a more elaborate setup at the new Carol Johnson Poole Clubhouse. "A video camera would be like having an X-ray of a golf swing. We just get so much more information and can show a player where they need to make corrections.
"Golf is a scientific game, in terms of how you adjust the flight of the ball. We just use data analysis to show players how they can make a small adjustment and get big results."
Duncan was recruited to run the swing analyzer at the Open by NC State graduate Justin Padjen, who is a tour operations and sales director for TrackMan. Duncan then added other experienced instructors like LPGC head professional Nick Dillman and assistant pro Jeff Viola, PGM director of internships Andy Betz and a trio of students experienced in TrackMan instruction to his roster for the back-to-back championship weeks.
Last week was hectic for Duncan since he doubles as a swing coach for former Wolfpack golfer Garth Mulroy, who played his way into the 156-player men's field at a qualifier in England and made the cut with strong early rounds on No. 2's treacherous fairways and greens. He finished tied for 40th, with a four-day total of 289.
The instructional center was part of the impressive interactive – and air-conditioned – village that included the Lexus Performance Drive Center and the Chevron STEM Zone, a multi-station exhibit staffed by high school science teachers that taught kids how momentum, displacement and other principles of physics affect the flight of a golf ball. The three centers are located between the massive merchandise tent located near Gate 1 and the Putter Boy Pavilion.
Activities at all three tents are free to the public and will continue all this week when the USGA hosts the U.S. Women's Open on the same course.