Campus Life
Gone Too Soon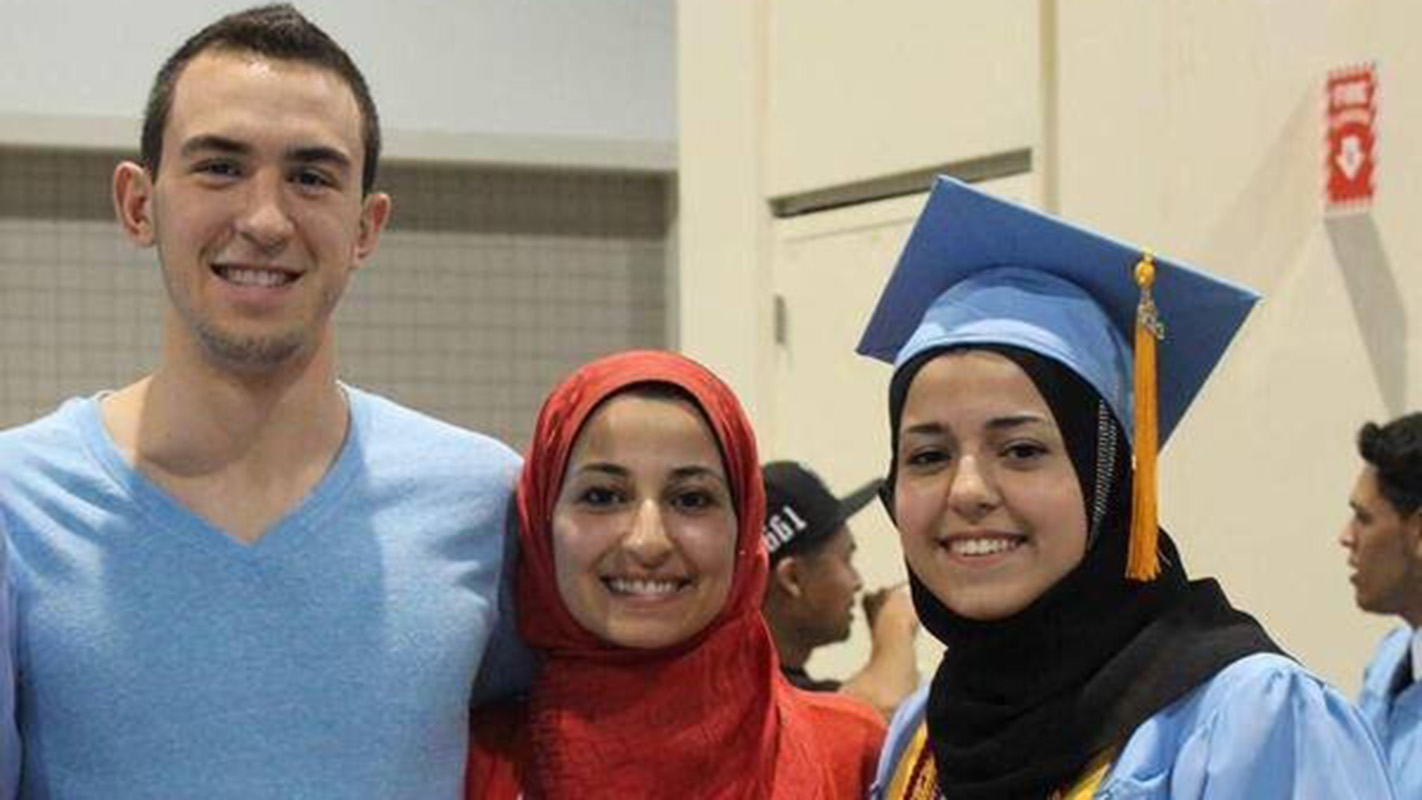 Last December Deah Barakat tweeted "I miss NC State #NeverGraduate."
Today it's NC State's turn to hold tight to memories of dear friends and better times.
The campus community learned in the early morning hours that a gunman shot and killed Barakat, his wife Yusor Abu-Salha and sister-in-law Razan Abu-Salha yesterday in Chapel Hill.
Barakat, a dentistry student at UNC-Chapel Hill, graduated from NC State in 2013 with a bachelor's degree in business administration. Yusor Abu-Salha, who had recently been accepted into Carolina's dentistry program, graduated from NC State last fall with a bachelor's in biological sciences. Razan Abu-Salha was a sophomore in the College of Design majoring in architecture.
Vigils Planned
Students, faculty and staff at both NC State and Carolina were stunned by the news.
UNC-Chapel Hill students will hold a vigil 6:30 p.m. today, Feb.11, at the Pit on campus preceded by a prayer service at 6 p.m. in the Great Hall of the Carolina Union. Two Wolfline buses will leave Carmichael Gym at 5 p.m. to shuttle NC State students to Chapel Hill for these events.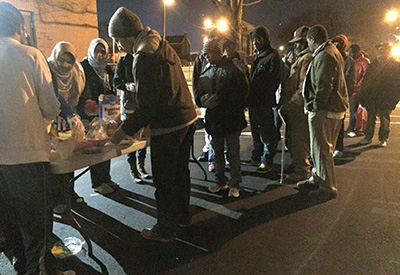 NC State students will hold a vigil 6 p.m. tomorrow, Feb. 12, on the Brickyard.
Tonight, at the NC State-Virginia basketball game, there will be a moment of silence and remembrance for the three ardent Wolfpack supporters.
Funeral arrangements are still being set by the family, but a memorial service is being planned for the Raleigh Islamic Association on Thursday evening.
Married Six Weeks
"They were such beautiful souls, such good people," said alumnus Mohammad Moussa, who met them in the Muslim Students Association. "Deah and Yusor were only married six weeks.
"I couldn't be at their wedding, but I'll be at their funeral."
Alumnus Sameer Abdel-Khalek said the Barakat and Abu-Salha families are active in Raleigh's Muslim community and are respected for their generosity and service.
"When Deah came to NC State he was skinny and scrawny. He was like a younger sibling. Over the next four years I watched him transform into the man that he became. He was always positive, always happy. He was known for giving the strongest hugs. He would embrace you with true sentiment and you would be with him in that moment."
Barakat was helping to raise money for a service project to provide dental services to Syrian refugees in Turkey.
"His parents are from Syria so he and his brother have gone to Syria through United Muslim Relief to help the people there," Abdel-Khalek said. "They felt it was important for them to take action in a positive way."
That commitment to service was evident early to Lauren Brown, who was Barakat's academic advisor in the Poole College of Management.
"He was always happy, always smiling, always wanting to help others," Brown said. "That started as an undergrad, and it continued well beyond his leaving here."
 Disbelief
NC State freshman basketball player Abdul-Malik Abu forged an early relationship with Barakat when the young forward first arrived on campus from Boston last fall. He attended Barakat and Abu-Salha's wedding on Dec. 27. Barakat was both an avid basketball fan and an intramural basketball standout.
Abu posted this memory of Barakat on his Instagram page.
"When I heard the news I was in disbelief I couldn't quite understand how this was possible," he wrote. "I couldn't wrap my head around the thought of you and your beautiful wife no longer being alive. You supported me before you met me and showed unconditional love when you did…
"We didn't grow up together but when I heard the news I was hurt like I've known you my whole life. I just wanna say thank you to you and your wife and family for the support and making North Carolina feel like home. Rest in peace brother and sisters… May Allah bless all three of you with the highest heaven. I know you'll always and forever be an NC State supporter.
"Rest easy my dude."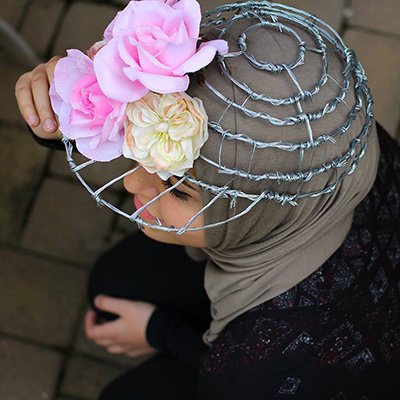 Lisa Parks, an associate professor of biological sciences, recalled Yusor Abu-Salha as a quick study who was "incredibly patient" in helping fellow students learn in a senior-level cell biology class.
As her academic advisor, Parks also had regular contact with Abu-Salha outside the classroom.
"I remember when she got engaged, she ran into my office to show me her ring," Parks said. "She'd stop by to talk about an article she read, her wedding plans, her classes. She was quietly intelligent and humble. She was empathic."
Microbiology professor Alice Lee, who taught Abu-Salha in fall 2012, recalled a student who "felt very strongly about human health and welfare."
"She really brought light to the world," Lee said.
A Better Place
In a Facebook post, Amanda Crawford, a first-year industrial design student, paid tribute to Razan Abu-Salha.
"I am honored to have known you and to be able to call you a friend. You were one of the sweetest people I've ever met," she wrote. "I know that you're in a much better place now, but I still am selfish and wish that we all would have had another day with you."
Another classmate, architecture student Waad Husein, said Razan would help anyone in need.
"She was the nicest person I've ever met," Husein said. "And she was very funny, too. She used sarcasm sometimes, but it was lighthearted. She was loving and caring, always giving."
Doha Hindi, a sophomore in science, technology and society, grew up with Razan. They first met in the first grade and remained close through their graduation at Athens Drive High School in Raleigh and their time together at NC State.
"She was honestly a very funny person," Hindi said. "What I will always remember is all the funny things she did to make me laugh. We were all together just the other day, wearing our pajamas and messing around and laughing.
"She shared so much happiness with the world.
"What is most important to remember about all three of them is how each one of them was committed to service and making the world a better place. It was always their top priority. They volunteered in this community and in other countries. They all made a huge impact on the lives of others."
A Facebook page created early Wednesday morning that celebrated the accomplishments and shared memories of the three lost lives had nearly 50,000 members by midafternoon Wednesday.
The Barakat family issued a statement Wednesday afternoon:
"We are devastated at the senseless murder of my brother Deah Barakat, his beautiful wife Yusor Abu-Salha and her sister Razan Abu-Salha. We are shocked that there would be anyone plagued with so much hate in their heart to execute three living human beings. Deah was an extraordinary brother, student and engaged citizen. Between the stresses of being a dental student he always found time to invest in those less fortunate with his wife at his side. Raising funds for aid to Syrian refugees and feeding the homeless in the local area are just a glimpse of what our brother Deah, Yusor and Razan stood for. They weren't just Americans, they were extraordinary Americans who loved their faith and their community. We call on the local police department, the FBI and all other authorities to ensure that our family gets justice."