Events
StateView Hotel Breaks Ground
Calling it the next step in the Centennial Campus "neighborhood of hospitality," NC State Chancellor Randy Woodson joined several private industry partners on Tuesday to break ground for the StateView Hotel, a 164-room Marriott Autograph Collection hotel and conference center.
Nestled next to the Park Alumni Center, across from the Lonnie Poole Golf Course and just down the road from The Point, the chancellor's residence, the hotel is expected to be a welcome gathering place in that neighborhood when it opens its doors in the fall of 2016. The project is being co-developed by Noble Investment Group and Concord Eastridge Inc.
In addition to luxury rooms, the five-story hotel will have 9,000 square feet of meeting space, a full-service restaurant and bar, an outdoor pool, fitness center and other amenities that were all part of the original vision when Centennial Campus opened 30 years ago.
"We've always had a vision," Woodson told about 100 university leaders and partners under a tent near the alumni center parking lot. "This hotel project has been part of that vision since the beginning. It's a critical piece for creating a campus that really embodies creating a place where people live, work and play, where they do research and where they collaborate.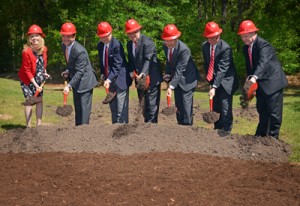 "That vision is coming to fruition. We know that a hotel project is crucial to the development of the neighborhood."
Woodson touted the opportunity for the hotel to house university visitors, provide temporary housing for faculty, and business and industry partners being recruited to the university's research campus. Coupled with the McKimmon Center and the Talley Student Union, the new hotel will provide hospitality venues for large conferences and other events related to campus.
"This is just the beginning," Woodson said.