Research and Innovation
CICEP Sees NC State Success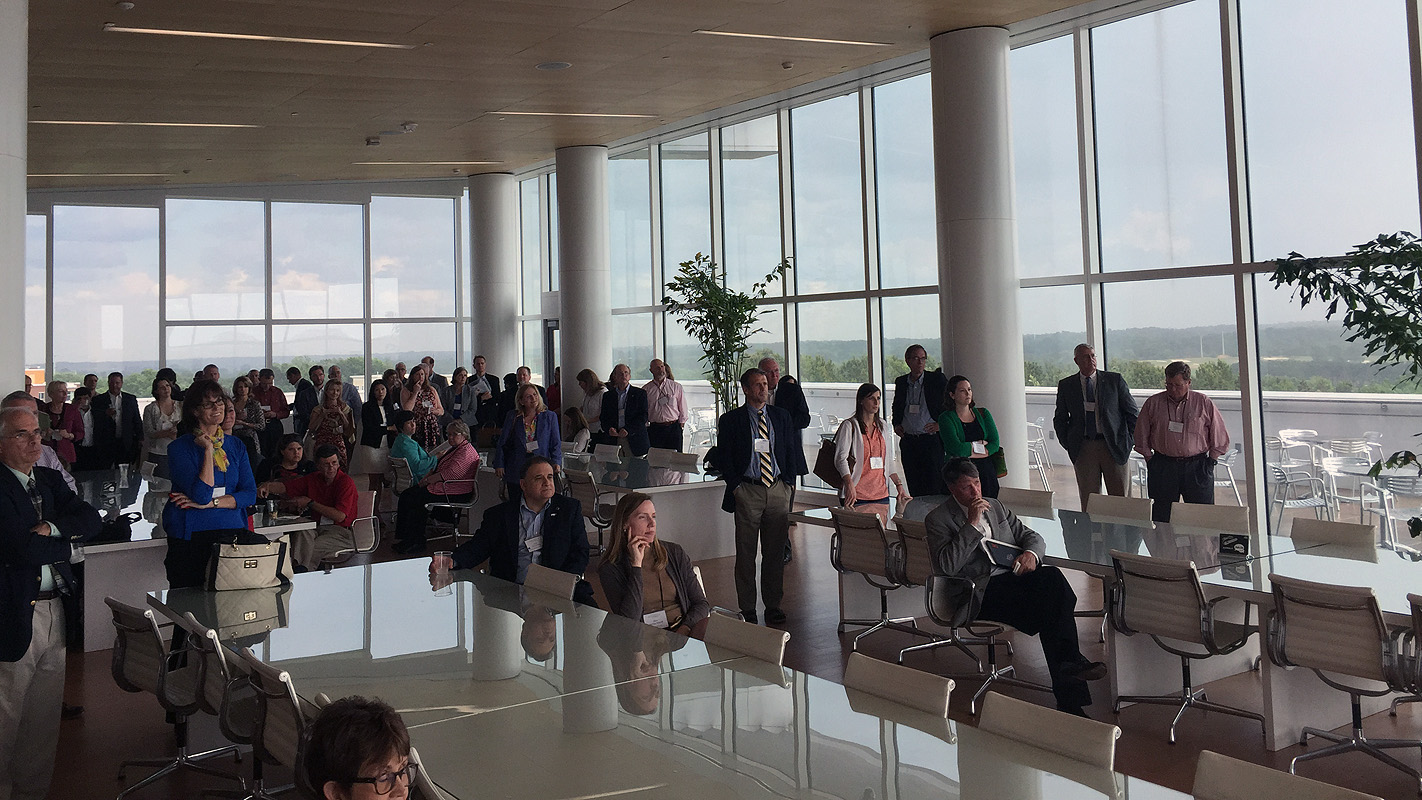 For the last three days, Chancellor Randy Woodson has had the opportunity to show research, higher education and economic development leaders from around the country how NC State fulfills one of the university's biggest promises: to create prosperity and opportunity for the citizens of North Carolina.
Woodson, as chair of the Association of Public and Land-Grant University's Commission on Innovation, Competitiveness and Economic Prosperity (CICEP), spent this week as a happy host with a humble brag, showing off how we think and do things at NC State.
Through panel discussions, roundtables, keynote addresses and visits to economic incubators large and small, Woodson told the story of how the university adds more than $6.5 billion to North Carolina's economy and showed off NC State's crown jewel, the Hunt Library on Centennial Campus.
It was an interactive meeting highlighting economic development, technology transfer and entrepreneurship, where engagement professionals shared ideas on how they fulfill missions that are similar in many ways but vastly different based on their locations.
Presenters from six similar universities—Cincinnati, Penn State, Houston, Texas Tech, Purdue and Virginia Tech—gave two-minute presentations in a series of "Innovator Spotlights," while Raleigh Mayor Nancy McFarlane and Research Triangle Park President and Executive Director Bob Geolas gave insight into how both the city and the region have become national and international hubs of innovation.
And Woodson and various leaders from around campus shared NC State's story of outreach and engagement.
"What we have tried to do is give people the chance to have brief conversations about what they are doing and what their institutions are doing to be innovators," Woodson said. "The interesting thing is, while schools like NC State and Virginia Tech might be very similar institutions with similar missions, we are not in similar locations. Their issues regarding economic development are very different than ours.
"While we are similar universities with similar-looking science and technology going on, we have different capabilities and different ecosystems. This conference is all about the economic development ecosystem you find yourself in as a university and what your role is as a university in helping shape that ecosystem."
As a 2014 winner of APLU's Innovation and Economic Prosperity designation, NC State was the perfect location for CICEP's inaugural IEP Summit. The four-day event began with a welcome reception on Sunday night at HQ Raleigh in downtown, spent much of Monday and Tuesday at the Hunt Library (including an extensive tour on the opening day) and had a reception with Woodson and his wife Susan at The Point.
Through all the discussions, Woodson knew that NC State has been particularly blessed with a unique research campus that was the envy of the conference.
"The idea of public-private partnerships on your campus, bringing companies on campus to interact with students, with faculty, that's a big deal," Woodson said. "We are very blessed that we have the resource of land that was transferred to us by Gov. Jim Hunt and Gov. Jim Martin. We also have the resource of the legislature letting us develop this property in a public-private way and giving us the ability to build private buildings on state-owned land.
"That's pretty unique."
The summit closed on Wednesday at the Hunt Library.
The real-time reviews, found through the Twitter hashtag #CICEP2015, were enlightening about how NC State is viewed from every corner of the country.
Outstanding #CICEP2015 summer mtg in Raleigh so far. @NCState is setting the bar high. Hunt Library a top facility. pic.twitter.com/gMURqspMle

— David Gard (@GardIndiana) June 2, 2015
Great keynote from Bob Geolas from the Research Triangle Park. #CICEP2015

— Marc Miller (@DeanMarcMiller) June 2, 2015
Involve more faculty, help foster #EconomicEngagement as part of their DNA. Priority and a challenge! #CICEP2015

— Alexis Holzer (@alexisholzer) June 2, 2015
At #CICEP2015 so appreciate #NCState Chancellor Woodson – what a gracious host to all of us CICEPers

— Christi Bell (@christi_bell) June 2, 2015
Hunt Library and Centennial Campus a truly inspired collaborative space & culture. @NCState #THINKandDO #CICEP2015 pic.twitter.com/nlnuydt0gW

— Dawn Tew (@dawnctew) June 1, 2015
@NCState's Hunt Library making the rest of us look bad! #CICEP2015

— Joey Mak (@JoeyMak27) June 1, 2015
Check out http://t.co/vEqJo8QzFH startup space in Raleigh NC #cicep2015 @E_forAll @Difference_UML pic.twitter.com/acDe3FyAwF

— Steve (@Prof_STello) June 1, 2015