A New Campus Hub: Talley Student Union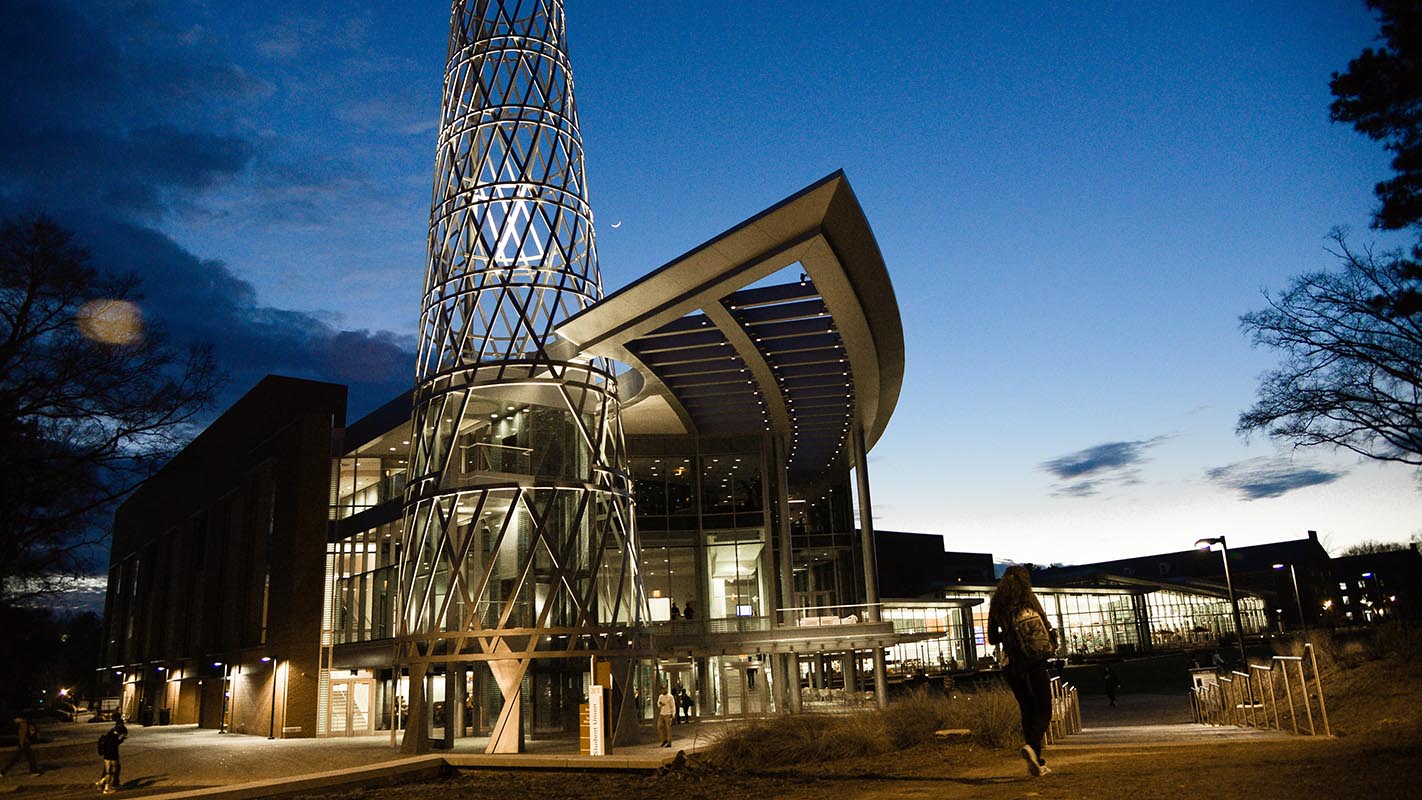 At NC State, education begins in class, but it doesn't end there.
Our students learn by doing, and the new Talley Student Union is the hub where students experience collaboration, community-building, and personal and professional development.
The Sept. 9 dedication of Talley Student Union completes a years-long renovation and rebuilding effort. That project unites many student organizations in a beautiful space that encourages the people inside to exchange ideas and create a unique campus culture.
More than 10,000 people pass through Talley each day, stopping to eat at one of eight restaurants and cafes, conferring with fellow students in meeting and lounging spaces, catching a performance at Stewart Theatre or working with one of the student engagement and diversity offices housed there.
The new Talley Student Union is an extraordinary space. Here's what you'll find inside:
Support for Students
The 3,000+-square-foot James Woodward Student Involvement Center is the campus hub of student involvement and engagement. It represents the culmination of a vision for state-of-the-art student support facilities at NC State.
The center is a home for students seeking their place in the Wolfpack. Whether they want to learn more about an organization, explore meaningful co-curricular experiences or build up their professional network, NC State students can find the resources and support they need.
During his one year of service as interim Chancellor, James H. Woodward advocated for and received support to renovate Talley Student Union. It was Woodward's vision for a new student union that would become a vibrant center of NC State student life. The student involvement center, named in Woodward's honor, is a bold new space that serves as a reminder of his vision.
The newly renovated and revitalized Talley Student Union is also home to three campus community centers: Multicultural Student Affairs; the Gay, Lesbian, Bisexual and Transgender Center; and the Women's Center. A fourth campus community center — the African American Cultural Center — along with its library and art gallery, makes its home at Witherspoon Student Center, a short walk down Cates Avenue.
Feeding and Clothing the Pack
Most students and staff recognize campus services like the NC State Bookstores, University Dining and Trademark Licensing, but peel back the layers and you'll find a common thread between these and a handful of other organizations responsible for the retail and hospitality operations of the university.
They're all part of Campus Enterprises, which also includes the University Student Centers, Wolfpack One Card Services, Rave! Event Services, Wolf Xpress Print and Copy, and the Lonnie Poole Golf Course. Established in 2009 within the office of Finance and Administration, Campus Enterprises has been solidly behind the Talley Student Union renovation since its inception.
"Having these service areas under the same roof has significantly improved all of these operations over the past six years," said Dan Adams, associate vice chancellor for Campus Enterprises. "The university has put resources and a commitment to the success of these operations, challenging us to put a collective focus on improving services and facilities to better serve our students."
Campus Enterprises also gives back to students through scholarships and student programming — more than $2.9 million in 2014 alone. A significant portion of these funds comes from royalties gleaned from the sale of merchandise at Wolfpack Outfitters, the main campus bookstores. Campus Enterprises also employs more than 800 students annually.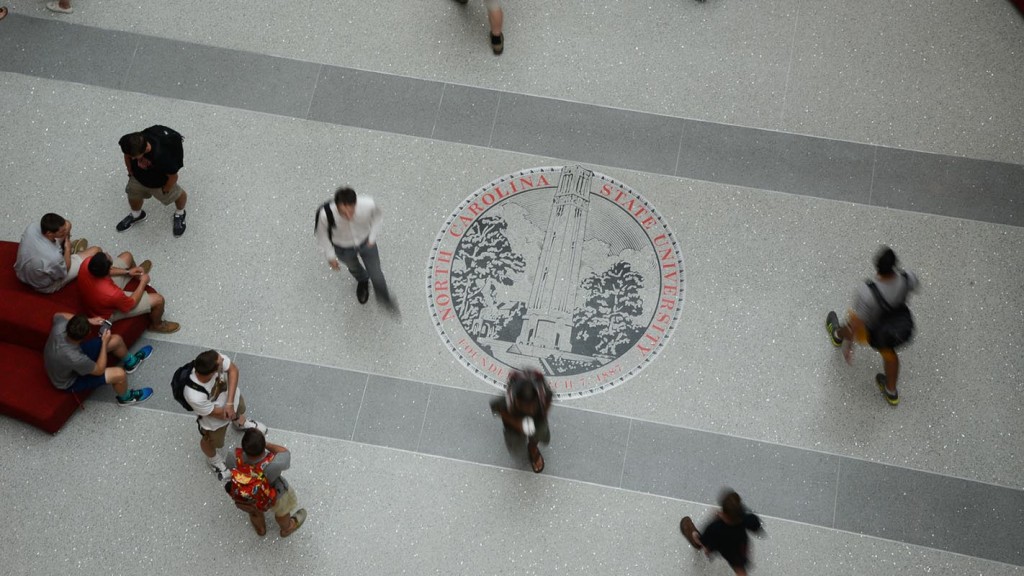 A Home for the Arts
During the Talley renovation and addition, venerable Stewart Theatre got an upgrade.
With new seats that offer additional legroom and padding, new handrails, carpet and acoustic panels, the 750-seat theater is ready for a season of Arts NC State performances. Some of the most important changes are not visible to audience members. The dressing rooms and green room have been rebuilt, and all backstage spaces (including the orchestra pit) are wheelchair-accessible for the first time.
"Our location in Talley Student Union provides the best opportunity for students to connect with the arts and display their talents," said Rich Holley, the new director of ARTS NC State.
The upgrades accent existing features that distinguish Stewart Theatre. The steep seating angle and a stage surrounded by the audience on three sides enable Stewart Theatre to be both a grand and an intimate venue.
"I think it is one of the best concert spaces in the Triangle," said Sharon Moore, director of NC State Live, which brings touring music and drama acts to campus. "We say it and it sounds trite, but there is a not a bad seat in the house."
A Sustainable Space
Talley's design, construction and operations are under review by the U.S. Green Building Council for potential designation as a Leadership in Energy and Environmental Design (LEED) certified building.
At 283,000 square feet, Talley is one of NC State's largest, busiest and most sustainably-designed buildings. By expanding on the original Talley, which opened in 1972, instead of building something new, the university got a headstart on a sustainable student union.
"Reusing an existing building reduces construction costs, landfill waste and the need for manufacturing new materials," said Liz Bowen, a University Sustainability Office program coordinator who focuses on sustainable buildings.
The new Talley is equipped with high-efficiency plumbing fixtures and a 50,000-gallon, underground cistern that harvests rainwater for use in irrigation. The building's landscaping includes drought-tolerant, native plants; paved paths designed to reflect heat; and rain gardens that naturally filter and absorb stormwater. Even a portion of the roof is green.
Talley also features energy-saving, high-performance mechanical systems and windows; exterior shading; and roofing material that reflects the sun. Throughout the building, environmentally-responsible cleaning products are used by University Housekeeping staff and many University Dining restaurants incorporate sustainable, local food grown by North Carolina farmers.
"If a building like this can successfully tackle these important challenges, other buildings on campus can follow Talley's lead," said Lauren McKinnis, outreach coordinator for NC State's Waste Reduction and Recycling office.