Service and Community
Community Partnership Links Education, Jobs
A partnership established last year between NC State and Isothermal Community College (ICC) has created opportunities for collaboration, economic development and community engagement in Rutherford and Polk counties – and community leaders couldn't be happier.
"I was blown away by how many services we could tap into," said Libby Johnson, a Realtor who serves the equine industry in Polk County.
Johnson was among a group of community, business and education leaders who visited NC State this month to take a closer look at the resources the university has to offer the region. The two-day event, called the Pack Prowl Reciprocal Tour, was sponsored by the Office of Outreach and Engagement.
Molly Oakman, community relations director at the Tryon International Equine Center in Mill Spring, was equally pleased.
"We met with faculty and students that are thinking outside the box," she said. "We talked about finding ways to utilize each other's assets and capitalize on what we have to offer. We talked about distance learning, internships and reciprocal learning opportunities between the equine center, Isothermal Community College and the NC State vet school."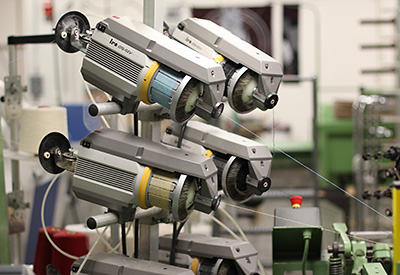 The tour also featured discussions of advanced manufacturing, textile technology, innovation and design, community and sustainable tourism development, K-12 education in the STEM disciplines, equine and veterinary medicine and agricultural sciences.
ICC President Walter Dalton has championed the new engagement model with NC State since signing a memorandum of understanding with the university last year. That agreement helped ICC tap popular engineering programs, including The Science House, engineering summer camps and professional development services.
Now he wants to bring additional resources and educational opportunities to the foothills of western North Carolina. Terri Helmlinger Ratcliff, NC State's vice provost for outreach and engagement, calls the new collaborative effort the "Ultimate Community Partnership."
"We're blazing new trails and doing something we've never done before," she said.
"An ultimate community must give its people hope— hope of a better job, better pay and a better quality of life," Dalton said. "We're building a strong community and a stronger economy through this process with NC State."
He named four goals that the community hopes to accomplish with NC State's guidance: diversify its industry base, increase educational opportunities for area students, replace textile and manufacturing jobs and promote healthy community growth.
Fiona Baxter, senior director of evaluation and measurement at NC State, will establish metrics to measure the partnership's progress and impact. University officials said they plan to replicate the Ultimate Community Partnership model in other communities across the state.