Friday Institute Honors Wise
NC State's Friday Institute honored former West Virginia Gov. Bob Wise, president of the Alliance for Excellent Education in Washington, D.C., with its 2015 Friday Medal in a ceremony on Monday.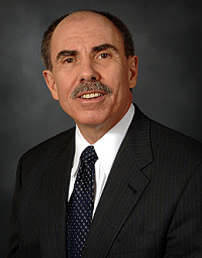 The medal, awarded annually for significant, distinguished and enduring contributions to education and society, is named for Bill Friday, former president of the University of North Carolina system, and his wife, Ida.
Since 2005 Wise has led the Alliance, a nonprofit organization dedicated to reforming the nation's high schools so that all students graduate from high school prepared to succeed in college and a career. Wise previously served as governor, U.S. Representative and state legislator for a combined 24 years. He speaks frequently about education issues and serves as an adviser to the U.S. Department of Education, White House and policy makers in Congress. He was named to the NonProfit Times "Power & Influence Top 50" list in 2011.