Service and Community
'A Day of Light' Honors Slain Students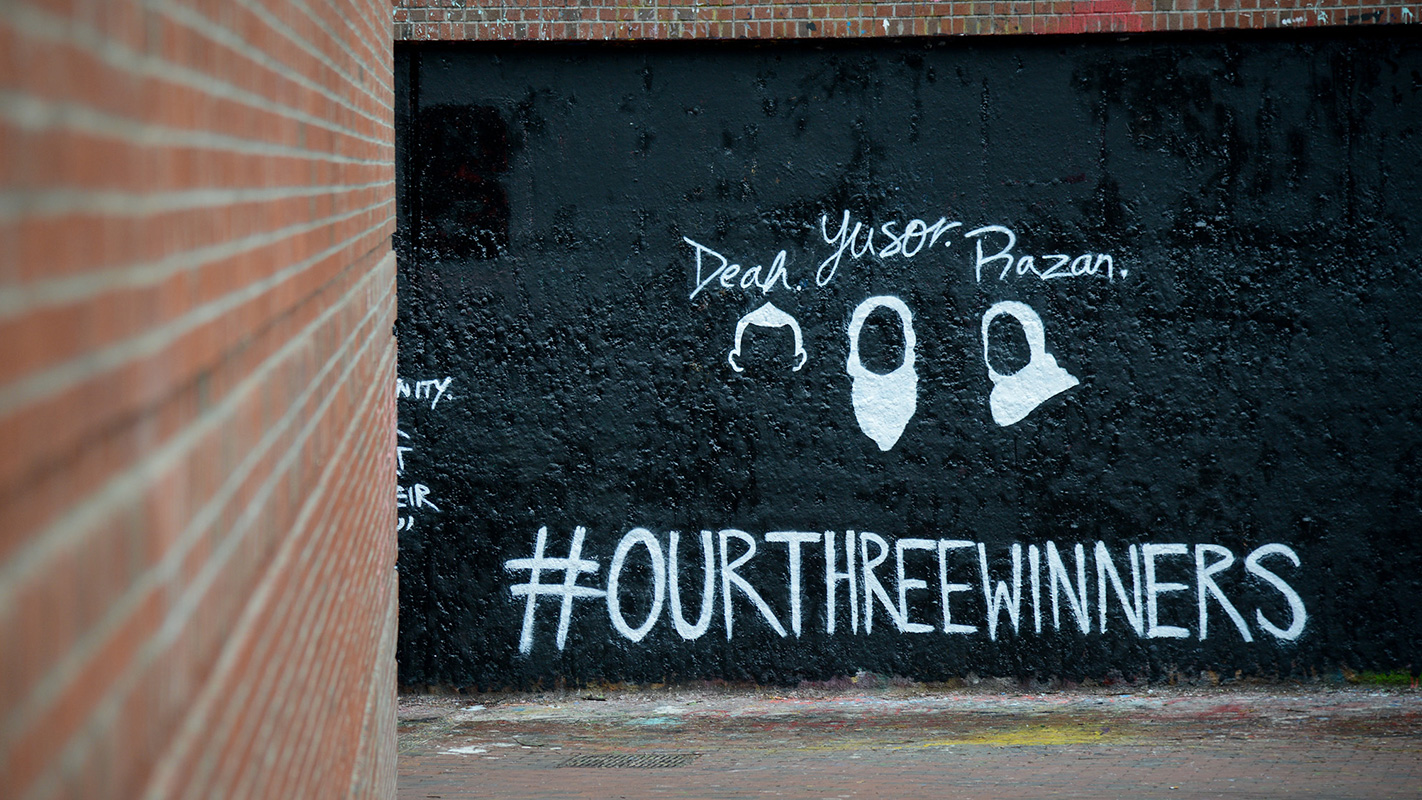 The pain has not subsided. And peace is still an unfulfilled dream.
For the families of the two NC State alumni and one student who died violently last year in a Chapel Hill shooting, however, the path forward has become a little clearer, if not easier to travel.
If anything, the overwhelming worldwide attention and support given to the two Raleigh families has helped with what healing has been done over the last year.
"We cannot say that all we have been through has been worth it," said NC State alumnus Farris Barakat, brother of one of the victims. "But what is the best, going forward, for them?
"If is true that life is a test, then they succeeded in that test. They were here to make earth a better place. They did that while they were here, and they are still doing that now that they are gone. But they left big shoes to fill."
Vigil Marks Anniversary
Next week brings the anniversary of the Feb. 10, 2015 shooting that claimed the lives of newlywed NC State graduates Deah Barakat and Yusor Abu-Salha, who were both at UNC's School of Dentistry in Chapel Hill, and Razan Abu-Salha, an NC State design student, who happened to be visiting her sister that afternoon.
It's a difficult time for the family, which still faces the first-degree murder trial of alleged shooter Craig Hicks, the neighbor suspected in the homicides at a Chapel Hill apartment complex.
NC State and North Carolina will remember the trio, now called Our Three Winners, next Wednesday night at A Day of Light, an hour-long candlelight vigil and call to prayer at which the families will join NC State Chancellor Randy Woodson, UNC Chancellor Carol Folt and students from both campuses.
The event, designed to show unity and caring for the families, is slated to begin at 6 p.m. on the Stafford Commons in front of NC State's Talley Student Union. In case of inclement weather, the memorial event will be moved inside. Earlier in the day, UNC will have a similar event at the Koury Oral Health Sciences Building at 1:15 p.m. that will include a campus-wide moment of silence.
Thursday, NC State's Stewart Theatre will host a performance of the mixed-media memorial called "Shattered Glass" by NC State alumnus Mohammad Moussa.
Remarkable Legacy
While the tragedy is still raw in the eyes of both university communities, the families hope to celebrate the legacies of service and education the three students left behind.
Both schools have set up memorial scholarships and support the families efforts to call attention to the work the three students did for those in need, including a local Interfaith Habitat for Humanity construction project, a dental clinic for Syrian refugees in Turkey and a wide array of other service activities.
At NC State, six students received Our Three Winners scholarships from a fund initiated by Woodson shortly after the shooting.
"It has reminded me to celebrate life and to maintain a strong purpose, the way that Deah, Yusor and Razan did," said Sarah Grant, one of the inaugural scholarship winners. "While I did not know them personally, their remarkable impact resonated throughout the NC State community and taught me how strong a group of people can be when faced with adversity."
Farris Barakat has transformed his brother's rental home in downtown Raleigh into The Light House, a center that includes space for study, prayer and collaboration on social entrepreneurship.
Promoting Tolerance
Over the last year, the three have been memorialized worldwide. On Wednesday, Deah's eldest sister Suzanne Barakat, a San Francisco physician, participated in a roundtable discussion with President Barack Obama at the Islamic Society of Baltimore mosque, at which the president mentioned the shooting and called for all Americans to stand against religious bigotry.
Since the shooting, Suzanne Barakat has been outspoken against instances of Islamophobia and called for greater understanding between religious communities, a message that will be shared whenever the three students are remembered.
"These were three all-American kids who were taken from us," she said Wednesday evening. "They were model examples of American citizens who were doing good things for other people. Their all-American-ness did not save them.
"Preventing incidents like this is something we have to work on every day. Cultures are very hard to change."