Campus Life
Pizzarelli Smooths Out McCartney
John Pizzarelli is renowned for his rich, original interpretations of songs from the Great American Songbook mixed with contemporary classics. For his fourth visit to NC State on Saturday, Feb. 6, he and his quartet will be playing selections from his September 2015 release, Midnight McCartney, as well as a few tunes from earlier albums.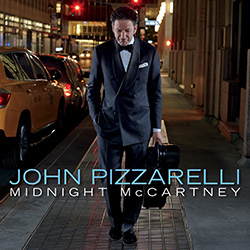 Tickets are available through Ticket Central at $7.75 for NC State students, $26.35 and up for faculty and staff, and $31 to $35 for the public.
There are good reasons that Pizzarelli is the most requested artist on the NC State LIVE series: he's witty, utterly charming, has an amazing voice and is a jaw-dropping guitarist.
Plus, it's not every artist who receives a personal request from Paul McCartney to cover his songs.
"I got an idea got in my head," McCartney wrote to Pizzarelli in 2014. "It might be interesting for you to do a few of my songs that are lesser known than some of the others. I realize this may be a little immodest, if not pushy."
McCartney concluded his letter, "The attraction for me is lesser-known tunes done in a mellow jazz style and, if it gets some traction, maybe the album could be titled Midnight McCartney. As I said, this may tickle your fancy or you may decide these are the ramblings of a deranged composer with too much time on his hands."