The Abstract
How Is North Carolina Doing With Digital Learning?
A new report from NC State's Friday Institute for Educational Innovation shows how North Carolina schools are making progress in using learning technologies and digital content.
The North Carolina Digital Learning Progress Rubric: Version 2.0 is based on feedback from schools and districts statewide, as well as other educational organizations, policymakers and the North Carolina Department of Public Instruction. The rubric is a tool that districts can use to determine how they are doing in implementing digital learning practices.
Jeni Corn, director of evaluation programs at the Friday Institute, shared the report with all of the technology directors in the state at the North Carolina Technology in Education Society (NCTIES) conference earlier this month. Below, she answers questions about the new and improved rubric.
What is the Digital Learning Progress Rubric?
The rubric provides a systematic way to track progress in incorporating digital learning. As part of the North Carolina Digital Learning Plan, the rubric serves as a roadmap to support North Carolina's educators and communities in the transition to digital-age teaching and learning.
Who is the rubric for and how can it help?
We developed the rubric to do two things: to support district leaders in implementing digital learning programs and to provide a statewide snapshot of North Carolina's digital learning efforts. The rubric establishes indicators for stages in digital learning implementation and helps identify good to exceptional digital learning programs. It is designed to help district and charter school teams reflect on their current stage of development in digital learning and track their progress moving forward. The rubric also shows promise in helping state and local education agencies evaluate proposed digital learning projects and allocate scarce resources to those that demonstrate "readiness."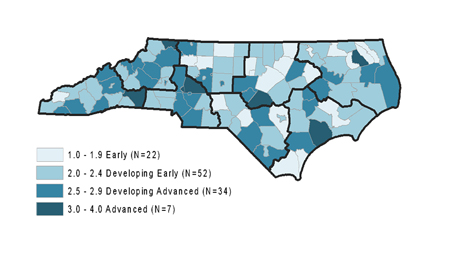 How is North Carolina doing with digital learning?
Our results show that the majority of local education agencies (86 of 115) reported that they are either in the "early developing" or "advanced developing" phases of their digital learning initiatives. These districts have begun to prepare educators for the changes, have put some of the required technology in place, have incorporated some digital content and instructional technology in classrooms, and have used data to inform some decisions. Some districts indicated that the transition to digital learning has begun in only a subset of schools, grades or content areas. These results suggest that large opportunities and challenges remain for these districts to reach an "advanced" level, which will require systemic reforms to take place first.
Which technology is important for schools and districts to develop moving forward?
The issue isn't the technology. It's about a strategic and systemic approach to digital learning facilitated by district leadership, in partnership with principals, teachers, students and parents. It's about providing a reliable, modern, comprehensive network and access to devices that allow for engaging with high quality digital curriculum and assessment tools to support personalized learning for every student.
How was the rubric developed?
The beta version of the North Carolina Digital Learning Progress Rubric was created and piloted in every district across the state in April 2014 as a part of the North Carolina Digital Learning Plan. Version 2.0 contains revised and refined language throughout the entire rubric as well as a glossary of terms and a data interpretation guide.
The indicators included in this rubric are based on local, state and national research and public feedback from practitioners, educators and business leaders.  The process began with a review of national and state standards.