Corps Function
Under the best of circumstances, navigating the path from high school to college is difficult. The college visits, the admissions applications, the endless financial aid and scholarship forms: The process can be overwhelming.
In North Carolina's rural communities, high school students face that byzantine process and more: higher poverty, fewer adult college graduates and isolation from actual college campuses.
That absence of adult models for advanced education can be particularly powerful, says Patti Baynes, director of NC State's College Advising Corps (CAC).
"They know of going to college," Baynes says. "They know NC State or they know UNC, but they haven't had someone within their family or small community who has gone to college or graduated to help them through that path."
The program Baynes leads is working to change the culture in rural schools around North Carolina. Launched in 2014 with funding from the Charlotte-based John Belk Endowment, the CAC employs recent graduates as college counselors in 21 N.C. schools. During the 2015-16 school year, Baynes says, they helped 1,500 high school seniors get accepted to universities, colleges and community colleges.
"Regardless of a student's background, regardless of a student's income level, regardless of what their story is, they deserve to have access to a college education," she says.
Baynes' team is part of the national College Advising Corps program, which aims to increase the number of low-income, first-generation and underserved students who reach and complete college. According to a 2013 study by Stanford University researchers, students served by CACs are 30 percent more likely to be accepted to college.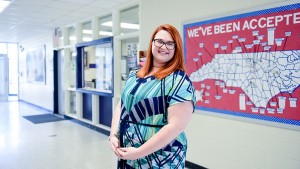 One of NC State's CAC advisors is Dani Lechner, a 2013 sociology graduate. Lechner came to NC State with plans to study genetics. Ultimately, she wanted to combine her love for the sciences with her passion for data and pursue a career in genetic counseling. Instead, she signed on with Baynes' team and moved to eastern North Carolina to work at South Creek High School in Martin County.
Martin County is emblematic of the disparities between rural and urban areas in North Carolina. Only 22 percent of adults there hold associate's or bachelor's degrees, compared to 42 percent in urban areas. Average household income in the county is 38 percent lower than the state average.
Lechner's swerve from would-be genetics counselor to higher-ed sherpa isn't as sharp as it seems. As a student, Lechner volunteered as a student advocate at the Gay, Lesbian, Bisexual and Transgender (GLBT) Center and later worked with the TRIO Programs, which help students overcome class, social and cultural barriers to higher education.
The specific issues facing GLBT students at NC State and high schoolers in Martin County are different, Lechner says, but they all relate to the challenges of navigating unfamiliar processes with few role models to follow.
"You don't even know what questions to ask," she says. "What I'm seeing with a lot of my students who are going to be first-generation college students — and in some cases first-generation high school graduates — is that confusion with parents and guardians can lead to misinformation as well."
Being a source of accurate information is a key responsibility for Lechner. She spends her days setting up campus visits for admissions officers, keeping students on track to make application deadlines, and distributing information via events, email and the morning announcements. If a parent comes to her office, though, she drops everything.
"I know my parents often work two or three jobs," she says. "They have limited access to transportation. So, I might have a really small window to connect with them and give them the information they need. That connection, having that family member on my team, in my experience, is often the deciding factor in whether or not a student will pursue a post-secondary education."
One of Lechner's biggest success stories illustrates the wide range of obstacles facing her students. During her first year at South Creek, she met a high-achieving student who was the first American-born child in her family. While the girl's academic performance made her a good candidate for college, her mother's immigration status and inability to speak English were major barriers to applying for admission and securing financial aid.
Lechner saw the need for Spanish-speaking help early on, and she worked with the College Foundation of North Carolina to bring a bilingual resource coordinator to South Creek to discuss financial aid and college applications with all the school's Spanish-speaking parents.
"That was a really profound moment for her mom, to realize we could do this," Lechner said.
Two years later, that student is preparing to attend the University of North Carolina at Asheville. She's earned enough merit- and need-based financial aid to nearly cover her freshman year.
"All that's standing in the way now is trying to find a ride to orientation," Lechner said.
Lechner is moving on, too. CAC advisors sign on for two-year commitments, and hers ended with the 2015-16 school year. She'll continue working to expand access to higher education as a master's student in college student personnel administration at James Madison University. After graduating, she plans to work in higher education administration.
"This experience with the College Advising Corps has really transformed my own trajectory," she said. "I want to make sure the conversation about first-generation students and low-income students is still happening at the collegiate level."