Service and Community
In Memoriam: Dorothy Dent Park
Dorothy Dent Park, president emeritus of the charitable Park Foundation—which has committed nearly $140 million to NC State—and the widow of NC State alumnus Roy H. Park, Sr. '31, has died at the age of 103. Her legacy includes the prestigious Park Scholarships, which to date have invested in more than 1,000 remarkable NC State students, as well as a major gift to help construct the Dorothy and Roy Park Alumni Center, home of the NC State Alumni Association.
Roy and Dorothy Park established the Park Foundation in 1966 to support education and charitable grant-making. When Roy Park died at the helm of Park Communications in 1993, Dorothy Park sold the company and dedicated the proceeds to the foundation. With her as president, the Park Foundation began major philanthropic efforts to support the academic institutions with which her husband had been affiliated, including his beloved NC State.
In 1996, an initial grant funded 25 Park Scholars, the Class of 2000. Dorothy Park and the trustees of the Park Foundation established the Park Scholarships to bring exceptional students to NC State on the basis of outstanding accomplishments and potential in scholarship, leadership, service and character. Today, 165 Park Scholars are on campus, and they make this vision a reality.
"The legacy Dorothy and Roy Park leave at NC State is one that will stand as a lasting testament to their commitment to service and to their home state of North Carolina," said Park Scholarships Director Eva Feucht. "Mrs. Park's leadership of the Park Foundation has forever changed the lives of both the Park Scholars and those whose lives are improved through their efforts. She stands as an example for all of us."
The Parks were deeply engaged with NC State over many decades, including Roy Park's service as an NC State Trustee, his delivery of the 1978 spring commencement address, and his efforts as president and chairman of the board of directors of the Alumni Association. With words, actions, and gifts, they valued the role of private giving in education; Roy Park chaired the NC State Development Council from 1962-1966, and the Parks initiated the NC State's Chancellor's Circle of donors with the first contribution of $1,000 in 1961.
"My husband and I always believed that the college years are just the beginning of university involvement," Dorothy Park said.
This belief led her to make a pledge to the Alumni Association Campaign for Excellence in 2004. After learning that construction could not begin on NC State's new alumni building until an additional $5 million in funding was raised, Dorothy Park sent the university a personal check covering the amount needed. The Alumni Association named the Dorothy and Roy Park Alumni Center in honor of the gift.
"Every day that I walk into our Park Alumni Center, I feel truly privileged to be part of the Wolfpack family and work in this beautiful facility made possible by Mr. and Mrs. Roy Park," said Benny Suggs, Alumni Association executive director. "It truly is a special place ​that allows us to bring NC State value, relevance, pride and passion to all our alumni, faculty, staff, students and friends. Mrs. Park will be sorely missed but the positive impact she leaves behind will benefit our Wolfpack family for generations to come."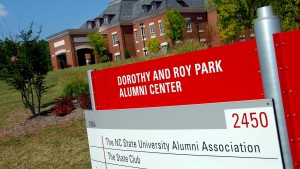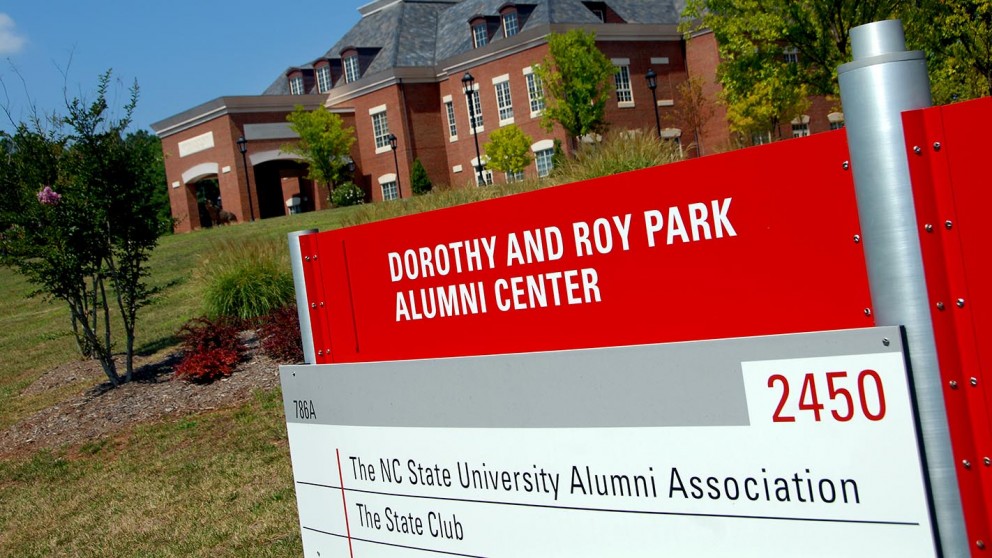 In 2013, the Park Foundation made an extraordinary commitment of $50 million, the largest single gift in NC State's history, to plant the seed of an endowment for the Park Scholarships. From this incredible beginning, others are now making gifts of their own, safeguarding the future of these life-changing scholarships.
One of the nation's premiere merit-based scholarships, the Park Scholarships program affords students tremendous opportunity to grow academically, professionally and personally. Dorothy Park and the Park Foundation Trustees set a vision for scholars who would not only excel academically and as leaders, but would have the heart to use those abilities for the broader good.
The Park Scholars have brought that dream to life, garnering wide recognition in all of these realms. They are responsible for both Service Raleigh—the largest student-run service endeavor in the Triangle area with about 2,000 volunteers annually—and the Krispy Kreme Challenge—a running and doughnut-eating event that attracts about 7,000 participants to Raleigh each year and has committed $2 million to the North Carolina Children's Hospital.
Their application of their knowledge and talents to make a positive impact has received well-deserved accolades. This year alone, several Park Scholars and alumni received distinguished national academic awards, including the Churchill, Goldwater, and Hollings scholarships; National Science Foundation Graduate Research Fellowships; and Presidential Early Career Awards for Scientists and Engineers.
The NC State community is invited to share condolences and statements of the impact of Dorothy Park's philanthropy in the comments section below this story. Comments will be compiled and shared with the family.
Cards and letters may be mailed to:
Family of Mrs. Dorothy D. Park
℅ Park Scholarships
Campus Box 7009
Raleigh, NC 27695