Faculty and Staff
Navy Engineer Is New AVC for Facilities
An NC State alumnus with more than three decades of experience with the U.S. Navy in engineering, construction and facilities management takes the helm of the facilities division on Nov. 15.
Doug Morton, NC State's new associate vice chancellor for facilities, will direct facilities planning, design, construction, operations and development for the university's 113,000 acres and 1,163 buildings totaling 17 million gross square feet. The division's wide area of responsibility includes facilities services, energy systems, sustainability, fleet management, architectural and design services, infrastructure planning, construction management, mail and grounds services.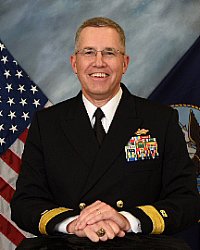 Morton has more than 30 years of experience as a U.S. Navy Civil Engineer Corps officer, leading teams as large as 13,500 professionals. His most recent role was as the Navy's director of energy and environmental readiness, with responsibility for policy and budget development supporting all Navy energy programs, including energy conservation, research and development, and implementation of new technologies.
Some of Morton's previous roles include serving as deputy for security cooperation in the U.S. Embassy in Pakistan; commander of the Naval Facilities Engineering Command Atlantic, overseeing base and facility planning, design engineering, construction, base operating services and maintenance, environmental planning and compliance, utilities, transportation, acquisition and real estate services for the Navy and Marine Corps in the United States, Europe, Africa and Southwest Asia; and chief of staff, FIRST Naval Construction Division (Seabees), overseeing a 16,000-person military construction organization comprised of 33 units employed worldwide in wartime operations.
The Salisbury, N.C. native holds a bachelor's degree in civil engineering–construction from NC State, a master's degree in civil engineering from the Georgia Institute of Technology and a master's degree in national resource strategy from the Industrial College of the Armed Forces.