Alumni
AgPack Strong: A World of Possibilities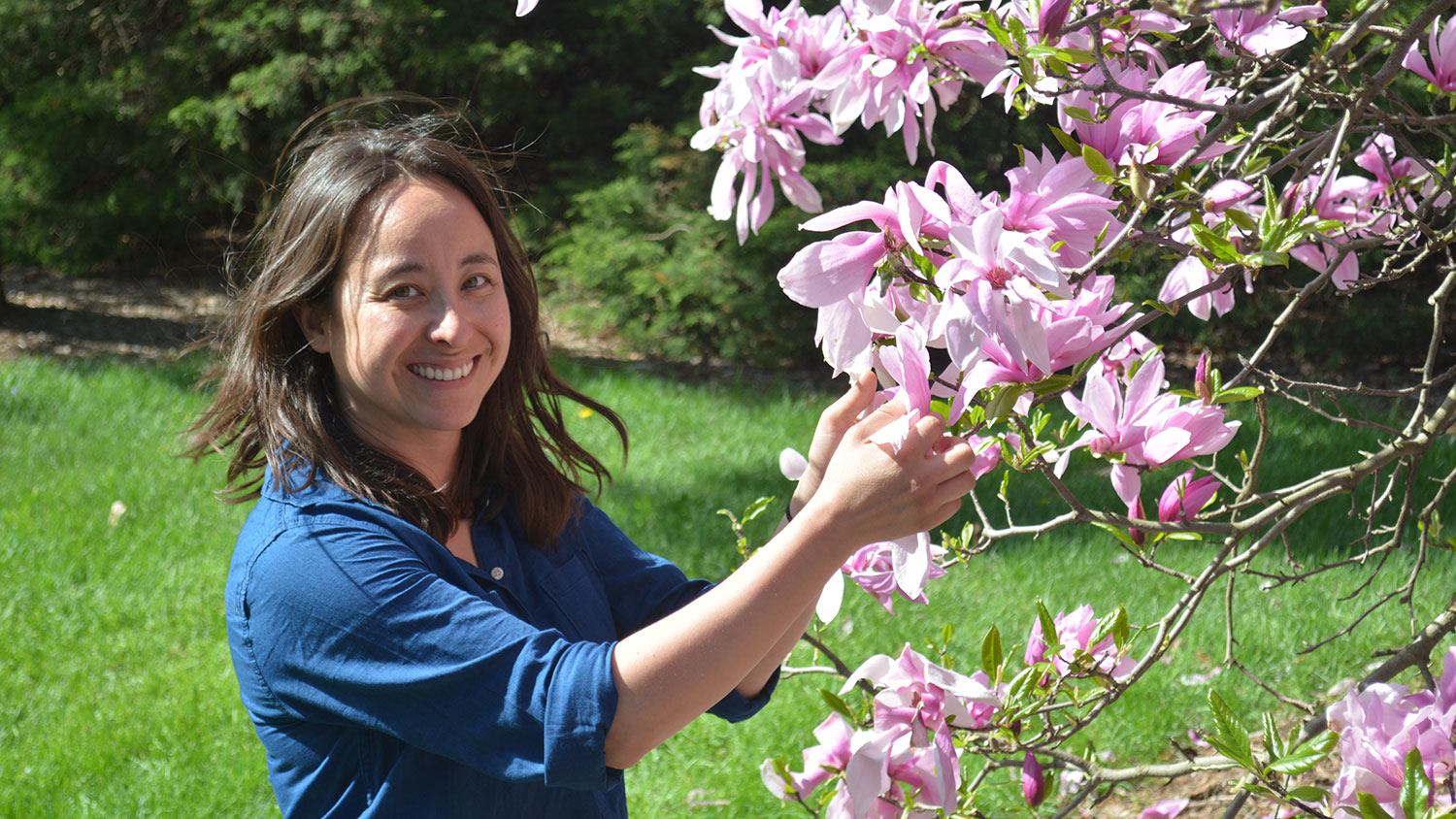 Kim Shearer has always loved plants. The self-described former "Army brat" found comfort in the outdoors as a child who had to move frequently.
Kim chose NC State for plant biology, then discovered horticulture. So she majored in both and earned a number of scholarships: the Walter E. Ballinger Scholarship, the Tom and Nancy Bland Scholarship, the Margaret Pittman Horticultural Science Scholarship, the North Carolina Sweet Potato Commission Inc. Scholarship, the Raymond F. Shearin Scholarship and the James Polk Stovall Agricultural Scholarship.
After graduating in December 2013, Kim became the tree and shrub breeder at The Morton Arboretum in Lisle, Ill. Read on to find out how she landed her dream job — and why plants still make her happy.
What led you to NC State?
The first time? I decided to go to school for biological engineering when I was a senior in high school, in 1997. However, I realized early on that was not the path for me. I was not exactly sure what I wanted to do then, so I took some time off until I figured things out. Once I finally figured out that plants were my passion, NC State seemed like a natural fit. The university has both excellent plant biology and horticulture programs.
Why did you choose to study horticultural science?
I didn't initially. Horticulture was not at all on my radar. What I really wanted to do was to know plants — everything about them. I grew up as an Army brat, and the one thing that was constant in my life was the presence of a forest and gardens. So when I finally came to the realization that I could actually work with plants, I thought plant biology was a natural fit, because then I could learn everything about plants.
Then the first plant course I ended up taking as an undergrad was home horticulture with Bryce Lane, because it did not have any prerequisites. Once I did that, I was hooked on horticulture. I had not realized that horticulture was the field I was searching for. No one ever tells you that you can make a life working with garden plants. Taking that course opened my eyes to a whole new world of possibilities. Learning about plants from someone as passionate as Bryce also probably helped. One day after class got out, I called my dad to let him know what I had decided to do with my future — breed plants, ornamental ones.
In a principles of horticulture course, Bryce had introduced us to Dr. Dennis Werner's Cercis canadensis 'Ruby Falls' and talked a little bit about all that goes into the development of a new landscape plant, and I knew that's what I wanted to do. Just the thought of being able to take a plant that exists in forests and then select and improve it until you can see them growing in gardens and on city streets where everyone can experience it — to me that was a way to give back something that I had derived so much joy and comfort from.
Where has your career path taken you?
My career path has taken me all over the country. When I graduated from NC State, I traveled across the country to Corvallis, Oregon, for graduate school at Oregon State University. There I studied horticulture with a focus on plant breeding and genetics with Dr. Ryan Contreras, also an NC State alum. As I was wrapping up my graduate career, I kind of stumbled upon a rare opportunity—a plant breeding position at a public garden. I am now the tree and shrub breeder at The Morton Arboretum in Lisle, Ill., which is located in the suburbs of Chicago.
How did your experience at NC State help prepare you for your career?
At NC State I was fortunate to get some of the best training in the form of internships and grant-funded projects. When I first started to double-major in horticulture and plant biology, I signed up for an internship in the greenhouses of Mary Anne Fox Labs with Diane Mays. Through this internship, I learned how to propagate a diverse collection of plants that are located in the campus conservatory. This is also where I began to learn about how different plants are related to each other through the teaching collection.
My second internship was with Dr. Tom Ranney at the Mountain Crop Improvement Lab in Mills River, N.C. Tom actually took me on as an intern with minimal knowledge or experience, and he and his staff trained me in woody plant propagation, flow cytometry, microscopy, tissue culture and nursery operations. I ended up working there for two summers and producing two publications, a symposium talk and a research conference presentation through my independent research on azaleas and dogwoods.
In my senior year, I had the pleasure of working with Dr. Jenny Xiang. After I had completed a dogwood research project with Tom, I approached Jenny about working in her lab studying dogwoods from a different perspective. She and her staff taught me about floral evolution, genetic transformation and gene function. The work I completed there was supported by the W. Scott and Mary Dell Chilton Undergraduate Research Award as well as an NSF-EDEN grant. From that experience I ended up presenting research with Jenny at a meeting for the Society of Developmental Biology.
All of these experiences were essential to the building of my resume for not only graduate school, but also for my current position. These opportunities provided me with material that demonstrated that I was able to communicate with a variety of audiences, capable of securing funding for and executing projects, and open to learning and exercising a diverse set of skills. At my current position, I have to communicate with a broad audience that can include the general public, nursery industry professionals and other scientists. I am responsible for developing and executing projects that will have long-term impacts. And of course, I am expected to continue to learn and hone my skills through both independent and collaborative work.
What's your favorite part of your job?
Where do I even begin? I work at one of the largest arboreta in the world! Our mission is "to collect trees and shrubs, and other plants from around the world…" which means that I come to work in a 1,700-acre tree museum every day! I guess my favorite part of this job would be the diversity in the challenges and expectations placed on me. My title is tree and shrub breeder, but that does not begin to capture all that I do. In addition to planning the next several decades of breeding at The Morton Arboretum, I am also planning to both participate in and organize plant collection trips in North America and abroad. I get to work with the amazing people of the nursery industry and horticulture research that includes a network of people passionate about their careers from all over the country, and even the world. And I will continue to conduct research that I was trained do throughout my entire academic career generating publications for peer-reviewed journals.
Why has it been important to you to stay connected to NC State?
NC State has always held a special place in my heart, even before I decided to go back to school. Raleigh is the first place I considered as a  home. Raleigh is where I grew, and NC State is the place that gave me a purpose and a future to look forward to. If it were not for the support, dedication, and passion of the faculty and staff in the Departments of Plant Biology and Horticulture Science and at the JC Raulston Arboretum, I would not be in the position I find myself in today.
What advice would you give a student just starting out in CALS?  
Find your mentors. Make a human connection. Be willing to take some time to volunteer to earn some experience. Apply for internships! Be passionate about what you do, because if you aren't, why should anybody else be?
This post was originally published in College of Agriculture and Life Sciences News.