Service and Community
Sharing Sustainability In Senegal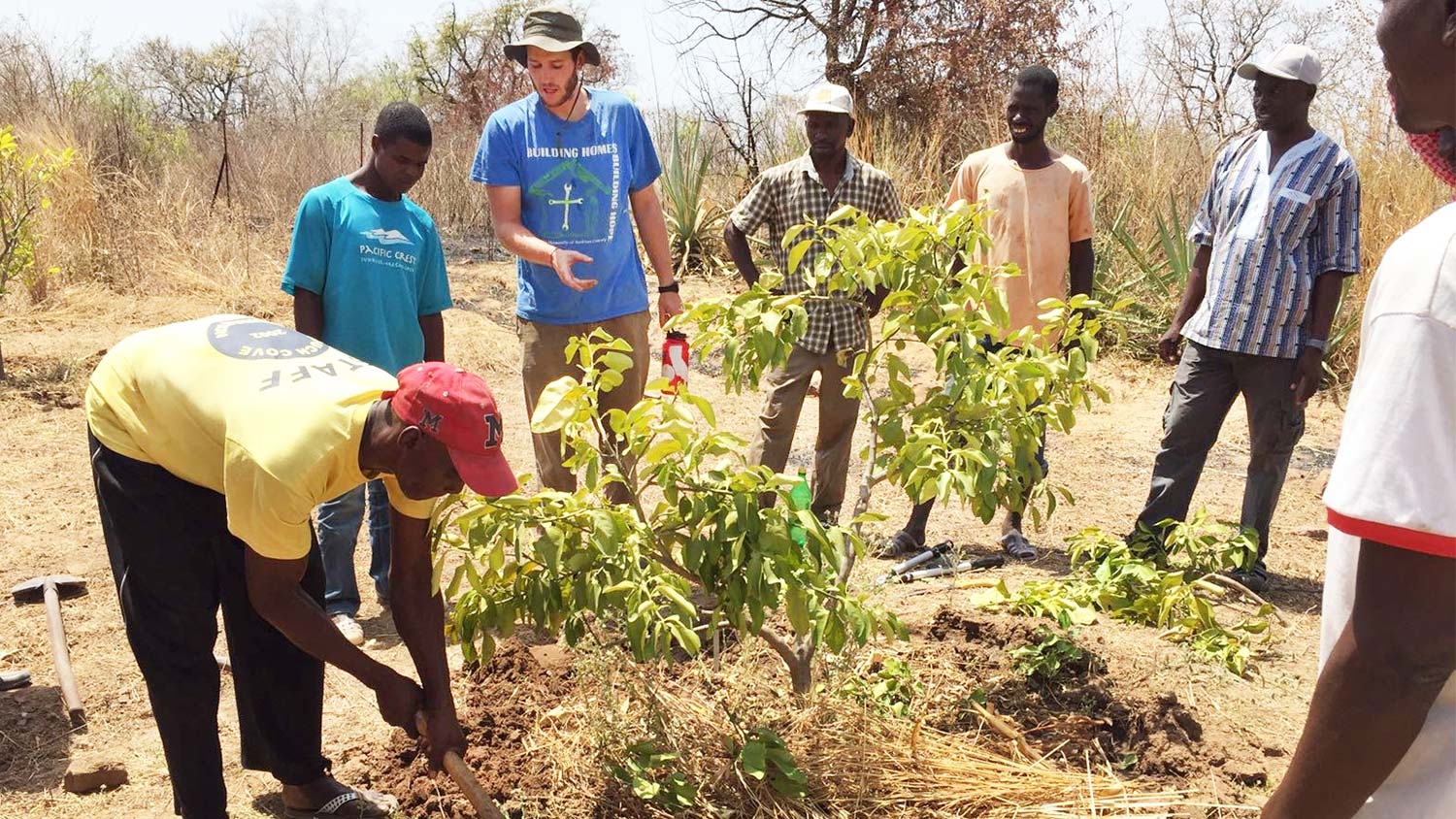 A study abroad experience in Scotland and an Alternative Service Break trip to Belize are how NC State graduate Jack Alcorn ended up in a remote village of Senegal, West Africa.
This 2012 NC State alumnus combined interests in travel, service and natural resources into a dream job: serving as an agroforester with Peace Corps.
"I'm here to train people on working with trees and planting trees," says Alcorn of his two-year Peace Corps assignment. "There are a lot of things we can do with agroforestry."
In Senegal, trees can provide more than much-needed shade from the hot, sub-Saharan sun. They are key to food security. Trees reduce wind erosion, boost soil fertility and improve crop harvests. Some fruit-bearing trees can also provide village residents with additional food sources, such as bananas, papayas and mangoes.
"We use trees to increase food security and access to nutritious food," Alcorn says.
One way to fast track this access is through mango tree grafting. From a mature mango tree, Alcorn is able to cut a seedling, cultivate it in a tree nursery and later plant it in a permanent location, where it will bear fruit faster than if the tree had been grown from a seed.
Alcorn also teaches local residents how to cultivate strong tree seedlings that have a better chance of survival. In a small tree nursery in his backyard, Alcorn grows dozens of tree seedlings in small plastic bags of soil called tree sacks. Once it's rainy season again in Senegal, the seedlings will be big enough to plant outdoors.
Alcorn is also introducing local farmers to the practice of using trees as a live fence to prevent  cows, sheep and goats from eating valuable crops.
"With a live fence, you use thorny trees and prune them in a way that they'll grow into each other. It is less work than maintaining a wood fence and helps prevent deforestation," says Alcorn, who majored in natural resource economics.
Alcorn is among about three dozen NC State alumni currently serving in Peace Corps, which earlier this year ranked NC State as No. 21 among large universities for number of volunteers in service. Like Alcorn, many of these volunteers have sustainability-related assignments. Since Peace Corps started in 1961, more than 500 NC State alumni have served as Peace Corps volunteers worldwide.
After Alcorn wraps up his Peace Corps assignment in late 2018, he anticipates returning to the United States, where he hopes to pursue a natural resources-related career with a community component.
"I'll always have a passion for service," he says.
This post was originally published in Sustainability News.