Service and Community
NC State in Top 25 of Peace Corps Volunteers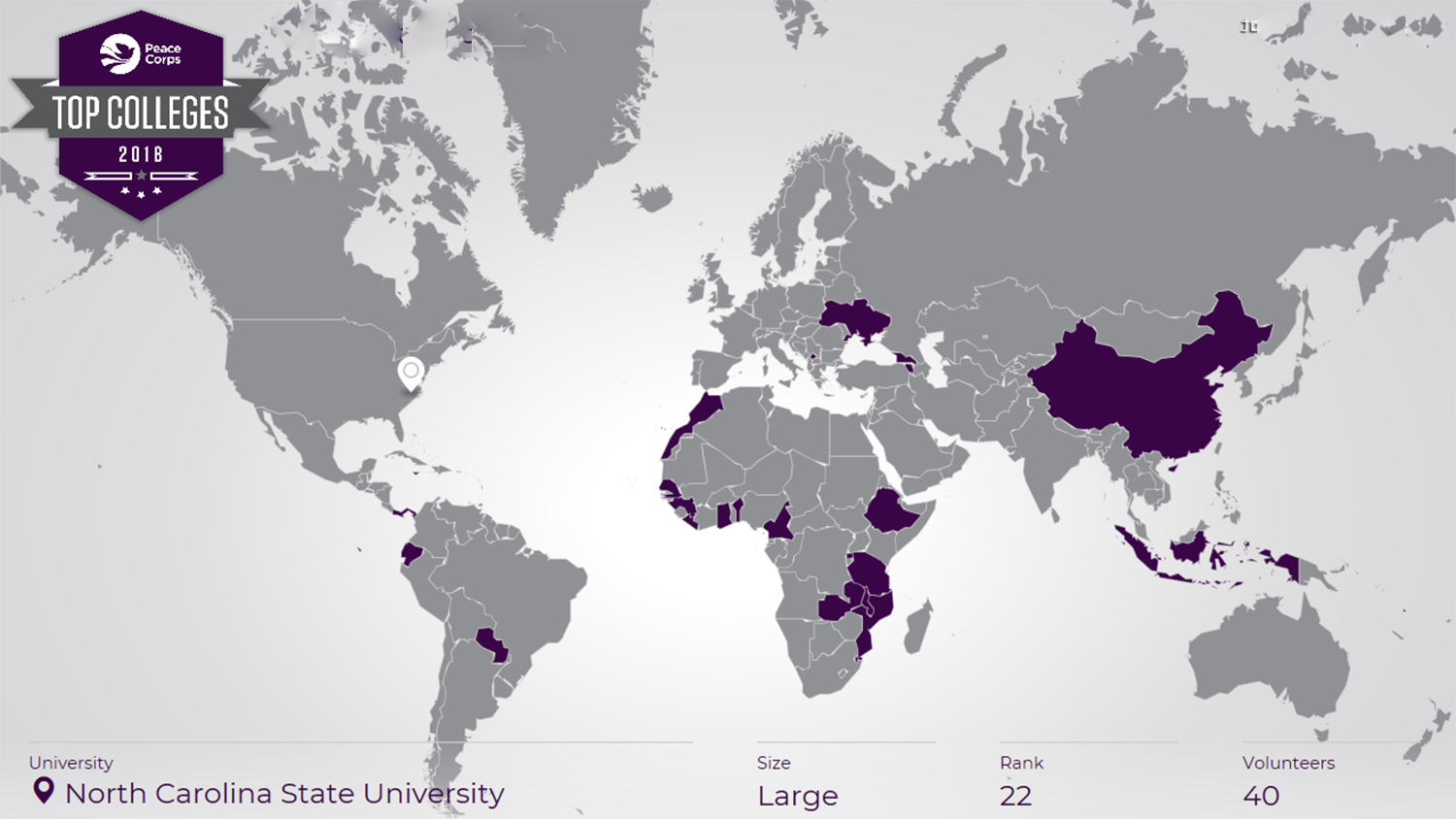 With 40 alumni currently volunteering worldwide in the Peace Corps, NC State is ranked No. 22 in the largest category on the 2018 Top Volunteer-Producing Colleges and Universities list, released this week.
Since the national agency's inception in 1961, NC State has produced 556 members of the volunteer corps.
As a state, North Carolina ranks 12th in Peace Corps volunteers, with 230 volunteers currently serving and 4,505 serving all-time.
The Peace Corps ranks its top volunteer-producing schools annually, according to the size of its student body. NC State is ranked as a large school, with more than 15,000 undergraduates.
The full top 25 list of large colleges and universities.
1–University of Wisconsin–Madison 80
2–University of Washington 74
3–University of Minnesota 72
4–University of North Carolina-CH 70
5–University of Florida 68
T6–Ohio State University 62
T6–University of Virginia 62
T8–University of Michigan 61
T8–University of Texas 61
10–Colorado State University 58
11–University of Colorado – Boulder 56
12–University of Oregon 55
T13–University of California at Los Angeles 54
T13–Pennsylvania State University 54
15–Arizona State University 50
16–University of Maryland 49
17–Michigan State University 47
18–Western Washington University 46
19–University of South Florida 45
20–University of Arizona 43
21–University of California – Berkeley 41
T22–University of Missouri – Columbia 40
T22–North Carolina State University 40
24–James Madison University 39
T25–University of California – Davis 38
T25–Florida State University 38