Campus Life
A Day in the Life of Campus Sustainability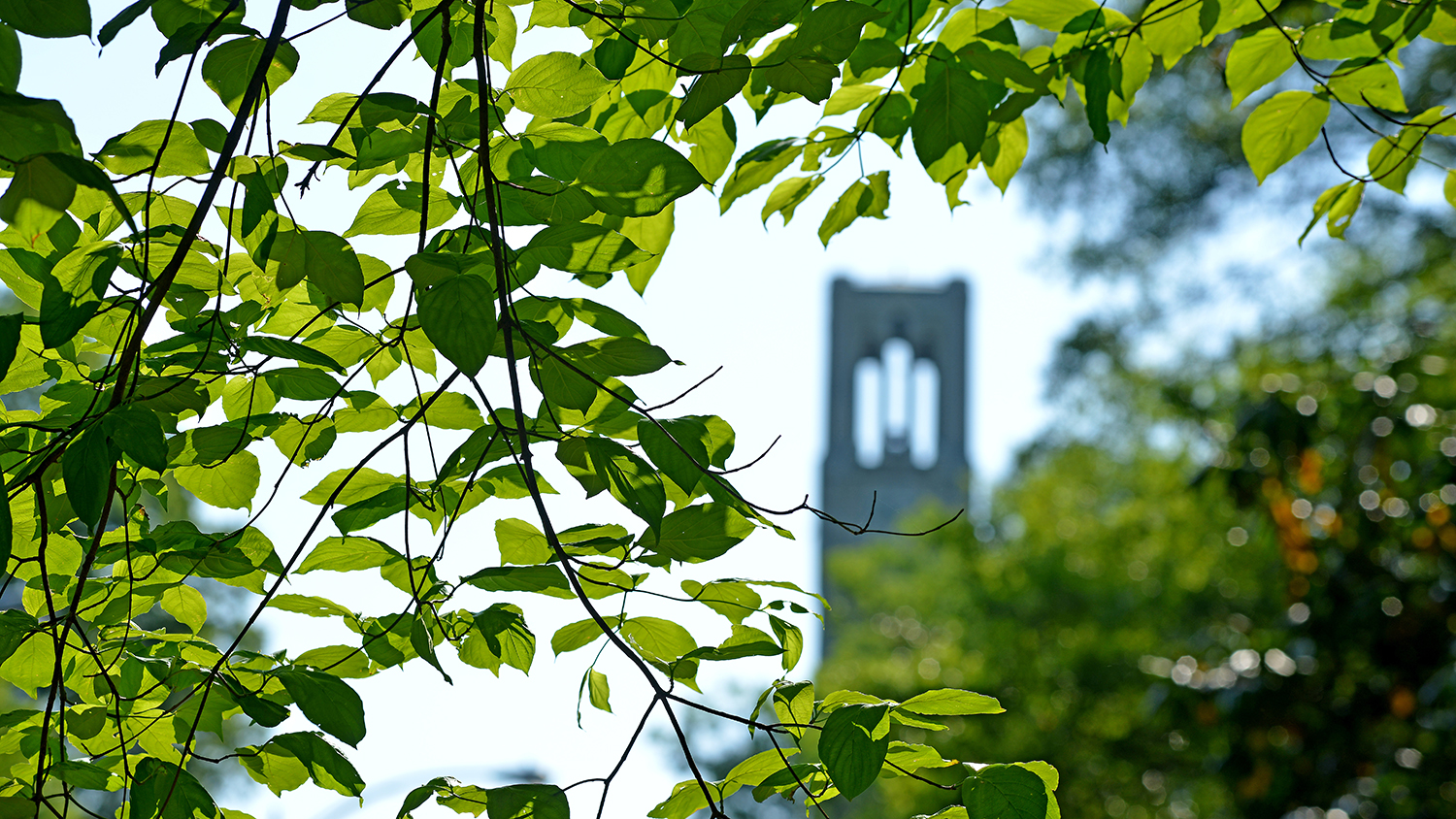 Over the course of the day at NC State, a typical student comes in contact with hundreds of sustainability initiatives without even realizing it. 
Good Morning
6:45 a.m.: Hop in the shower. Take a cue from the Tri-Towers Energy and Water Challenge, a yearly competition that helps students stay aware of energy and water use in the residence halls, and keep it snappy — that's two gallons of water every minute.

7:30 a.m.: Breakfast. The next bite you take might be sourced locally from NC State's Agroecology Education Farm off Lake Wheeler Road. On average, more than a quarter of the food NC State Dining purchases is locally grown. That includes over two tons of campus-grown produce.
9 a.m.: Class. There are 19 buildings on campus that are LEED certified or in the process of becoming LEED certified, in addition to 3 Energy Star-certified residence halls. Even basic classroom buildings have been studied and upgraded to be more energy efficient. Take a deep breath. Good indoor air quality is part of LEED certification and comes from using low-emitting paints, flooring, sealants and adhesives. 
11 a.m.: Head back to the dorm to drop off your books. On your way, you might tread over permeable pavement. NC State supports this technology across the state by using the campus as a field lab. Another test subject? Chances are you've passed these floating islands developed by students to test new ways to clean up stormwater. If you live in Wolf Village, don't forget to take out your compost. 
Good Afternoon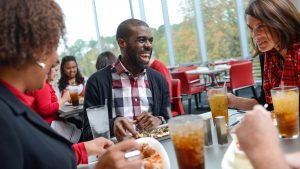 12 p.m.: Lunch. NC State Dining has been actively involved with campus sustainability for years. Composting initiatives are a huge part of reducing waste that goes to the landfill. In Fountain Dining Hall alone, 70% of waste is compostable. Pack&Go take-out containers are reusable and recyclable, reducing styrofoam waste. More than 7,000 gallons of cooking oil are recycled yearly. And dining is moving to a trayless system, reducing water usage.
1 p.m.: Study break. Soak in some inspiration at the Gregg Museum of Art & Design. The newest gallery wing has earned LEED Gold and the surrounding garden is designed by horticulture students to attract bees and other pollinators. 
3 p.m.: Coffee with friends at Talley. One of the greenest buildings on campus, Talley has a lot to offer by way of sustainable practices. More than a pretty spot in an unexpected place, Talley's rooftop garden springs from a research partnership with the Department of Horticultural Sciences. The grounds surrounding Talley's entrance were designed in collaboration with a landscape architecture class to reduce runoff and erosion.
A 2016 initiative between NC State Stewards and Campus Enterprises removed plastic bags from the Atrium food court and six campus convenience stores. 
While you're in the bathroom, compost your paper hand towels. Psychology students studied the best way to encourage compliance with composting initiatives, since a single piece of contamination ruins the entire bag. The result is more than 40% diversion of Talley's 34,000 pounds of annual paper towel waste.
Since 18,000 people cycle through Talley every day, University Housekeeping has their job cut out for them. Remarkably, they're using fewer chemicals and disposable cleaning products than ever.
Good Evening
4 p.m.: Head to Centennial Campus. There are all kinds of ways to get around campus without burning gas in your car. Take the Wolfline — more than 3.2 million passengers did in 2016. Or try a LimeBike.
Go for a stroll around Lake Raleigh or hit the links at the Lonnie Poole golf course. It's a certified Audubon Signature Sanctuary, which means the course is designed to protect existing wetlands and wildlife habitats. You're not too far from the new campus apiary, too. 
8 p.m.: Time to hit Hunt. The Hunt Library is a sustainability superstar. Solar panels, green roof, bike storage, low-flow plumbing, recycled carpet — the list goes on. And you may not have noticed, but high-quality non-potable water is reused for toilet flushing.
Overnight: NC State produces its own electricity right on campus. Known as a cogeneration facility, the Cates Avenue Steam Plant captures waste heat, converts it to steam, and converts that to electricity. Recent renovations reduced the university's greenhouse gas emissions by almost ten percent. 
Good Next Steps