Meet the First-Year Class for 2018

Deadlines. Orientation. Housing. Registration. Somehow, it all comes together.
Now the Wolfpack's latest first-year class has landed on campus, coming from 95 North Carolina counties, 38 states and 23 countries.
Say hello to the largest and most academically qualified class in NC State's history. They're already setting new benchmarks left and right. With a record number of applicants for the 2018-2019 academic year — and transfer applications also reaching a new high — NC State received more applications from North Carolina students than any other public university in the state.
29,852
first-year applications
Explore the impressive stats racked up by our incoming class. And get to know some extraordinary individuals behind the numbers.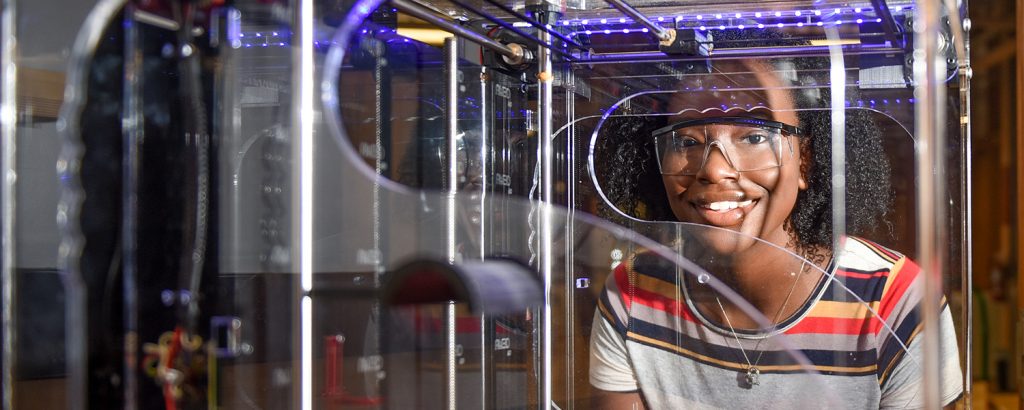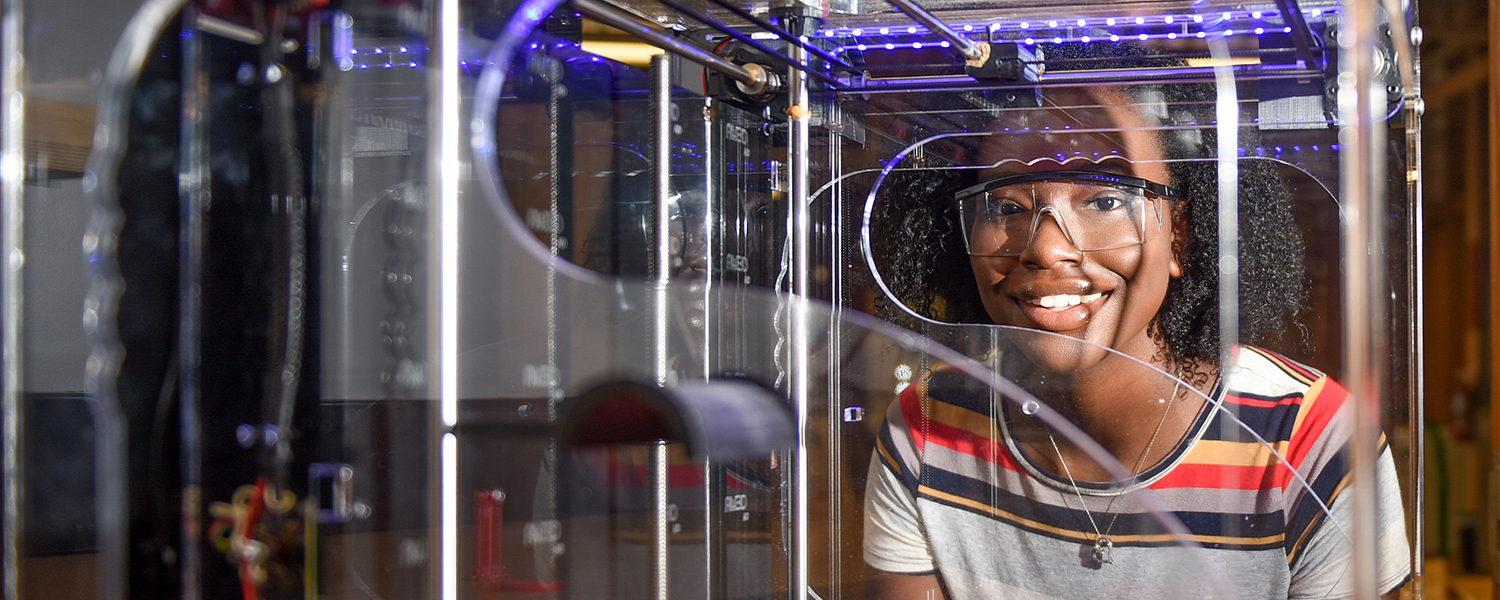 Building a Sustainable Future
When Niambé James was in fifth grade, she took a trip to Sierra Leone that sparked a lifelong interest in sustainability. "I visited a number of beaches, and all of them had two things in common: picture-perfect white sand and an abundance of plastic waste," said James.
She's been thinking about sustainable materials ever since. "I know I can't make people recycle, but I can try to make a plastic alternative that will biodegrade no matter where it ends up."
In fact, James chose NC State specifically because of its commitment to sustainability. "The first day I walked on campus, I knew I had found my home for the next four years."
Although many schools have environmental science programs, "only NC State offers sustainable materials and technology, which encompasses exactly what I'm passionate about," she said.
NC State is the best school for my major.
James hails from Clayton, North Carolina, and she's looking forward to spending time on a bigger campus with a diverse student population.
As one of 50 Goodnight Scholars chosen for the class of 2022, James is excited to expand her horizons while pursuing her passion. "From service trips to study abroad opportunities, being a Goodnight Scholar will expose me to opportunities I never imagined in high school," she said.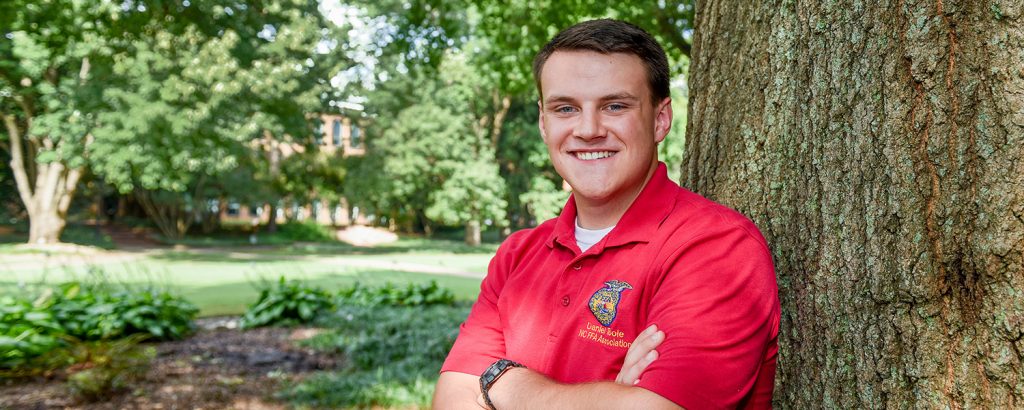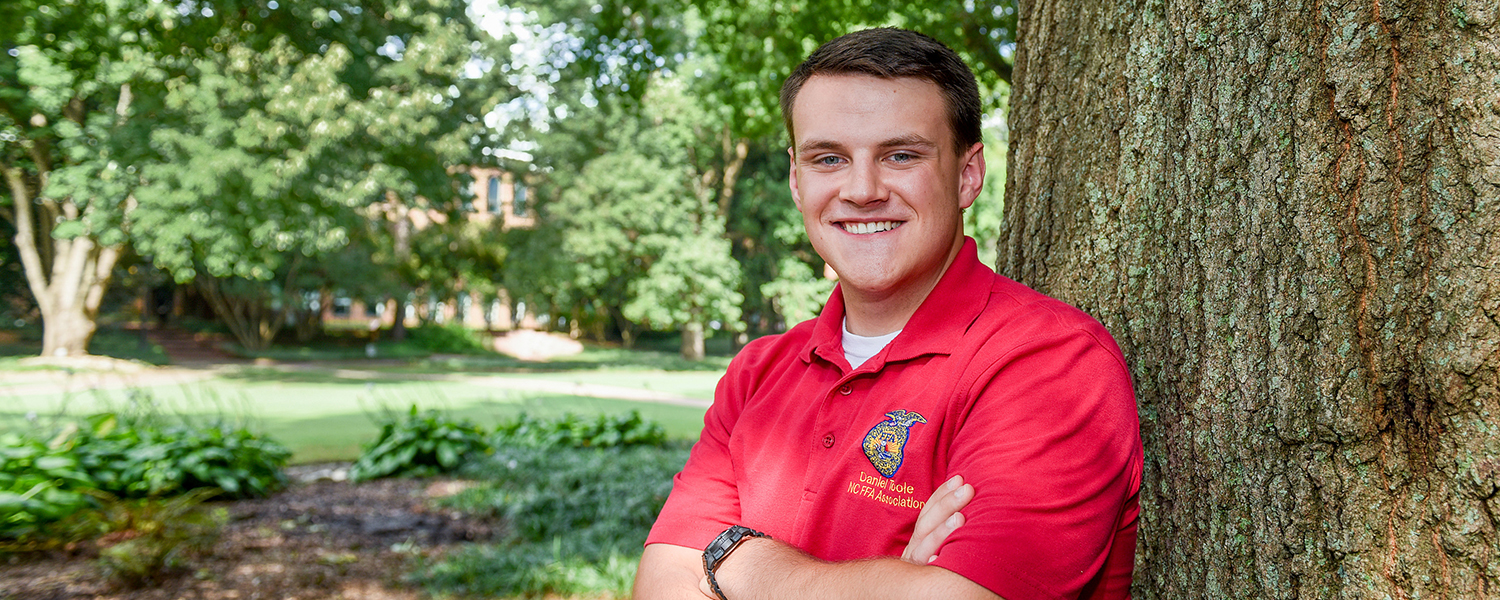 Cultivating a Community
First-generation college student Daniel Toole knows firsthand what it means to reap the benefits of a strong community. And as North Carolina FFA state president, he'll cultivate communities from the mountains to the coast.
"FFA changed my life," Toole said. "Helping develop future leaders is my opportunity to give back to an organization that has contributed so much to me."
Toole travels across the state and the country facilitating workshops and preparing students to become better leaders where they are, with what they have.
I'm excited to become part of one unified Pack.
Now he's finding his place in NC State's community. The Brevard native is a Park Scholar who plans to study biological sciences and serve as a state FFA officer.
"I'm excited to become part of one unified Pack, where I can take risks to intellectually grow while still having a community to support me," he said.
1,341
students from rural N.C. counties
Already Beyond the Starting Line
When Ares Epps was in high school, he wasn't the only person focused on his track career. NC State assistant track coach Chris Seaton took an active interest in Epps' progress.
"He would call me after meets, and we'd talk about how they went," said Epps. "Even when I didn't do so well, he'd say, 'That's okay, it's all part of the process.' I really felt like he cared about how I was doing."
Epps was born in Memphis, Tennessee, and he has lived in the Raleigh area since he was seven years old. When it came time to decide where to apply for college, he looked carefully at track programs as well as academic opportunities for his chosen major of communications with a minor in exercise science and athletic training. Epps said, "I wanted a good academic school as well as a good athletics school. NC State had everything."
His official campus visit in the spring sealed the deal. "I met all the runners and felt like I was part of the team already," he said. "It was so much fun."
I'm here to break my personal records. I want to be the best student and best athlete I can be.
For this student-athlete, getting started early made good academic sense. Epps participated in Summer Start and got a few credits under his belt before the semester — and daily track practice — swung into full gear.
"Starting in the summer and doing well in those classes really eased my apprehension," he said. Now he's thinking ahead to a year full of training, classes, meets and exams. "When we're traveling, I need to focus on doing my work whenever I have a chance."
1,333
enrolled transfer students
56%
from N.C. community colleges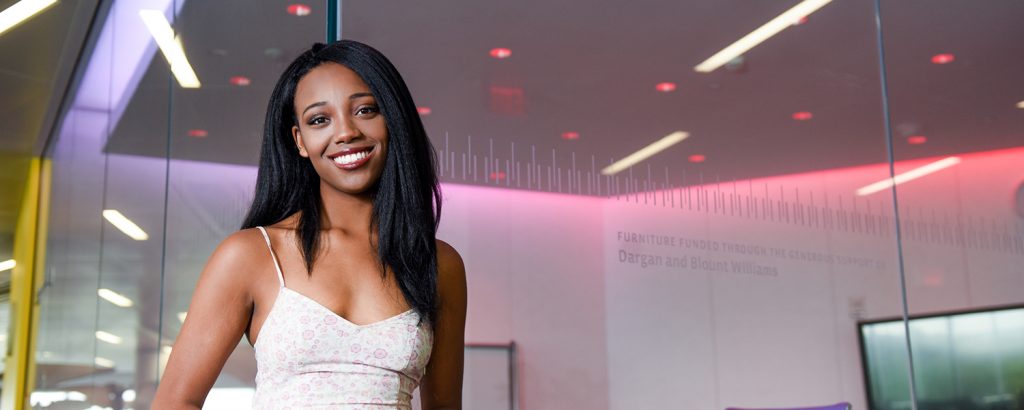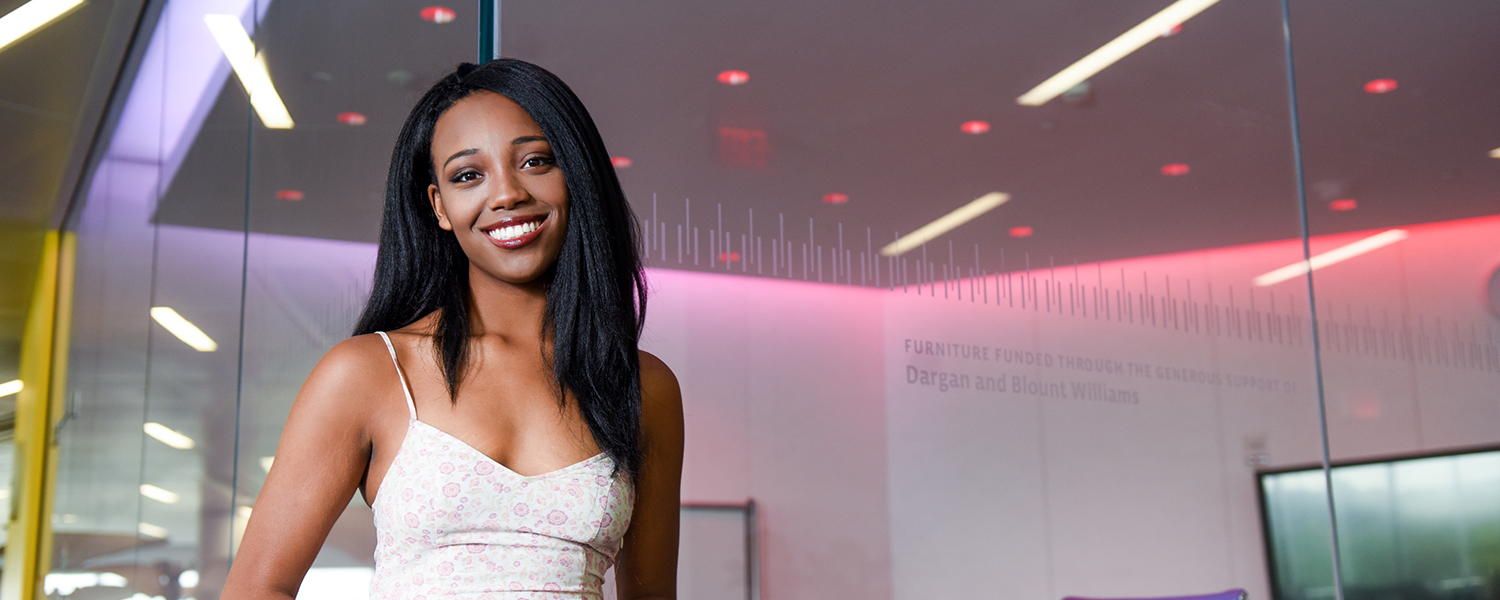 When Head Meets Heart
Dani Coan has a broad array of interests, but engineering wasn't always one of them. She'd planned on majoring in English — that is, until a member of NC State's textile engineering program came to speak at her Winston-Salem high school.
"After her talk, I knew immediately that I wanted to be an engineer," said Coan. Now she's embarking on a biomedical engineering degree, with dreams of designing prosthetics for veterans.
But that doesn't mean Coan is letting her other passions fall by the wayside. In fact, she chose NC State so she wouldn't have to.
"You can float around and have lots of different interests here," she said. "That's a reason why I chose NC State: They emphasize being a well-rounded person."
That's a reason why I chose NC State: They emphasize being a well-rounded person.
In high school, Coan spent her free time winning poetry recitation contests or competing with her all-girl robotics team. Now, staying on track in her first year of college, she's readied a list of theater classes she plans to take, and she's found a like-minded community of women in STEM at WISE Village.
That focus on balance — between arts and science, between academic and personal fulfillment — is what led Coan to select NC State above other schools she considered, such as Georgia Tech.
"I believe in following your heart more than your head. But if you can have both, that's great. There's so much support here academically and emotionally. I feel like I really belong."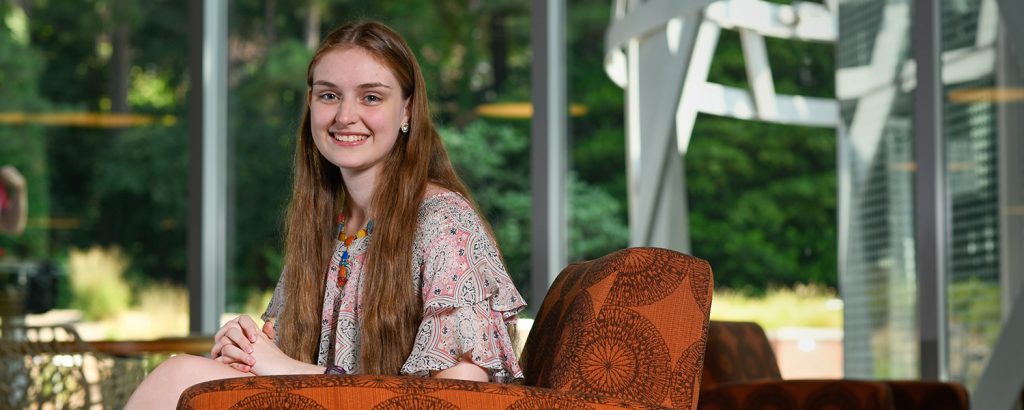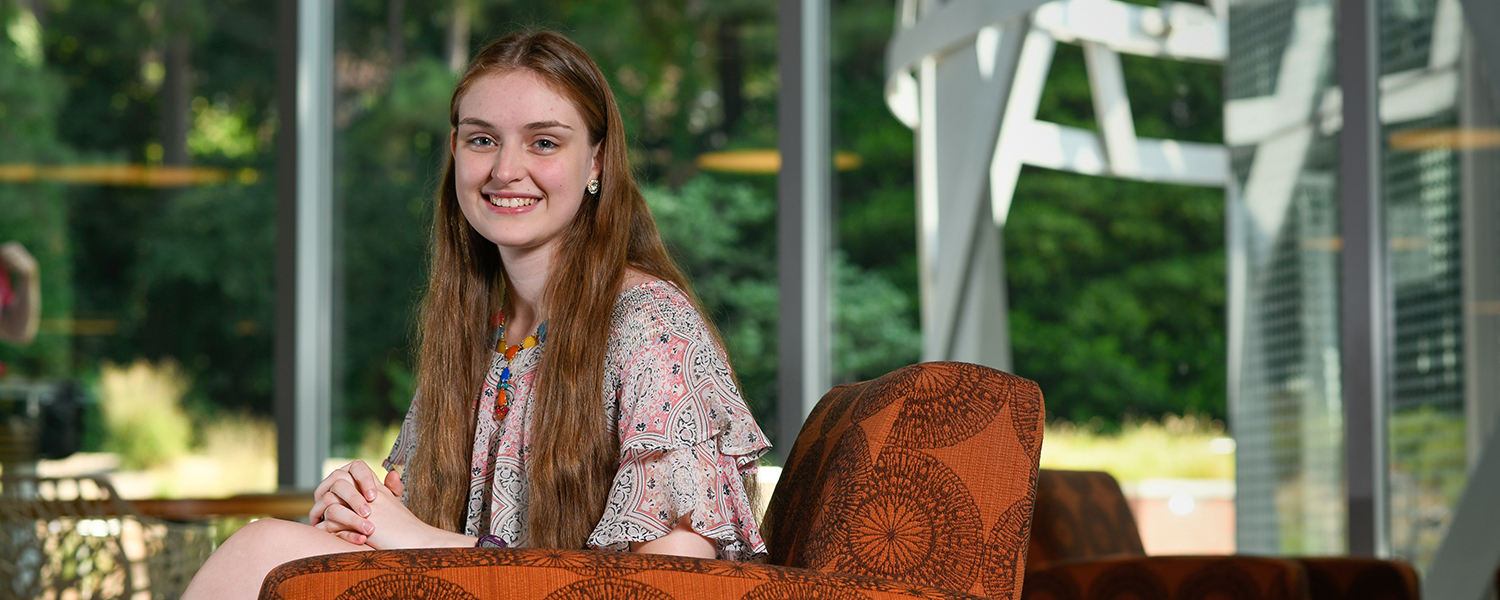 Jumping in Headfirst
With her bucket list already in hand, Alex Tobey had toured the Belltower before most of her classmates set foot on campus. And that's not the only way she's jumped headfirst into life at NC State.
Her first leap was making the move from her small hometown of Hawley, Pennsylvania, a borough of about 1,200 residents.
"A lot of kids from home didn't want to leave their comfort zones," she said. "I wanted a new adventure and to challenge myself."
NC State exceeded all of my expectations.
Tobey was eager to kick off her college career following a two-year gap after high school. And thanks to Summer Start, she was able to begin working on her animal science degree early.
While knocking out coursework, she also got a head start plotting out her time at NC State. She's cultivated close relationships with faculty and classmates, and she worked closely with her advisor in the College of Agriculture and Life Sciences.
"I liked NC State because they had a wide range of majors, so I can explore a lot of my interests. There are a lot of options here I'm interested in pursuing."
For now, Tobey has her sights set on NC State's highly ranked College of Veterinary Medicine for her next step after graduation.
"I think it's going to be really helpful to experience all the farms and the laboratories here. I'll get a glimpse of what my future could be like going to vet school."
48%
graduated in the top 10% of their high school class
229
valedictorians and salutatorians
Designing a Future of Service and Leadership
Micah Holdsworth researched his college options carefully. After growing up in Antalya, Turkey, uprooting and coming to the U.S. was a big move.
The son of Canadian and American parents, Holdsworth spent summers visiting North America. "To me, it was the land of candy and waterslides and grandparents," said Holdsworth. "In some ways, it never really lost its magic."
He chose NC State because its nationally accredited architecture program will allow him to pursue his passion for environmental design and sustainable building. "I'm interested in being a good steward of the natural world through design," he said.
Holdsworth is also a Park Scholar. "I thought it was a long shot to apply," he said. "But the leadership and service opportunities, as well as the character-building and academic support — it was everything I was looking for."
I fell in love with NC State during my spring visit. The people were a big part of it.
Service comes naturally to Holdsworth. During high school, he partnered with others in his community to help provide Turkish lessons and other resources for Syrian refugee children.
With an intensive program ahead of him and the added commitment of a Park Scholarship, he's hoping to roll two immersive programs into one great college experience.
"Like a lot of students, my biggest apprehension is time management," he said. Still, he's eager to meet the challenge.
"I'm excited to be in a community of leaders and people who are service-minded. Things I did in Turkey, I started myself. I've never been surrounded by such a passionate group of people before."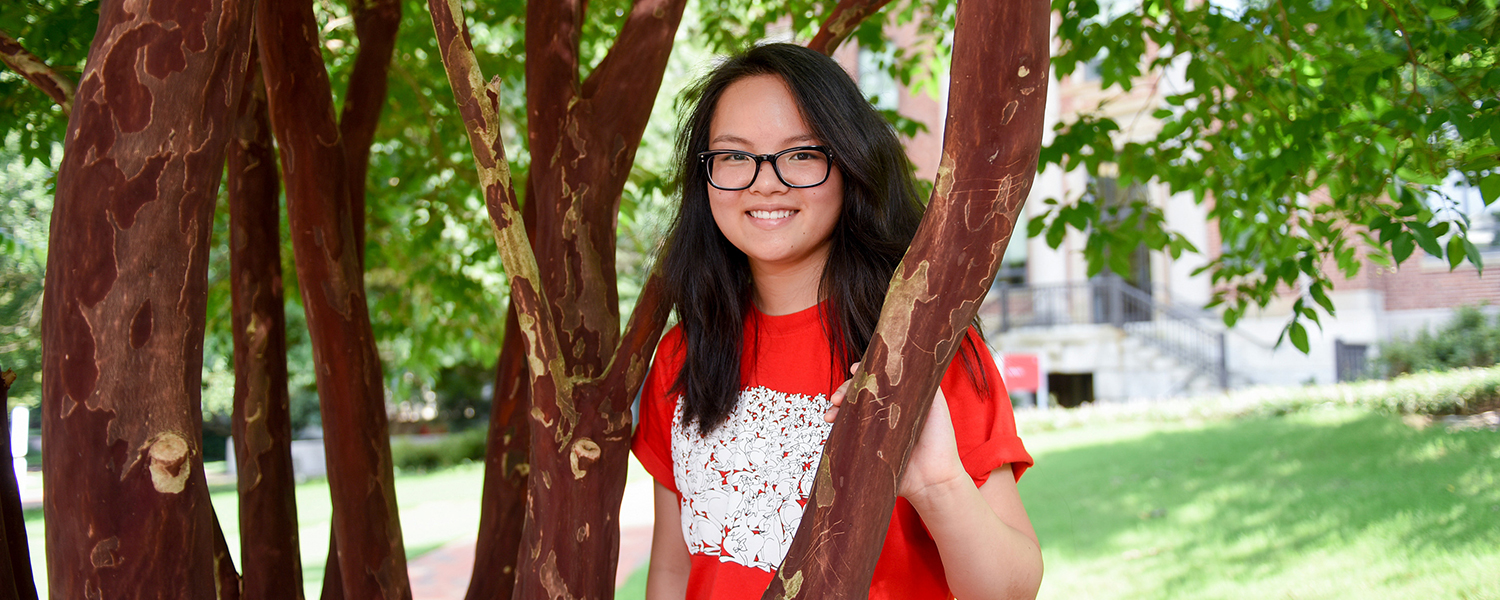 At Home All Over the World
First-year life sciences major Kelci Cox doesn't consider herself to have a hometown. After being born in China, she was adopted into an American family in Arizona. Her family moved to Düsseldorf, Germany, when she was six, and then to Shanghai, China, and back to Germany.
Cox chose NC State because it offered a variety of study paths — and because it felt like home. "There's an amazing biological sciences program here," said Cox. "NC State also has such a wide variety of majors. If I wanted to change my major or perhaps minor in a different area, that's possible. I love the campus, and the atmosphere makes me feel at home."
While Cox expects a bit of a culture adjustment — specifically giant grocery stores and the prevalence of English speakers everywhere — she's excited for a new way of life. "The size of the campus is a huge difference from what I'm used to, but I interpret it as an opportunity for me to meet a lot of people."
I love the campus, and the atmosphere makes me feel at home.
As a Park Scholar, Cox says the program's strong sense of community provides a vital source of support. In fact, she has a history of creating community for herself and others wherever she goes.
During high school, Cox started an art program for children at a refugee camp to help them feel more integrated into the community. "I knew they were scared because they had to leave everything behind, so I created the program with the hopes that they could have some time to enjoy just being kids," she said.
Cox plans to continue volunteering while at NC State. "When I volunteer, I always meet some of the most interesting people," she said. "I love to hear their stories."