Faculty and Staff
Rebar to Retire From Office of Research and Innovation
Leadership of NC State's research enterprise will shift at the start of the new year as Alan Rebar, vice chancellor for research and innovation, retires on Dec. 31. Mladen Vouk, associate vice chancellor for research development and administration, will take the helm on Jan. 1.
"During his tenure at NC State, Al has advanced the research enterprise in a remarkable way," says NC State Chancellor Randy Woodson. "He has led a number of ground-breaking strategic initiatives and has considerably enhanced the culture of interdisciplinary research and collaboration across our campus."
Prior to joining NC State, Rebar was the senior associate vice president for research, executive director of Discovery Park and professor of clinical pathology at Purdue University. He is internationally recognized for his work in clinical laboratory medicine.
Rebar is a Diplomate of the American College of Veterinary Pathologists, a former member of the Council of the American College of Veterinary Pathologists, past president of the American Society for Veterinary Clinical Pathology, former editor of the journal Veterinary Clinical Pathology and current editor of the Journal of the American Animal Hospital Association.
He has authored or co-authored 120 refereed publications and eight textbooks, and has made nearly 300 invited lectures at workshops and conferences in the United States and around the world. He has served as a scientific advisor to numerous federal agencies and companies.
Rebar has won a number of awards, including the Lifetime Achievement Award from the American Society for Veterinary Clinical Pathology and the Award of Merit from the American Animal Hospital Association.
He earned doctorates in veterinary medicine in 1973 and veterinary pathology in 1975, both from Purdue.
Vouk will serve as vice chancellor for research and innovation for two to three years. After that, the university will conduct a national search to fill the position.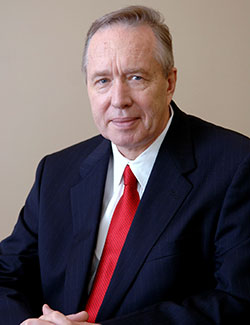 A faculty member at NC State for more than 30 years, Vouk directs the university's Data Science Initiative. He is co-creator of NC State's Virtual Computing Laboratory, one of the world's first cloud computing systems, and co-founder of NC State's Computer Science Software Systems and Engineering Laboratory.
He also has served as head of the Department of Computer Science, technical director of the Center for Advanced Computing and Communication and associate vice provost for information technology.
Vouk is an IEEE Fellow who has received the organization's Distinguished Service and Golden Core awards. He is the author or co-author of more than 300 publications and has conducted groundbreaking research in software engineering, scientific computing and analytics, information technology and education, and high-performance computing.
He earned a doctorate in solid state physics at King's College London and a master's degree in computer science at NC State.
"Mladen is a distinguished professor and a highly respected computer scientist," Woodson says. "He has played a significant role in the research growth NC State has experienced in recent years, and I'm confident he will do an outstanding job in this new position."